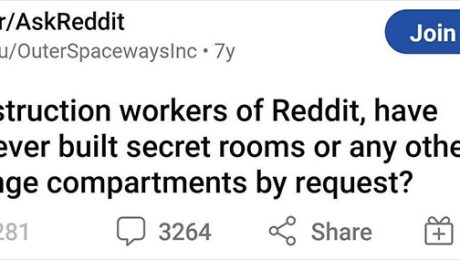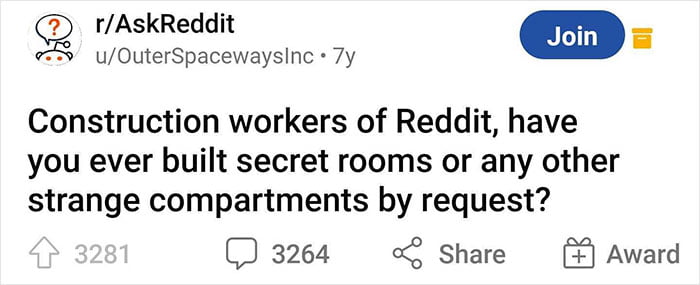 30 Construction Workers Share What Creepy Secret Rooms They Were Asked To Build
For Secret Rooms, Your home is your castle. So if you want to install a huge window in your street-facing toilet, by all means, go for it.
Just keep in mind that not only your neighbors, but the entire internet might shame your decision. Plus, selling a property with, let's call them, extravagant features can be tricky.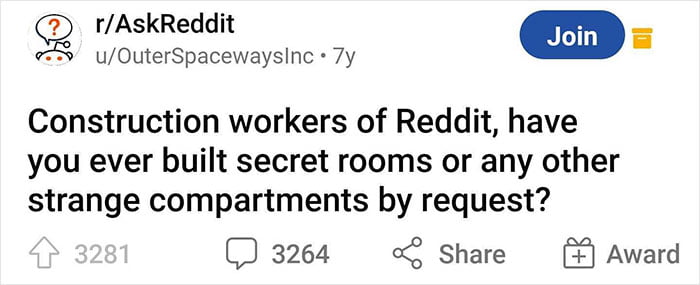 To learn more about people's architectural whims, Reddit user OuterSpacewaysInc made a post on the platform, asking construction workers to share stories about all the secret rooms and other strange compartments they had to build for the owners. Turns out, plenty of folks have secrets they want to keep to themselves.
For Secret Rooms, Your home is your castle. So if you want to install a huge window in your street-facing toilet, by all means, go for it. Just keep in mind that not only your neighbors, but the entire internet might shame your decision. Plus, selling a property with, let's call them, extravagant features can
Published in

#interior design, 700-page, Architecture, Construction, construction workers, Creepy, find, funny., Homepage featured, houses, Other, People, renovation, sahre, secret, secret room, secret room ideas, secret room project, secret rooms, stories, surprise, Weird, workers