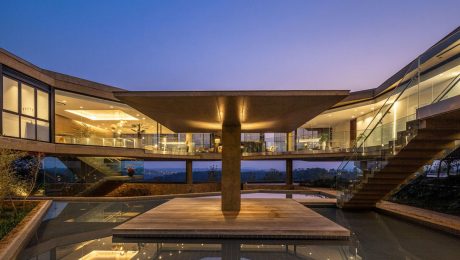 A Geometric House In Exposed Concrete
Like Architecture and Interior Design? Follow us …

Resting gently on the undulating green ground of Bragança Paulista in the state of São Paulo, Brazil, this luxurious home design respects its place. Created by an architectural firm Jurij Vital, the 693-square-foot house was designed as a perfectly linear volume that draws in both intimate and distant views of the beautiful valley ahead. A board-shaped concrete exterior shapes the modern home exterior, along with huge expanses of wooden shutters. Cantilevered volumes float lightly between oblique structural walls on each side of the house. Elegant supporting pillars meet the grassy ground or sink gently into the water mirror that surrounds the front of the farm.
Did you like this article?
Share it on any of the following social media below to give us your voice. Your comments help us improve.
Like Architecture and Interior Design? Follow us … Thank you. You have been subscribed. Resting gently on the undulating green ground of Bragança Paulista in the state of São Paulo, Brazil, this luxurious home design respects its place. Created by an architectural firm Jurij Vital, the 693-square-foot house was designed as a perfectly linear volume