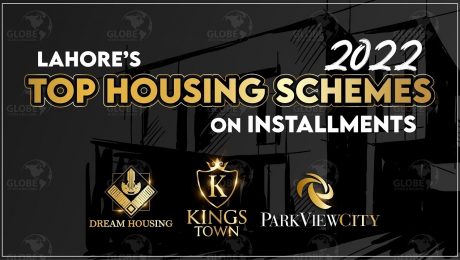 Top Housing Schemes in Lahore on Installments 2022 – Globe Estate & Builders
Good news for the people of Lahore – lots of plots in easy installments!
Those who can't afford a large sum for a plot can now invest in new home developments in Lahore 2022 every month. As Lahore's population grows by the day, housing concerns become more prevalent. Most novices in this city have the option to rent.
However, affordability is not as easy as one might think, so in this case, in 2022, one will be able to acquire land in one of Lahore's new housing schemes on payments. Basically, each society has its own payment plan, with various down payments based on community laws. The plot varies according to the size of the plots.
Seven Top Housing Companies in Lahore on Payments
Possession of plots is granted immediately after the payment of installments, while in certain circumstances companies require additional time to provide possession after the completion of payments.
1. Kings City
Al Kabir Developers established Kings Town Lahore in 2019. It is located on Raiwind Road in Lahore. It sells houses in installments of 3 marl and 5 marl, as well as residential plots.
Kings Town Lahore is divided into two phases: Phase 1 and Phase 2. Phase 1 was released in 2019 with housing plans, while Phase 2 was launched in 2021. The project is near Bahria Orchard in Lahore, on Raiwind Road. Kabir Town Phase 3 is another name for it.
Payment plan
The payment plan for King's Town Lahore (2022) includes one sector of A with residential plots available for booking. The 2022 payment plan offers 3 marlas for PKR 360000 and five marlas for PKR 5500,000 in total.
The reserve fee is PKR 600,000, plus PKR 25000 deposit. Houses will be bookable in 2022 with a four-year payment plan. A reserve option of a floor base is available, with prices from PKR 3600,000 to PKR 4200,000 according to a simple payment plan.
In 2022, Kings Town Sector A and Phase 1 Block B are also available for reservation. The company is also prioritizing a low-cost plot with high-end amenities, which is why fresh bookings for 2022 have begun in phase 2 of King's Town Lahore.
Because the plans for 2021 and 2022 are so identical, all 2021 reservations can still be made in 2022, but at one prices. One price refers to prices that are charged as a profit over the initial file price. Many others still have previous reservations but want to buy new ones in the phase 2 A-block. This demonstrates the market value of a society.
2. Dream Housing Society
On Main Raiwind Road, in front of Lake City and adjacent Superior University Campus, Dreaming Housing Lahore is located. The Lahore Ring Road is a few minutes drive away. Residents will have easy access to the city's main neighborhoods thanks to the Ring Road junction (LRR).
The company provides 3 Marla and 5 Marla residential plots for PKR 2,700,000 and PKR 4,500,000, respectively, and an inexpensive 48-month payment plan with PKR 15,000 and PKR 25,000 paid monthly for 48 months and two years. Under a three-year payment plan, commercial plots of 2.5 and 4 marl are also offered.
Brochure on Dream Housing
3. Park View City Lahore
The Vision Group has created and owns Park View City Lahore, a spectacular housing project. The land is about 7000 Kanal in size and provides housing for over 4500 households. The Thokar Niaz Baig flyover is a few miles from Park View City Lahore, which is located on the major Canal Road.
A legal NOC is present in the housing project. It is a Lahore Development Authority-approved real estate project and one of the Lahore housing companies that sells plots in installments. In addition, the housing association offers plots of 3, 4, 5, 8, 10, and 1 Channel per month.
Regarding the amount of the plot price, however, a 5% discount is available. Additionally, 10% additional costs will be applied to plots in the elite category, such as corners, park facing, and main boulevard locations.
4. Zaitoon City
Zaitoon City, located on Canal Road between New Lahore City, Bahria Town, and Multan Road, provides commercial and residential plots for 3.5 to 4 years on payments.
5. Lahore Smart City
Another housing company in Lahore that offers plots in installments is Lahore Smart City. Future Development Holding Private Limited and Habib Rafique Private Limited collaborated on this important project. This residential community in Lahore is also accessible from the Lahore Ring Road and is located on the Lahore Bypass.
Administrative and Overseas Blocks make up the housing project. Plot sizes of 5 marlas, 7 marlas, 10 marlas, 12 marlas, and 1 Kanal come with a flexible and inexpensive payment plan. In addition, this housing company has received approval from the Lahore Development Authority and is a great investment opportunity.
6. Dream Gardens
Dream Gardens Lahore is located on Raiwind Road, 2 minutes from Canal Bank Road, 10 minutes from Shaukat Khanum Hospital, with easy access from Lahore Ring Road and close to the city's major universities. It is divided into two sections, each of which must provide an amazing storyline.
It has residential plots of 5 Marla, 7 Marla, 10 Marla, 20 Marla, and 30 Marla, as well as commercial plots of 6 Marla, 7 Marla, and 10 Marla. Residential parks start at PKR 5,948,800 and go up to PKR 26,790,300, with a 36-month payment plan and 12 quarterly installments available. Reserves start at 30% down and are spread over three years.
7. Al-Rehman Garden Lahore
Al-Rehman Garden of Lahore is an LDA-approved housing company. In addition, the project is being built by Al-Rehman Developers, one of the most famous and well-known real estate companies in the world.
In addition, the housing company consists of seven stages and is located on Ferozwala Road near Sheikhupura. Real estate investors have benefited greatly from the ideal location. Residential parks of 3,5,8, and 10 marl are available on a fee payment from the housing association.
At the same time, the commercial property is available on delivery in 2 and 4 marlas. Al-Rehman Garden is one of Lahore's best-known housing associations, with a very reasonable monthly payment plan for the city's population.
Key carry
Lahore's real estate industry is growing by the day, and with each passing day, builders and investors have to deliver some of the most innovative and exciting real estate projects.
The trader who initiates the strategy reaps a great profit. The starting price comes with the sold out files as soon as the plan is announced. For both buyers and sellers investors, this is a successful investment without the risk of losing money.
So if you can afford it, don't worry about investing; just go to the advertised website and arrive early to secure a place.
As time went on, everything around Lahore became part of the city. So, don't worry; new home projects in Lahore 2022 in installments will appear in the coming days, and their advertisements will be published soon.
However, according to Globe Estate and Builders real estate experts, the most recommended housing companies in Lahore are Kings Town and Dream Housing Society.
Good news for the people of Lahore – lots of plots in easy installments! Those who can't afford a large sum for a plot can now invest in new home developments in Lahore 2022 every month. As Lahore's population grows by the day, housing concerns become more prevalent. Most novices in this city have the
Published in

Al-Rehman Garden Lahore, Business, Dream Gardens, Dream Housing Society Lahore, Kings Town Lahore, Kings Town Sector B Lahore, Lahore Smart City, Marketing, Park View City Lahore, Property News, Real Estate, Real Estate News, Seven Top Housing Societies in Lahore on Installments, Top Housing Schemes in Lahore on Installments 2022, Zaitoon City