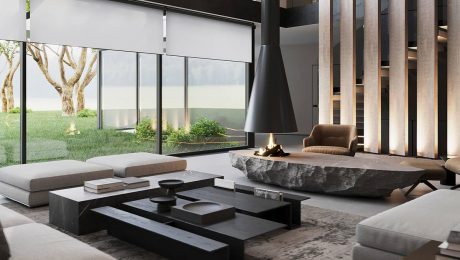 Striking Black, Grey And Wood Interior In Estonia
Like Architecture and Interior Design? Follow us …

Ground gray stone elements, black marble and a deep natural wood tone combine to present this sophisticated home interior with a bit of style. Displayed by Irina Borysenko, this striking 800 square meter private house in Tallinn, Estonia, is a unique space with a fresh, modern style and a strong character. A dual-height living room makes a striking statement at the heart of the home with a fabulous stone fireplace, a tall bookcase and a surrounding glass mezzanine. A contemporary staircase design climbs to the upper floor on lighted steps to access an impressive master bedroom suite with its own lounge area and home workshop, as well as a gorgeous luxury bathroom.
Did you like this article?
Share it on any of the following social media below to give us your voice. Your comments help us improve.
For more information on the real estate sector of the country, keep reading Feeta Blog.
Like Architecture and Interior Design? Follow us … Just one more step. Please click the confirmation link sent to you. Ground gray stone elements, black marble and a deep natural wood tone combine to present this sophisticated home interior with a bit of style. Displayed by Irina Borysenko, this striking 800 square meter private house