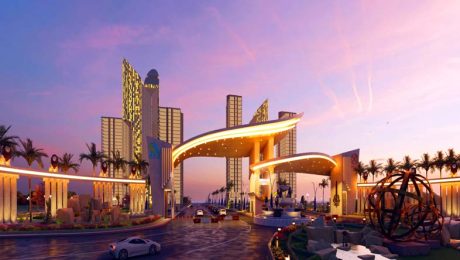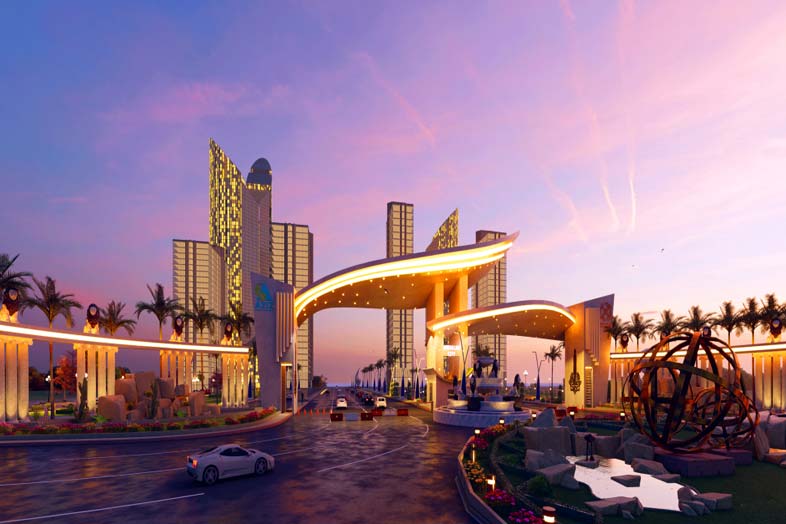 Abdullah City Islamabad: Details, Location, Features
Overview
Abdullah City is a modern housing society by Aziz builders. This project intends to provide quality build standards and ultimate lifestyle at the best prices. Abdullah City resides on Chakri Road Islamabad, near the Chakri Interchange.
Introduction
Abdullah city offers affordable residential and commercial property as well as premier farmhouses featuring the latest facilities. The efficient development plan, high-end amenities, and reasonable prices are attracting more and more attention from investors.
Abdullah City features state-of-the-art modern development. Undoubtedly, a well-maintained lifestyle is equally beneficial for families and investors alike. Society fulfills the demands of high standard residence in the twin cities. The dependable town planning and development skills of Aziz Builders will make it a desirable housing project.
Abdullah City

Location
The locality is a vital aspect of any housing project; Abdullah City offers the best location in Rawalpindi. It resides on the famous Ghous-e-Azam road with easy access from multiple places like:
Ring Road

Thalian Interchange

Chakri

CPEC route
 Abdullah city possesses an ideal location with plenty of landscape and surrounding nature. It holds many prime spots of the twin cities in proximity. However, Chakri Interchange is the most convenient route to reach Abdullah City.
Following is the location map of Abdullah City for better understanding: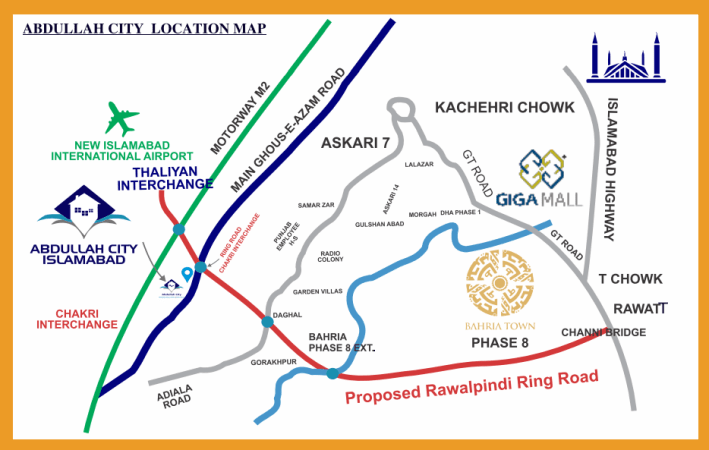 Total Land Area
Abdullah City is a vast housing project that spans over 35,000 Kanal. Society has already acquired the majority of the land and development continues. The swift development pace indicates that society will get NOC from RDA soon.
Landmarks Surrounding Abdullah City
Abdullah City Islamabad is located near many essential landmarks, and you can reach them in minutes.
Islamabad International Airport is present in its vicinity.

Furthermore, you will find the NDU campus of Fatima Jinnah University close to society.

More landmarks include Motorway, Kalma Chowk, and Thalian Interchange.
 Ideal proximity makes this project a perfect place to live and an excellent choice for future investments.
Abdullah City Islamabad

Accessibility
Abdullah City provides easy accessibility from and to multiple famous sites of Rawalpindi/Islamabad:
Lahore-Islamabad M-2 Motorway is just 15-20 minutes away from Abdullah City.

Kalma Chowk is 25 minutes drive from society.

It hardly takes 5 minutes to reach Chakri Interchange from Motorway.

Islamabad International Airport is reachable in35-40 minutes.

Bahria Town is located 1 hr away from Abdullah City.

Main Islamabad and Rawalpindi City are approximately 40 minutes' drive from the location.
Developers
Aziz builders are developing this incredible real estate project. They have extensive past projects and positive feedback. Generally, Aziz builders provide land development services, town planning, and colony organization services for the past decade. They believe in commitment, on-time project delivery, and quality development.
Aziz Builders and Abdullah Marketing have joined hands in developing this iconic project named Abdullah City. The values of Aziz Builders depict the bright future of Abdullah City Islamabad.
Abdullah City Development Status
Abdullah City Islamabad is currently under development, but construction continues at a swift pace throughout society. The infrastructure development has entered the final stage. Moreover, the main gas pipeline installation is underway.
Have a look at the following pictures to get an idea about the development status of Abdullah City Islamabad:
Legal Status
Abdullah City is a well-planned and organized housing society. However, its NOC is still under processing by the Rawalpindi Development Authority. According to RDA, the society faces some allegations from Tehsil Municipal Authority (TMA).
Customers should confirm the legal status of this society before investing anything. Management of Abdullah City is making efforts to get the NOC and it will be granted soon.
Amenities
Abdullah City is an all-inclusive project with upscale amenities and features offered to the residents. This society aims to raise the standards of living by providing futuristic features and modern infrastructure.
To put it simply, customers will have all the desired facilities that make it ideal for living and investing. The planning, designing, and developments are according to international standards. Moreover, high-end facilitation and dependable security make it an excellent choice for families!
Here are the amenities of Abdullah City:
Educational Institutes
Society plans to set up primary and secondary education institutes with highly skilled educationalists for quality education. Libraries, playgrounds, computer labs, and laboratories are a part of all Schools and colleges. Many leading universities are located within the vicinity of Abdullah City. High-quality education and extracurricular activities will ensure the bright future of children, and ultimately, Pakistan.
Healthcare
Proper healthcare services are necessary for a peaceful life. Abdullah City provides healthcare centers with up-to-date medical equipment and highly trained doctors. Residents will feel well cared for and find hospitals within the society. Abdullah City will host a premium healthcare facility.
Commercial Areas
Commercial areas developed at different spots in Abdullah City will fulfill the everyday necessities of residents. Shopping centers, malls, food markets, and more facilities will be available in all commercial zones. In short, residents will find everything from designers clothes to grocery and home décor within the society.
Mosques
Residents can improve their relations with the Almighty at mosques and across society. Moreover, religious centers ensure easy religious practice, spirituality, and closure to God.
Garbage Management
Modern civil infrastructure and services ensure proper collection and disposal of garbage to maintain beauty. Furthermore, trained maintenance staff and the latest equipment ensure clean roads, streets, and boulevards. Placement of Garbage bins outside streets, and garbage disposal before piling up or becoming visible.
Dependable Security
A comprehensive security system will guarantee the safety of the residents and an overall peaceful atmosphere. Society provides security through 24/7 CCTV surveillance and highly trained security personnel on patrolling within society premises. In addition to this, Abdullah City features well-invigilated entry and exit gates.
Maintenance Services
Abdullah City Islamabad features an individual maintenance facility available 24/7 to resolve petty matters for the residents. Maintenance teams always show up on time and know solutions to the problems. Abdullah City Maintenance Service Wing is dependable and charges only for material replacements.
Leisure
Abdullah City management understands the value of leisure in life and offers plenty of facilities to fulfill it.
Following leisure facilities are available at Abdullah City:
Parks and Zoo
Multiple parks and a zoo is an entertainment and picnic point for residents. Animal exhibits at different spots featuring different animals like dogs to reindeers and cougars to lions.
Restaurants
Dining is an essential part of the Pakistani lifestyle. Restaurants featuring different cuisines will be available for dining out, be it a family meal, buddies hang out, or solo food love. These food spots will cater to all needs.
The Spa
An exclusive day resort; specifically built to relieve the stress and anxiety of everyday life. Residents can get a day off, relax and get premium spa services from professional staff. Everything needed for stress relief is a part of this day spa.
State-of-the-Art Infrastructure
Dedicated Grid Station
Power outage is a big issue in Pakistan and causes nuisance for people. To ensure an undisrupted power supply, a dedicated grid station will be part of Abdullah City. Society aims to become a load-shedding free zone in the twin cities.
Carpeted Road Network
Road networks are the backbone of a residential project. Even the smallest of problems with roads can cause inconvenience for hundreds of people. Abdullah City Islamabad ensures smooth traffic flow through a sought out road structure. Modern road infrastructure provides easy accessibility to all parts of society.
Footpaths are an integral part of road networks in an area. Abdullah city features footpaths along all the roads in the society to make the strolls easier and much more enjoyable. Residents can conveniently walk for pleasure or getting necessities from the vicinity markets.
Environment Sustainability

at Abdullah City Islamabad
The environment is an essential factor for a healthy life. Abdullah City commits to providing a better environment for residents. Plentiful open areas, parks, and tree lines on the roads will ensure a green surrounding.
Abdullah City Islamabad

Master Plan
Abdullah City is a well-planned society getting famous with time. It is likely to become a desirable housing scheme for Rawalpindi and Islamabad. The marvelous design interests the top-notch investors and buyers who want to live here. Abdullah city offers a variety of plots in different sectors like residential, commercial, and Farmhouses.
Abdullah City Islamabad

Residential Plots
Residential sectors of the society guarantee a high-class residential experience. It follows a similar approach to other leading projects. Commercial centers and other facilities are available in each residential sector for a worry-free life.
The Residential Plots are as follows:
5 Marla Plots

5 Marla Plots

10 Marla Plots

20 Marla Plots
Abdullah City Islamabad

Residential Homes
This great initiative by Aziz Builders provides pre-constructed homes to the owners. The homes feature quality build and the latest designs, saving you from the hassle of laying the foundation and self-construction. Residents enjoy modern facilities living in these homes.
following are the variations of residential homes:
5 Marla Homes

10 Marla Homes

20 Marla Homes
Commercial Plots

at Abdullah City Islamabad
Various commercial plots are also available to meet the needs of businesses and potential investors. Commercial plots are located at different locations within Abdullah City.
Brands and renowned businesses will show keen interest due to the demand of residents. The development of a central commercial hub to cope with all the necessities of life.
Commercial Plots are available in the following categories:
3 Marla Commercial

8 Marla Commercial

20 Marla Commercial
Farmhouses
Abdullah city also offers Farm Houses for residents who want to experience an extraordinary life. Farmhouses occupy the lush green beautiful area of the society with the natural landscape. Customers can enjoy premium amenities and a world-class living environment residing at these farmhouses.
The society offers the following categories in the farmhouse:
3 Kanal Farmhouses

5 Kanal Farmhouses

8 Kanal Farmhouses

16 Kanal Farmhouses
You can download the detailed master plan below:
Abdullah City Islamabad

Prices
The prices of Abdullah City are affordable to other housing societies, but they will increase in the future. Eventually, Prices will skyrocket as more and more people buy plots here. Abdullah city introduced easy installment plans to facilitate customers. Book the plots by paying booking fees and confirmation Charges.
Here is the payment plan for you to have a look at: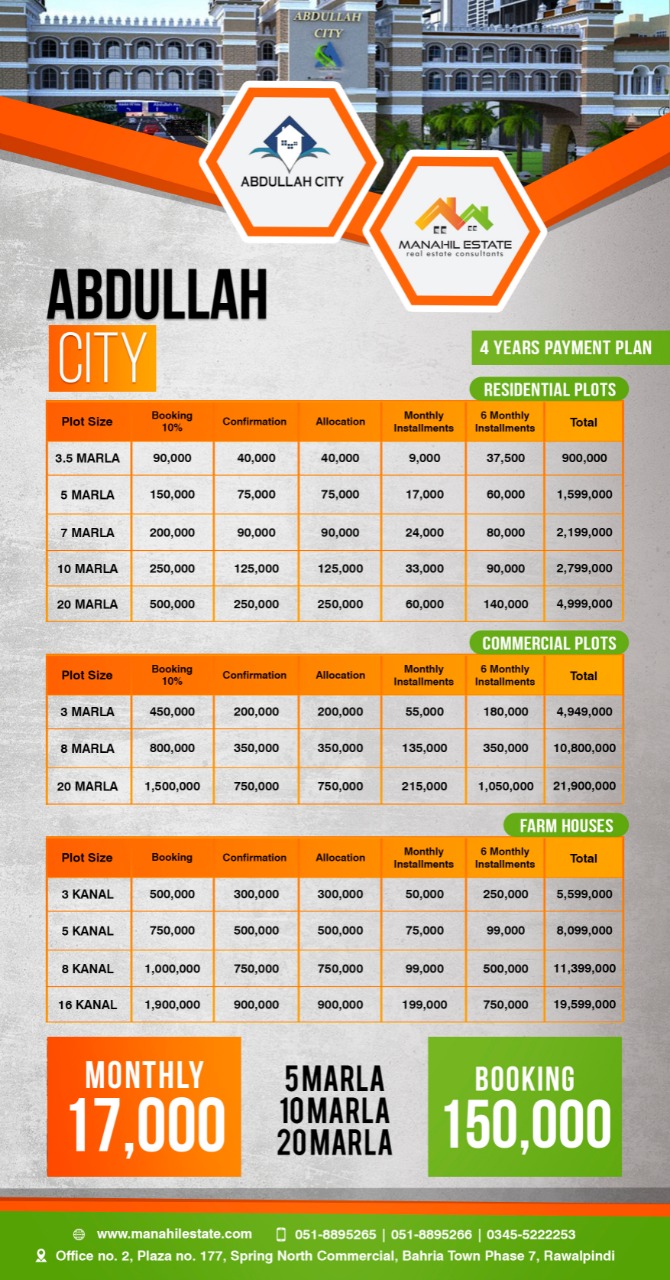 Abdullah City Islamabad Brochure
Down below is the official brochure of Abdullah City, download it to view the detail:
Booking Details
Pay the down payment allocated by the management and book your plots in Abdullah City Islamabad. Moreover, customers need to pay membership charges and confirmation fees to confirm their ownership of the plots.
Looking for a plot in Abdullah City? Contact us today to get your favorite spot effortlessly. Reach out to us via phone and email, submit an inquiry through our website or visit our office! Our agents are ready to assist you!
Discount Offer: Abdullah City offers a flat 10% discount on lump-sum payment for plots.
Conditions
10% extra charges apply to Corner and Park Facing plots or homes.

15% more charges in case of a Road Facing plot or house.

For Farmhouses, 10% more amount, on Corner, Park Face, and 15% on Main Boulevard.
Conclusion
As many societies emerge on the map every day, they charge high prices for luxury and modern amenities. However, Abdullah City is an emerging society providing all benefits like other famous societies at affordable rates. Abdullah City offers plots with all the amenities required for a luxurious life at affordable prices. As Abdullah City gets famous, more people will show interest, making it an ideal option for future investments.
Manahil Estate is a real estate agency dealing with the sale and purchase of the property. We can help you get a great deal at Abdullah City. Contact us now to get more information and helpful advice!
Overview Abdullah City is a modern housing society by Aziz builders. This project intends to provide quality build standards and ultimate lifestyle at the best prices. Abdullah City resides on Chakri Road Islamabad, near the Chakri Interchange. Introduction Abdullah city offers affordable residential and commercial property as well as premier farmhouses featuring the latest facilities.
Published in

Abdullah City Islamabad Legal Status, Abdullah City Islamabad Location, Abdullah City Islamabad Map, Abdullah City Plot Prices, Facilities of Abdullah City, Housing Schemes, Rawalpindi Housing Schemes, Real Estate, real estate business, real estate investing, real estate marketing, Real Estate News