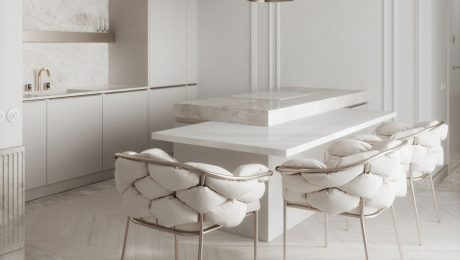 Light & Luxurious White Interior With Mirror & Marble Accents
Do you like Architecture and Interior Design? Follow us …

The apartment project "Stoned In Love" is a light and luxurious white interior accompanied by a mirror, metal and smooth marble accents. Displayed by Live In Design, the 87.3 square meter space in Bucharest, Romania, is a luxurious apartment full of exquisite decorative pieces and striking modern line artwork. Champagne gold finishes add just a hint of warmth to icy white backgrounds, while whispers of paler gray introduce a subtle hue. Luxurious bathroom design enters the realm of color under a fabulous pink tinted statement wall where the sweetness contrasts with heavy black elements. Find the complete floor plan included at the end of the home tour.
Did you like this article?
Share it on some of the following social networking channels below to give us your vote. Your feedback helps us improve.
Do you like Architecture and Interior Design? Follow us … Thank you. You have been subscribed. The apartment project "Stoned In Love" is a light and luxurious white interior accompanied by a mirror, metal and smooth marble accents. Displayed by Live In Design, the 87.3 square meter space in Bucharest, Romania, is a luxurious apartment
Published in

#architecture, #interior design, architectural wonders, Architecture Design, Art, art deco, bedroom design, creative, creative home design, decor, Decoration, Design Gallery, furniture, Furniture Design, Home Decor, house decoration, house design, House Tours, interesting designs, Interior Decoration Ideas, Interior Design, interiors, International, marble, metallic, modern