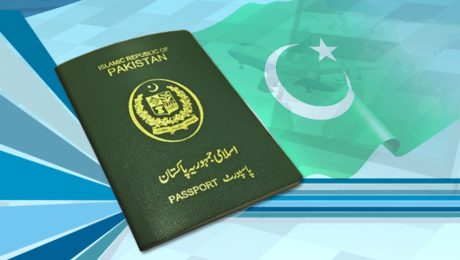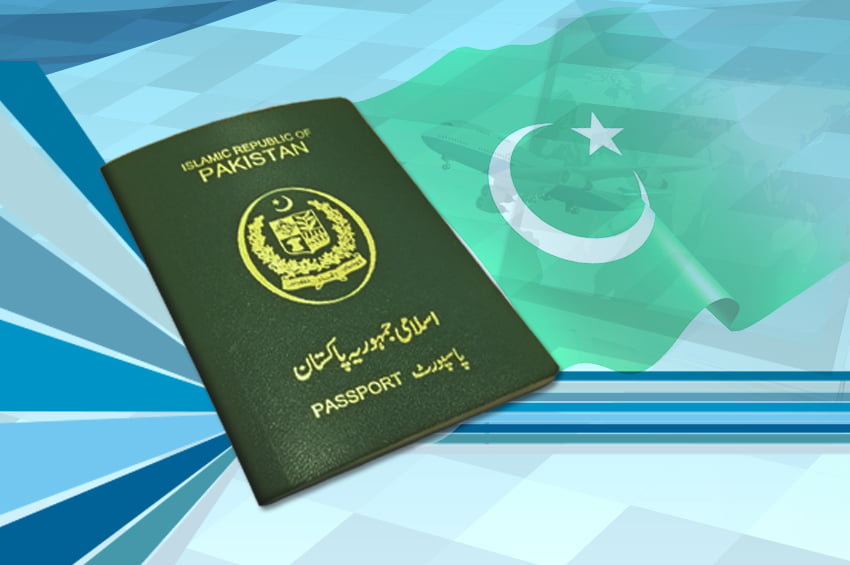 A Complete Guide to Rawalpindi Passport Offices
Guide for passport
Pakistan's government has made passport services more accessible to its people, who now can apply for a new passport or extend an existing one at any passport office in their region. In the very same vein, we've put together this guide that assist our researchers in identifying passport offices in Rawalpindi. We have decreased the legwork to everyone interested in applying for a passport in Rawalpindi, similarly to our past articles on passport offices in Lahore, Islamabad, and Karachi, where we listed the location, timing, guidelines, method, fees, as well as other important information.
Rawalpindi Passport Office Locations
Pakistan's Directorate General Immigration and Passport has offices in both Rawalpindi and Islamabad. The below is the location of the Rawalpindi passport office Named Rawalpindi Regional Passport Office Address: Regional Passport Headquarters, Opposite Railway, Gunjmandi More, Railway Workshops Road, Near Bakery Chowk Rawalpindi
051-9237253 is the contact information for the Rawalpindi passport office.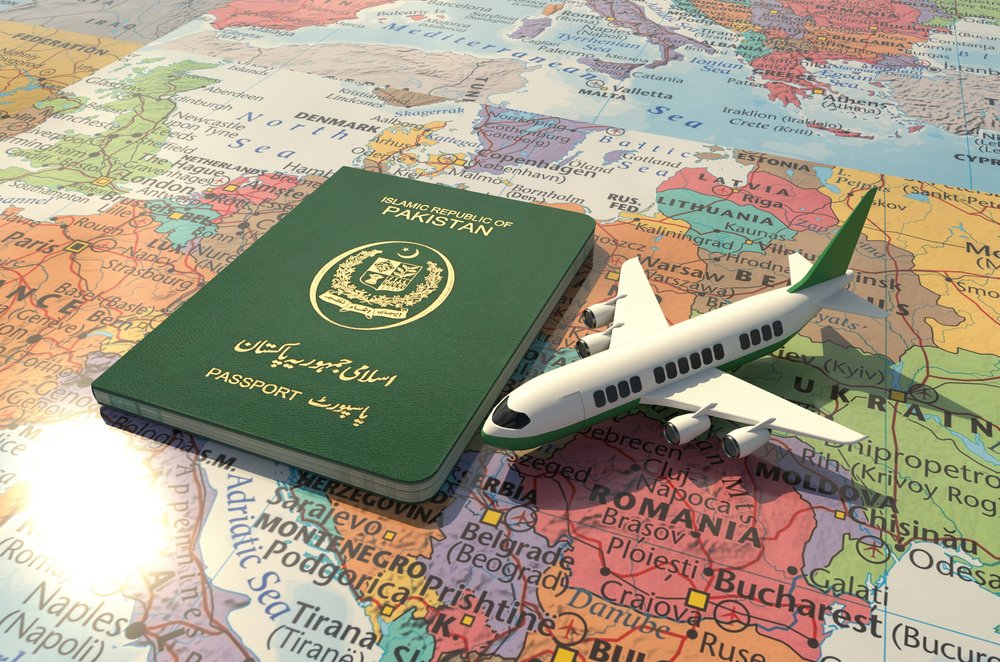 Rawalpindi's Executive Passport Office
If you're searching for executive passport offices in Rawalpindi, just use following address and phone number and get in touch, Rawalpindi's Executive Passport Office is situated on Murree Road near Rehmanabad.
Passport Office Timings in Rawalpindi
On public holidays and weekends [including Saturdays and Sundays], the passport offices in Rawalpindi are closed, while Friday is a half-day. However on business days, the offices still are open as usual. You may visit them on the following times, if you'd like to apply for a passport.
From 9 to 14:00, Mondays through Thursdays
Friday: 9 a.m. till 12:30 p.m.
These times are liable to change based on orders from the Directorate General of Immigration and Passports. On some days, some offices remain open 24 hours a day. For more info, call the phone numbers listed above [in the location section] to call your nearest passport office.
for a new passport
Every citizen of Pakistan is entitled to a Machine Readable Passport for travelling abroad, subject to completion of all allow the user to select formalities, according the Directorate General of Immigration and Passport.
Ordinary citizens, but at the other hand, are subject to reasonable limitations, with a few exemptions for government individuals and families, as well as military personnel and their families. If you [or even a member of your family] are seeking for a passport in Rawalpindi, you must know which office to visit and also what procedures to expect. Let's just get started.
You have to go to the Regional Passport Office in Rawalpindi if you've never applied for a passport before.
Any of Pakistan's Regional Passport Offices may extend your passport. You can obtain your passport at such a Karachi office, irrespective as to whether you live in Rawalpindi. You should, however, submit a 17th-grade officer's approval of your complete addresses [permanent and temporary]. Below the authorisation stamp, don't forget and included your CNIC and phone numbers.
Members of congress, army troops, and private and non employees are all entitled to certain privileges under the legislation. As a reason, they, together with their close family members, such as spouses, children, and parents, can apply for a visa regardless of region.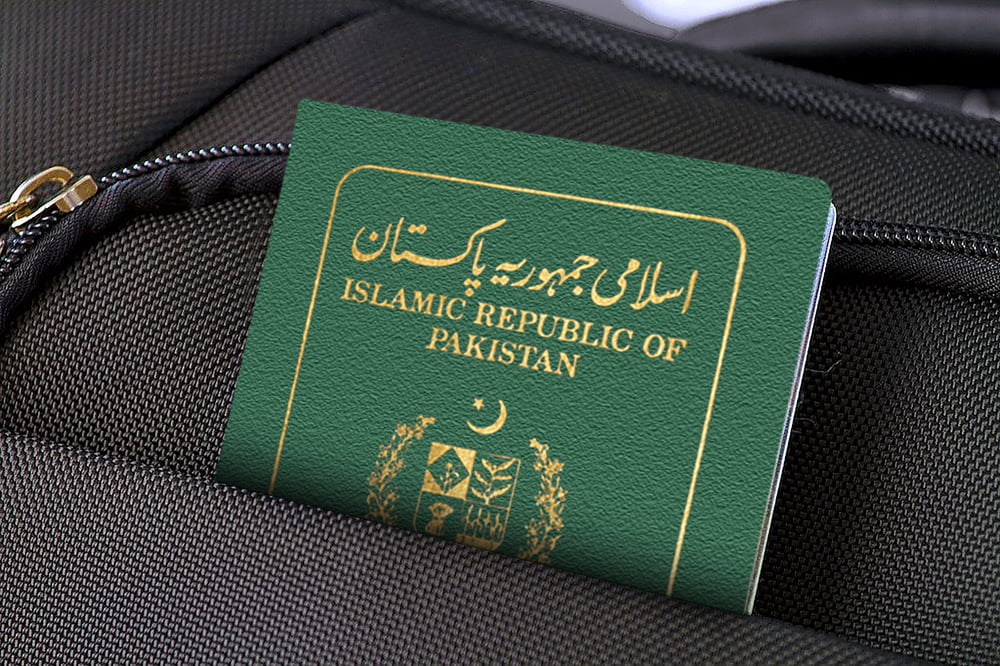 Passport Application Documents And Procedures In Rawalpindi
As per the Passport Act of 1974, Pakistan has three categories of passports: Regular Passport, Diplomatic Passport, and Official Passport. Let's take a closer look at Pakistan's documentation and passport application procedure.
Documents Required for Passport Applications
If you want to apply for a Pakistani passport in Rawalpindi, here are all the documents you'll require.
For Adults
If you are over the age of 18, you must bring the following documentation to the office.
2 CNIC or NICOP photocopies
If you're just a government employee, you'll need to have a No-Objection Certificate (NOC).
The fee deposit has been collected by the bank.
In the case of the dual nationality, a foreign passport and a photocopy of that are necessary.
CNIC or NICOP original
For Minors
The following are the documents needed to apply for a passport in Pakistan if you are under the age of 18.
2 NADRA photocopies of birth certificate
2 photocopies of the parents' CNICs and the fee deposit bank receipt
Foreign passport (original and photocopy) [for dual citizens]
NADRA's Computerised Registration Certificate (CRC).
For Passport Renewal
If you want to renew your existing passport, you'll need to have the following documents.
The renewal fee deposit has been received by the bank.
An old passport and a photocopy of it
CNIC in its original form (for adults)
CRC in its original form (for minors)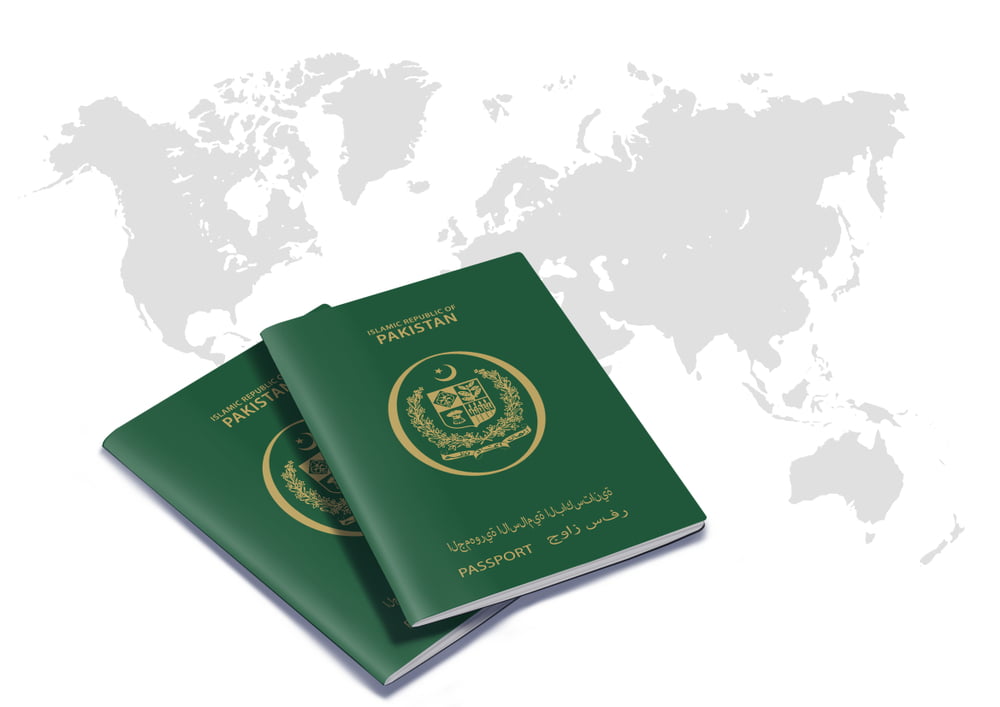 Passport Application In Rawalpindi: A Step-by-step Guide
As previously said, Pakistan has three types of passports: Ordinary Passport, Diplomatic Passport, and Official Passport. Nevertheless, the following is the reference implementation procedure.
Submit the passport fee at the National Bank Counter. Make absolutely sure you get a duplicate of the submission evidence. Afterwards when, go to the Customer Service Desk and acquire a Pakistani passport application form. Before moving on to the next step, you first must complete the form.
Make sure you have such a pen on you at all times. Also keep in mind that regional passport offices are separated into units based on localities. As a result, you have to go to the district window that matches to your CNIC.
When you've found your district window, the actual passport application process can begin. A photo would be taken and a unique token number would be issued.
Keep your token to you at all times and wait patiently for your turn. Rawalpindi's passport offices everyone has waiting spaces. Go to the proper counter wherever your token number appears.
Your fingerprints will now be taken at the counter. This will make it much easier for the officer to get your NADRA data.
You will be prompted to enter or double-check your bio-data into the system, which include your full name, date of birth, residence, occupation, and other information.
It's a great idea to double-check your name, address, and other information submitted into the system. Whether there are any mistakes, have them addressed by the officer to avoid problems while applying for a visa later. Individuals seeking for immigration and student visas should double-check spellings on official documents including such mark sheets, CNICs, and other official documents.
All of details will be cross-checked against existing records in the Exit Control List (ECL) and Black List (BL).
If you pass the above-mentioned step, you would be contacted by the Assistant Director of a Regional Passport Office and for final interview. After that, the director will give you a receipt with your passport tracking number and delivery schedule.
Collection Process For Passports
When you've completed the passport application process, you'll be able to travel. You'll have to wait for the treatment to be finished, which could take up to 15 days. You will be given a receipt with passport tracking number and delivery date for the passport during your appointment with the Assistant Director of the Regional Passport Office. You'll just had to pick
up your passport from same place.
Go at the Passport Collection Counter at the passport office. Make sure you've come on time and then have the receipt you received from the assistant director.
Present your data to the officer at the counter, but instead take your passport.
If you wouldn't want to deal with the hassle of going to the passport office, you will have your passport delivered right to your home. You should, however, clarify it during the application process, and you'll be charged an extra charge for this extra service.
Meanwhile, check out our recent post on the passport application process in Pakistan, as well as many other important information regarding online passport applications.
In Rawalpindi, Charges And Fee Structure For Different Passport Applications
Charges For A Passport That Is Valid For 5 Years
Category of Passport            Pages in Passport      Charges in PKR
Normal                                       36                              3,000
Urgent                                        36                              5,000
Normal                                       72                               5,500
Urgent                                        72                               9,000
Normal                                       100                             6,000
Urgent                                        100                             12,000
Charges For A Passport That Is Valid For 10 Years
Category of Passport            Pages in Passport      Charges in PKR
Normal                                       36                              5,400
Urgent                                        36                              9,000
Normal                                       72                              9,000
Urgent                                        72                              16,200
Normal                                       100                            10,800
Urgent                                        100                            21,600
So, that's where we talk about the primary issue of our article. This study described the passport application process in Pakistan and also the locations of passports offices in Rawalpindi. All of material in between has now been mentioned. Alternatively, if you're planning a vacation abroad, check read our travel guides for Egypt, Turkey, and Azerbaijan. Stay tuned to Feeta Blog – Pakistan's best tourism portal – for more informative posts. Get our articles sent to your email. Try typing your email address into box on the right side of your page and press the down arrow. Also, check visit our latest recent piece, that covers all you need to know about Pakistani passport offices.
Guide for passport Pakistan's government has made passport services more accessible to its people, who now can apply for a new passport or extend an existing one at any passport office in their region. In the very same vein, we've put together this guide that assist our researchers in identifying passport offices in Rawalpindi. We
Published in

#architecture, #interior design, #travel, 1482 castle, 1950s bomb shelter, 1951 house, 2000-year-old chariot, 300 people town, The Motor City Karachi Development Progress, Tim Shea, Tips & Advice, TOBACCO, Top Non Business, under 40sqm, unique buildings, urban exploration, urbex, Valuation of Immovable properties, vesuvius eruption, Video, vilnius, viral, virtual bridge, Weird, weird buildings, weird design, white, whittier, whittier resident, whole town lives in one building, Widening tax net, wood, World Business News, yellow, yulia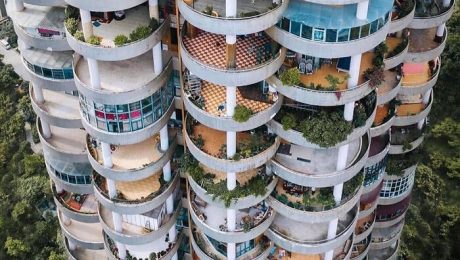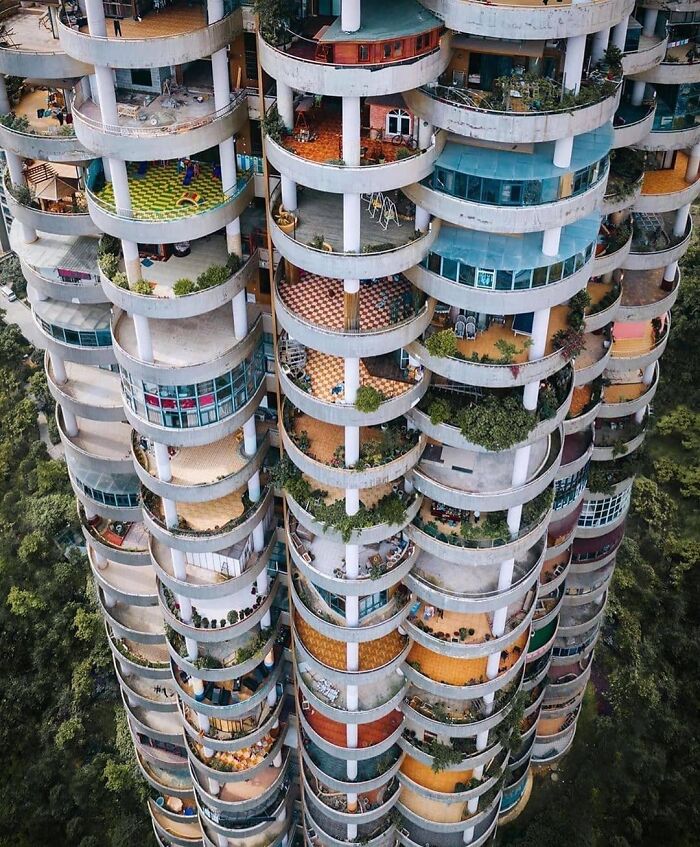 72 Weirdest Building Designs
If you ever feel that some architects live in their own fantasy land, you are not the only one. The buildings they create can range from majestic to magical, and they are sure to captivate your buttresses, stoic columns, angelic balconies and formidable facades. However, you may sometimes get the idea that some of these art innovators haven't fully considered some things – like the fact that people actually have to live and work in the built-up buildings.
We have some dreamy and confusing buildings to show you today, dear pandas, so take off your opera glasses, get yourself some popcorn, and let's go through the cream of the crop of the 'Bizarre Buildings' subredit. Take a look at some of the most beautiful buildings people may have a hard time living in, vote for the ones you enjoyed the most, and let us know which one you would choose as your home in the comments section.
I chatted nicely about architecture with Dr. June Commissioner of Ryerson University. Dr. Komisar, who is a specialist in architectural design, the history and theory of architecture, and design for urban agriculture, told Bored Panda for professionals to seek inspiration from the "wise" ancient Roman writer Vitruvius. "What he said about balancing goods (suitability of the building too needs), firmness (structural integrity) and joy (the aesthetics of the building and its relationship to site and context) still holds true."
# 1 This Building In Guizhou, China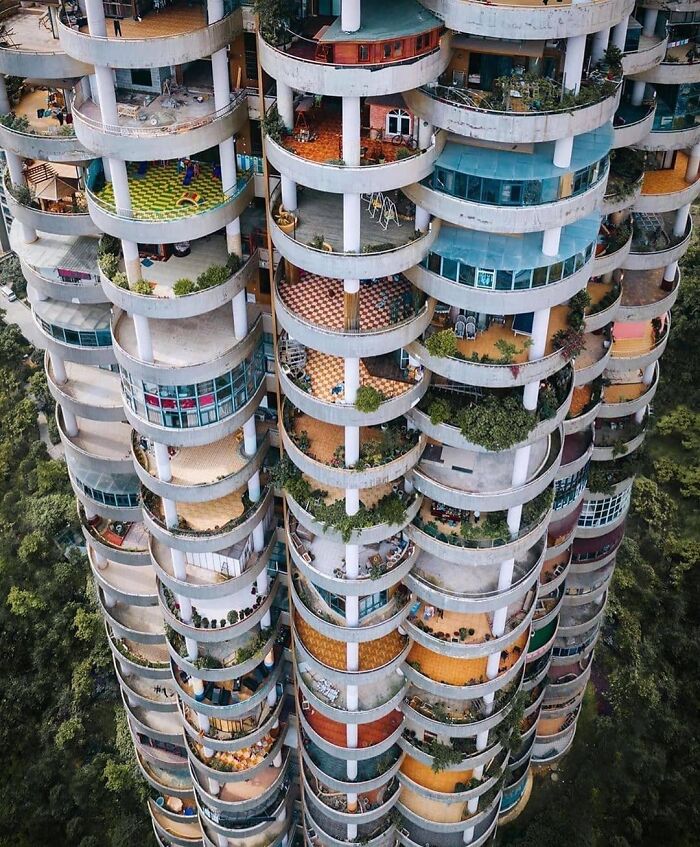 # 2 The Interlace – Singapore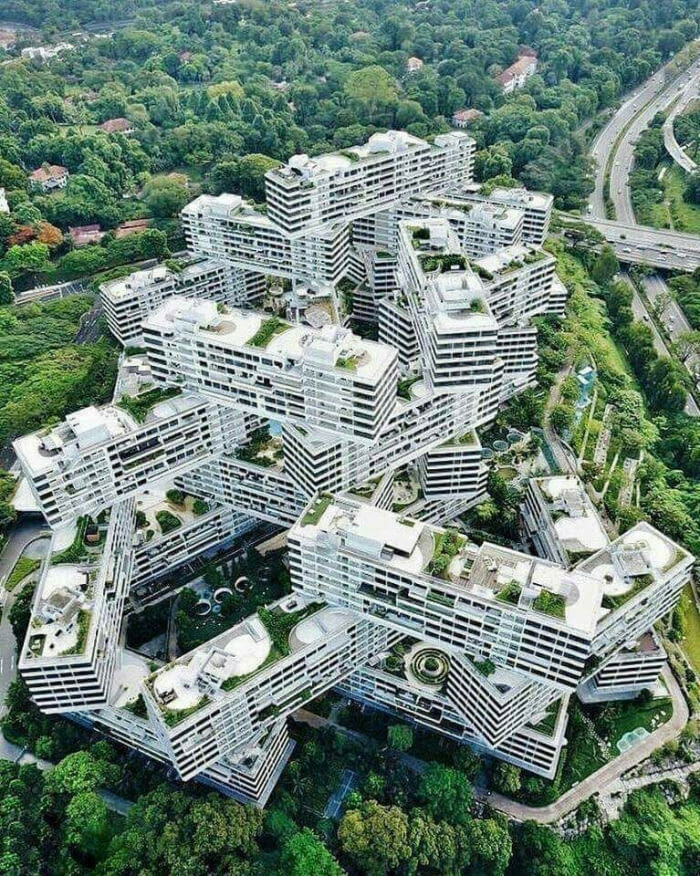 # 3 Cat Shaped Kindergarten, Germany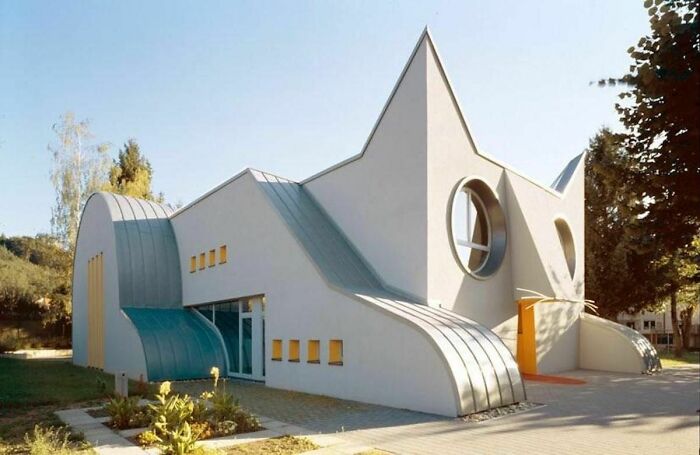 Dr. Komisar has shown Bored Panda that no matter how good an architect is, they will not be able to be prepared for all possible problems and contingencies. "But understanding the local conditions and evaluating other buildings using the same construction techniques and materials can help avoid problems," she said.
I was also interested to find out how architects can innovate and create originality when sometimes it seems like every idea has already been made. According to Dr. Komisar, the changes do not have to be something profound. Start small.
# 4 The Evolution Of This Building Can Be Seen In Its Masonry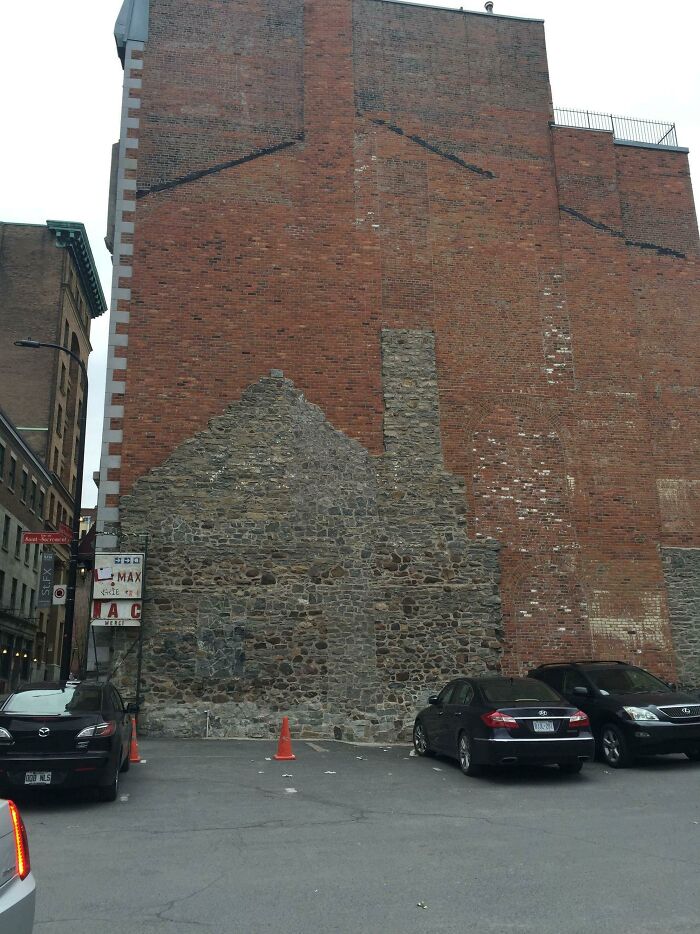 # 5 Pavilion Of Enlightenment, Thailand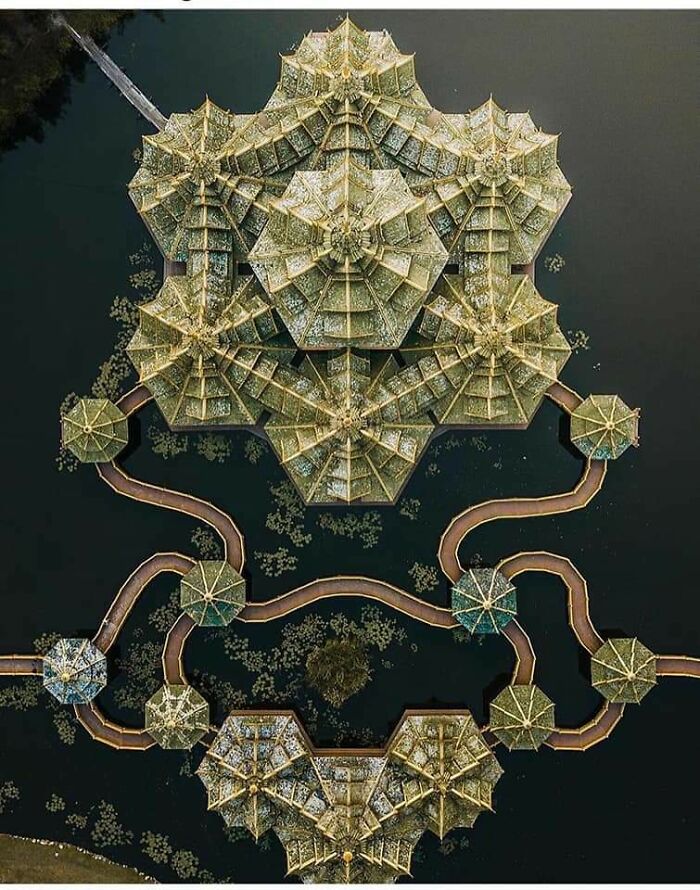 # 6 The National Carpet Museum In Baku, Azerbaijan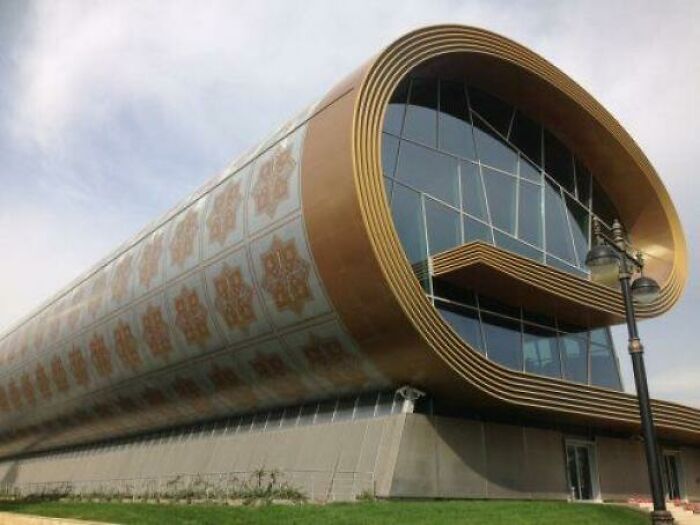 "Innovation does not have to be radical, but can be an incremental change that will benefit users and society at large. Today we have a huge opportunity to build sustainable buildings that approach or achieve 'net zero energy cost. Using local and/or sustainable materials, designing for passive and/or active solar and wind energy, designed for very low energy, and renovating and adapting existing buildings, we can help mitigate climate change. "
Dr. Komisar continued: "Dealing with this environmental crisis is not only an issue we need to address, but it is also a tremendous opportunity for project innovation. Addressing these concerns will undoubtedly introduce a variety of creative solutions."
# 7 The Department of Fisheries In Hyderabad, India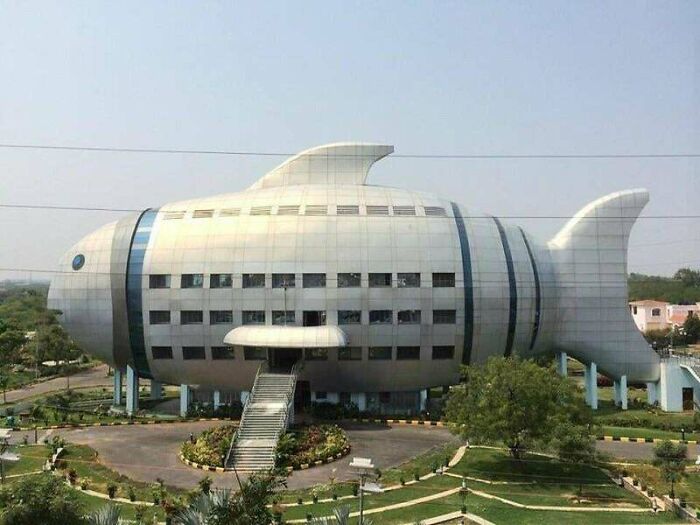 Tower "Arbre Blanc" by Sou Fujimoto in Montpellier, France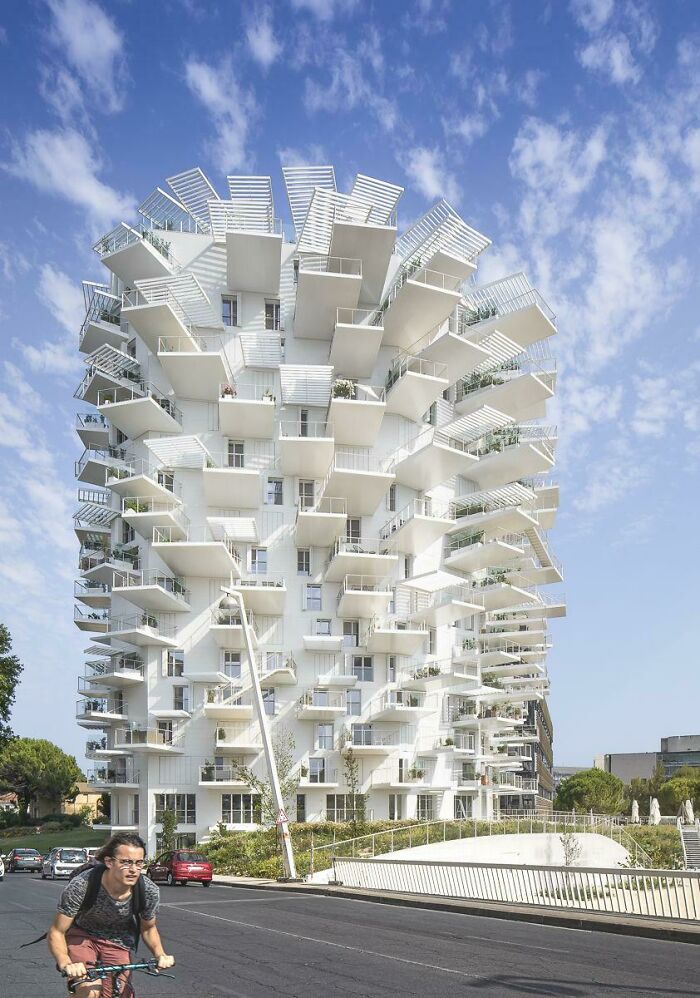 # 9 Giant 16th Century "Colossal" Sculpture In Florence, Italy Has All Rooms Hidden Inside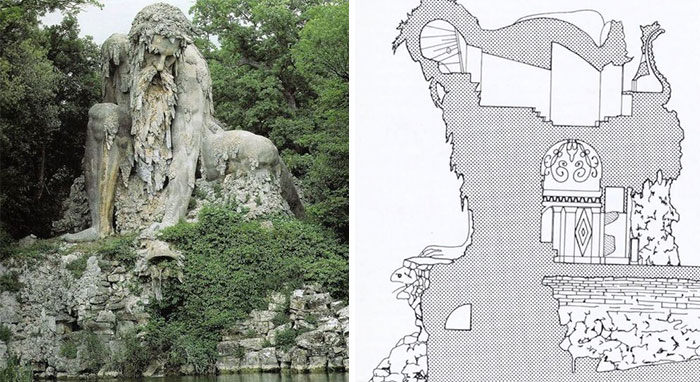 Architecture is a hard crack. On the one hand, it is a very functional and rational field of action that literally projects the spaces in which we live, work and sleep. On the other hand, it is an artistic expression form on the same level of importance as function. After all, if you intend to build something (anything), why not make it amazing?
So of course it's up to the architect to solve an engineer's constant riddle: how do you innovate and create something iconic, while also making sure your building doesn't cause a stir and denounce it in the news?
# 10 Turtle Building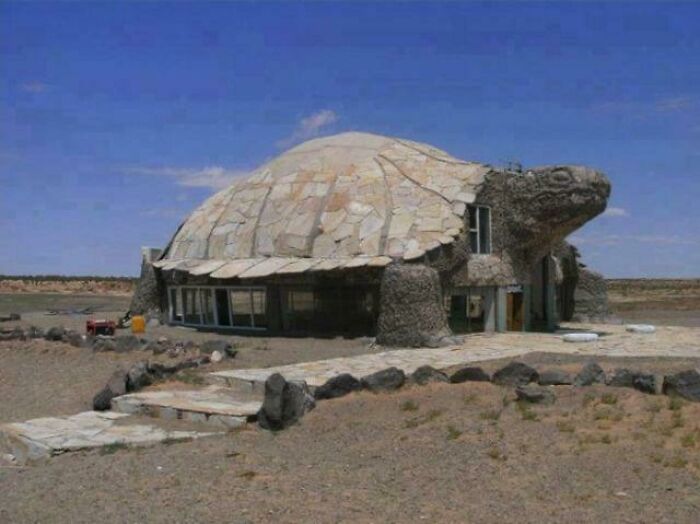 # 11 600-year-old Clock Located In Prague Is The World's Oldest Astrological Clock Still Working!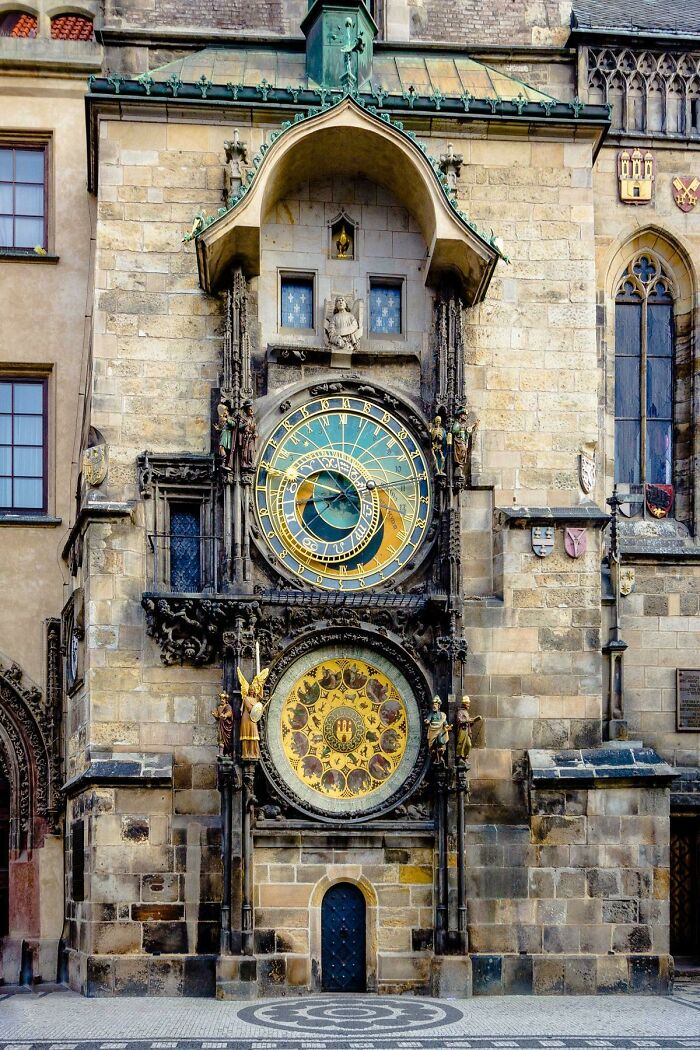 # 12 Original 1930s Shell Gas Station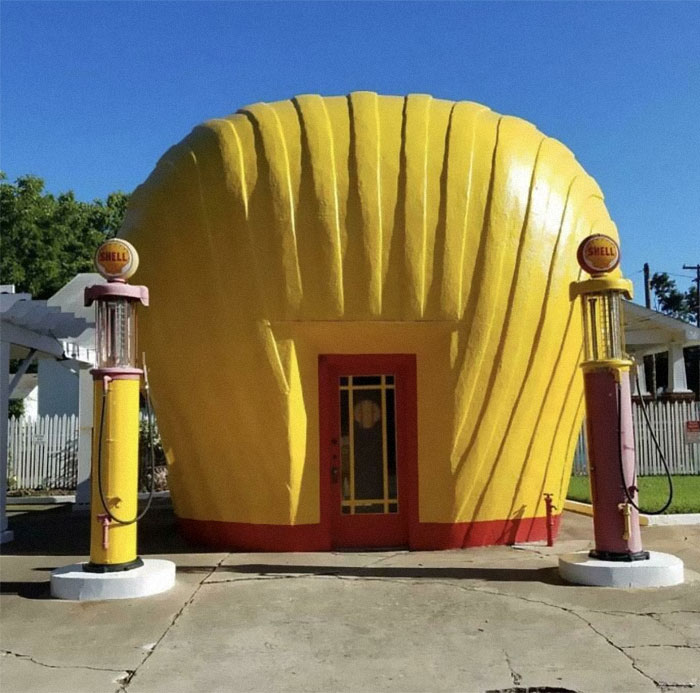 No 99 Designs draw attention that buildings should be pioneering, showy, and come out of their surroundings. And that means bending the rules and capturing (at least some) conventions.
Paradoxically, however, the architect is also very aware of the surroundings of the building, using them as a complementary background. You can still have your modern masterpiece if you pay homage to the more traditional surroundings of the building with the details, colors, etc.
And it is in relation to the surroundings that your choice of materials and the way you shape your project comes in – they are deeply expressive decisions that you should consider as soon as you start outlining your ideas for your project.
And always always remember that even though you are creating a work of art, it must be practical. Otherwise, what is meant by architecture, when sculpture would give you the full freedom to express yourself.
# 13 Wonderful Building In Chile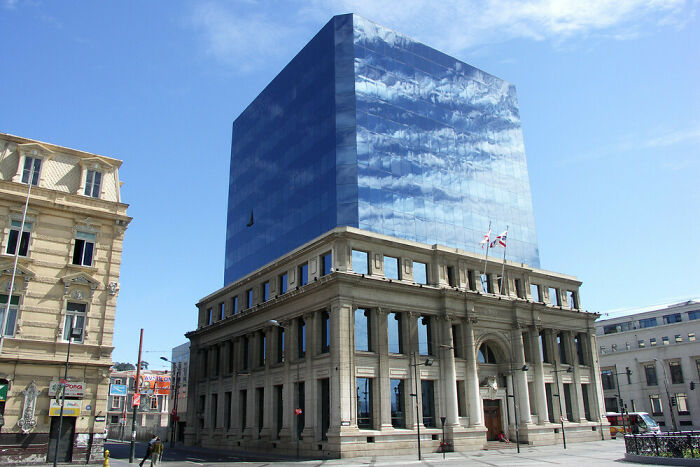 # 14 Austria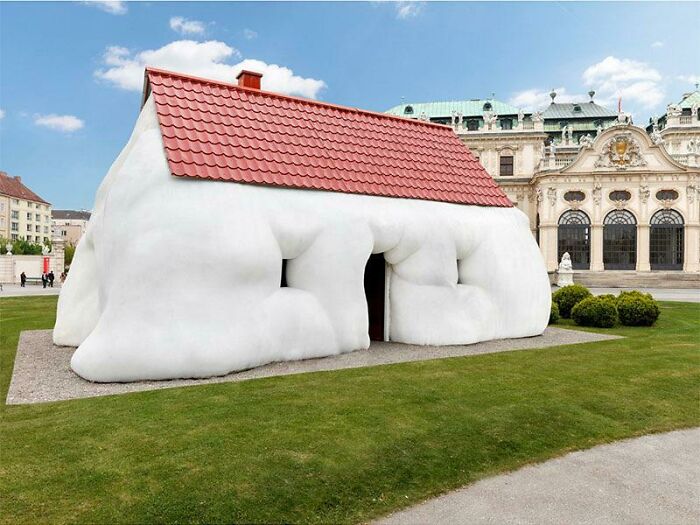 # 15 When You Are An Architect Whose Brother-in-Law Owns A Struggling Window Shop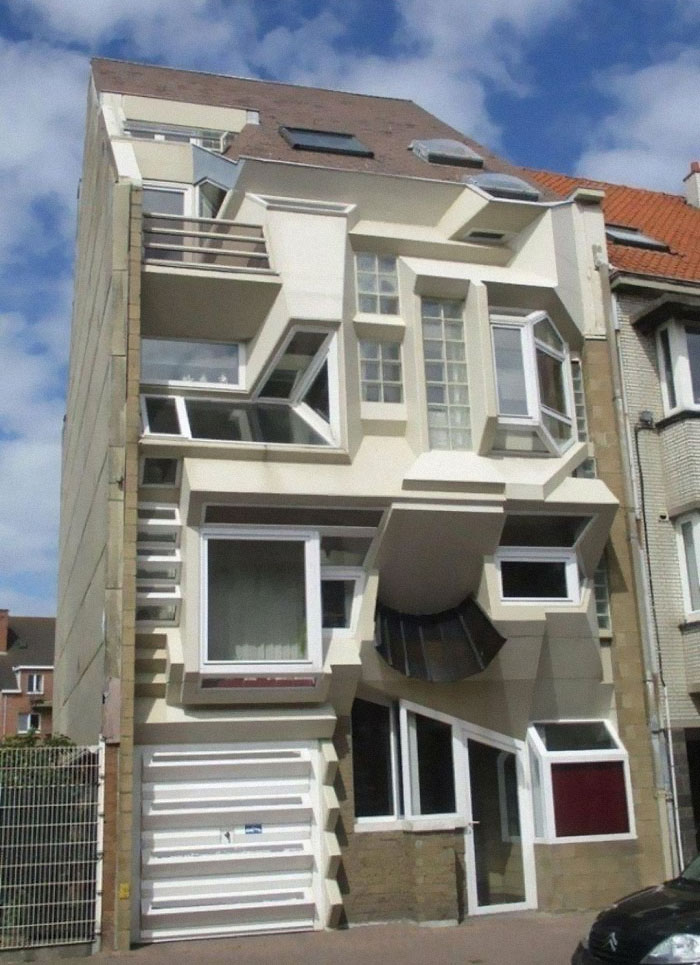 The community r / bizarre buildings celebrated its 5th birthday just a few months ago, in March, and it's strong. Currently, the subreddit has over 131k members and we can see that number growing in the future.
Be sure to visit the community if you enjoyed the photos on this list. Come in for a quick 'hello, how are you?' or consider also posting a strange-looking yet utterly amazing building.
"If it's a bizarre building, it belongs here. No, not pictures of buildings with a bizarre Christmas [look]. We want unique Unicope buildings! "The moderators of 'Bizarre Buildings' shared what their online group is all about.
You heard it here, folks – your regular holiday decor bizarre just won't cut it. You have to go for bizarre. Start the weirdness until eleven, so even Alice thinks she's still in Wonderland. Just remember that when you innovate, you also have the ability to make a good climate too!
# 16 Walden 7 in Barcelona, ​​Spain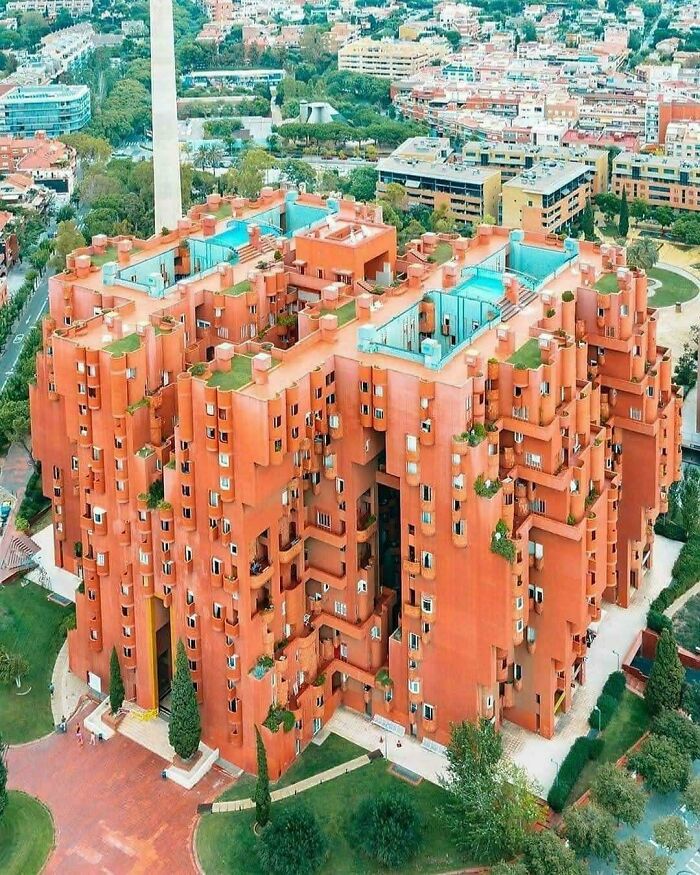 # 17 When You Have the Money But Not the Earth (Batié, Cameroon)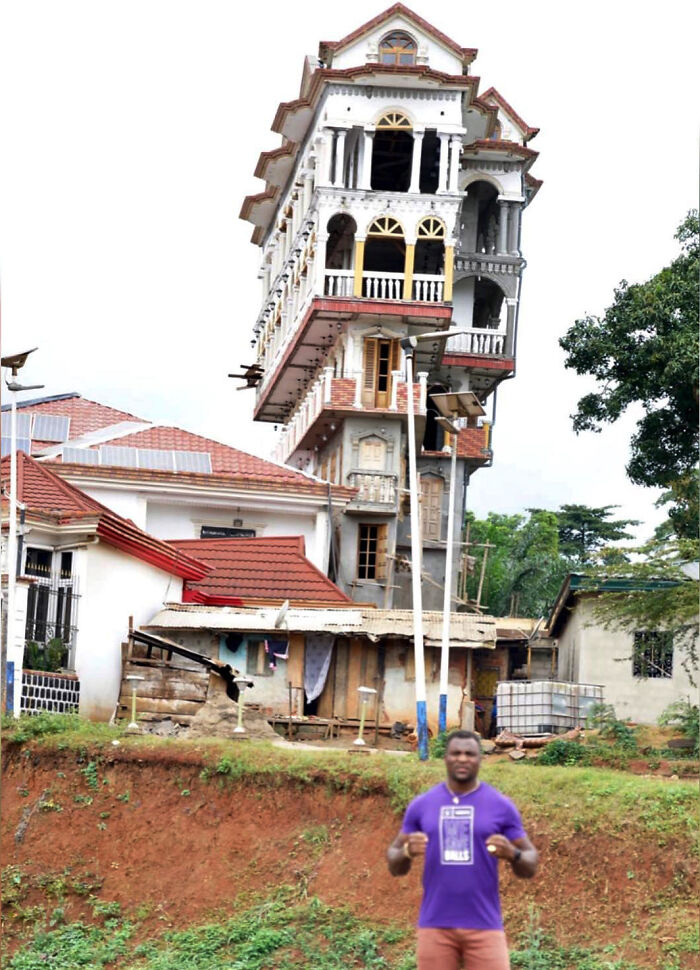 # 18 Treehouse (Demolished), Okinawa
# 19 Content House In The Desert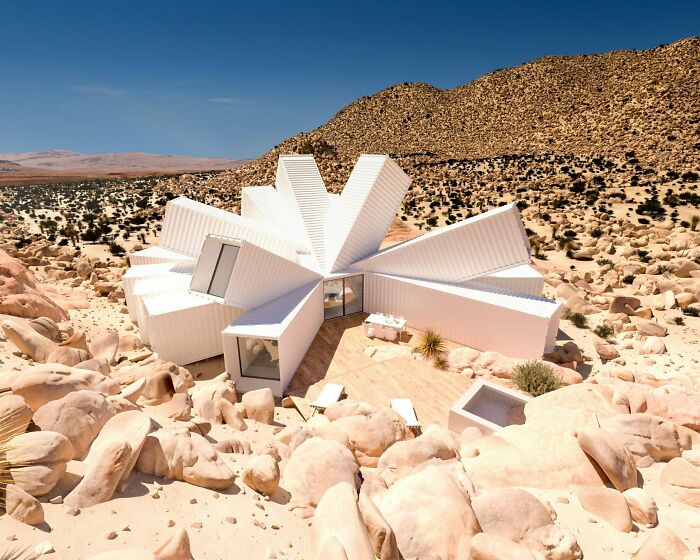 # 20 The Sheep Building (Tirau, Waikato, New Zealand)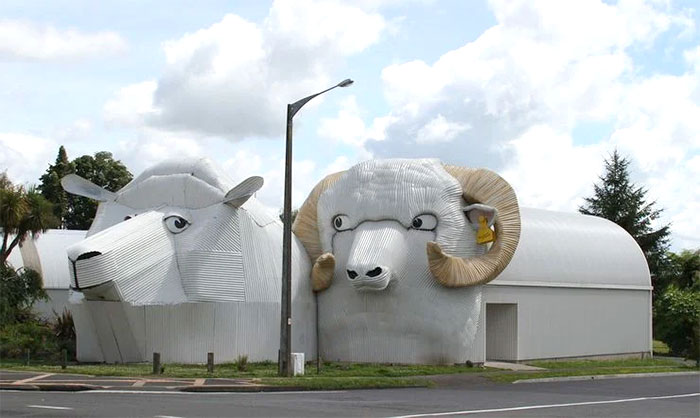 # 21 Japanese Moka Railway Station In The Shape Of A Locomotive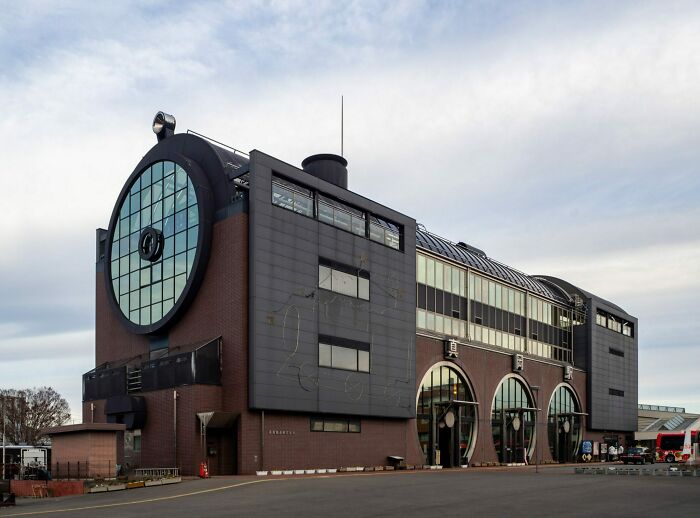 # 22 Tianzi Hotel, China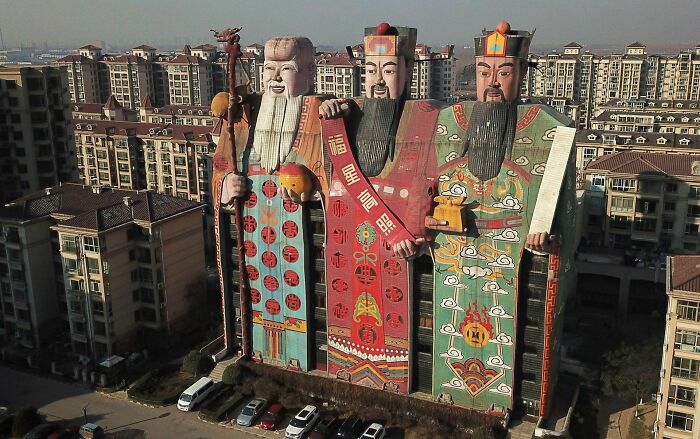 # 23 The Stockholm Telephone Tower With About 5,500 Telephone Lines, 1890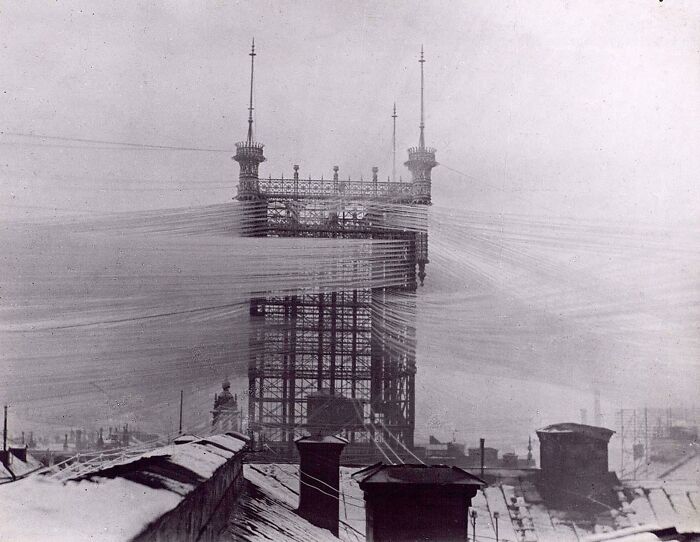 # 24 Unique Residence In The Netherlands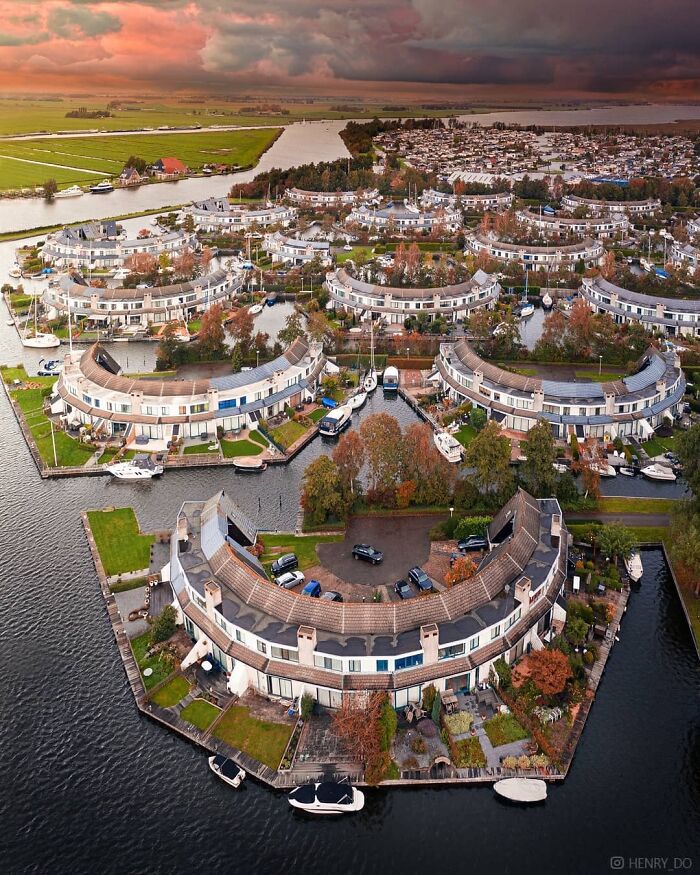 # 25 When Your Growing Family Needs An Upgrade But You Love That Comfortable Cottage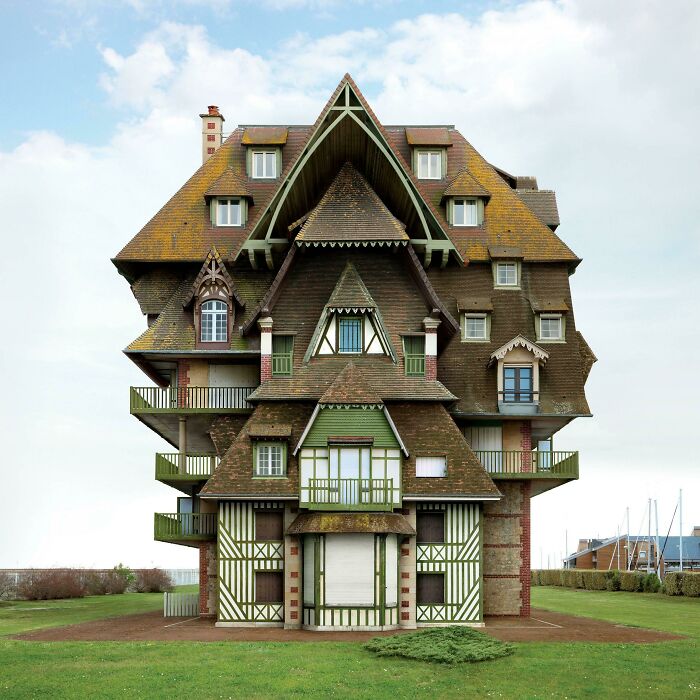 # 26 Here Is The Proposed Crescent Tower For Dubai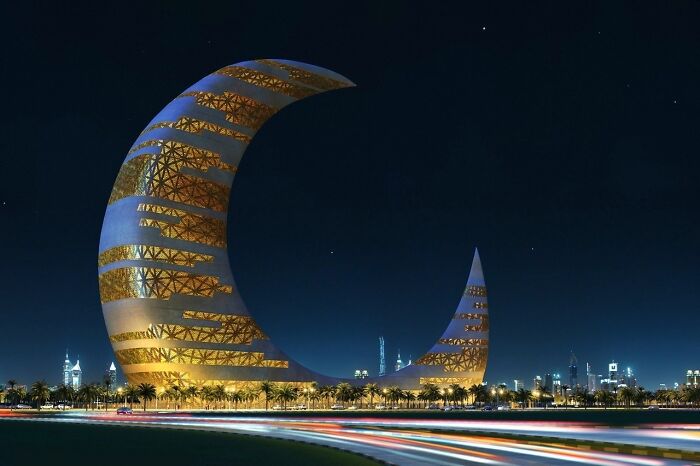 # 27 "My Home Is Off the Highway"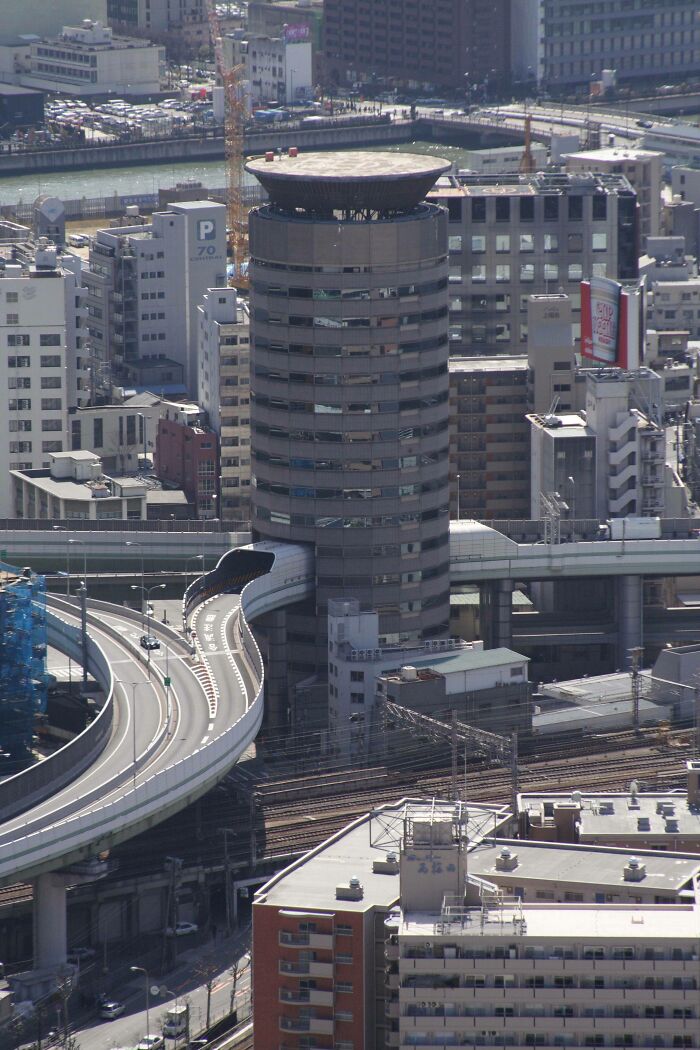 # 28 This Is What Happens When The Owner Of Half Of City Hall Refuses To Sell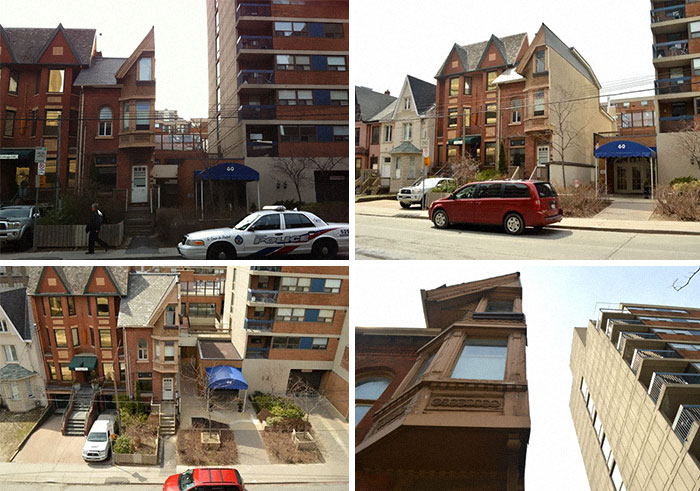 # 29 Technical University University Building Sydney (UTS)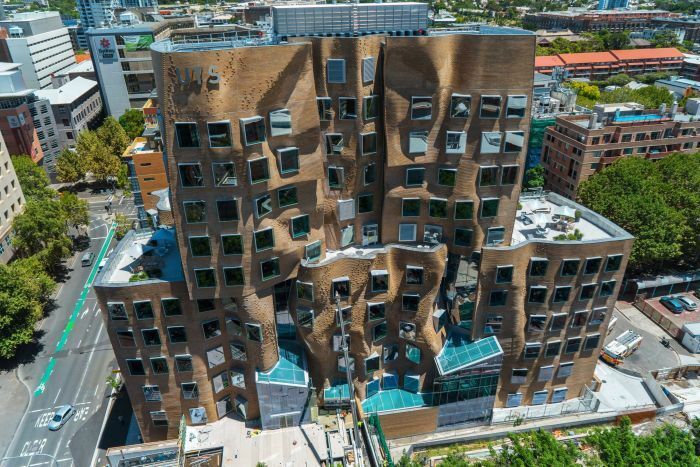 # 30 Abandoned Potato Sorting Station In Ukraine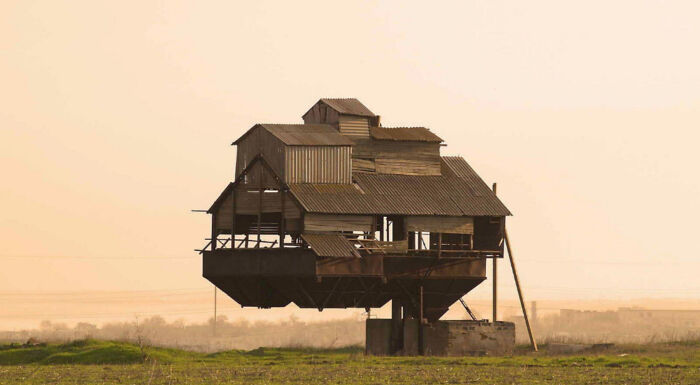 # 31 This Single Pixelated Facade On The Mahanakhon Tower In Bangkok, Thailand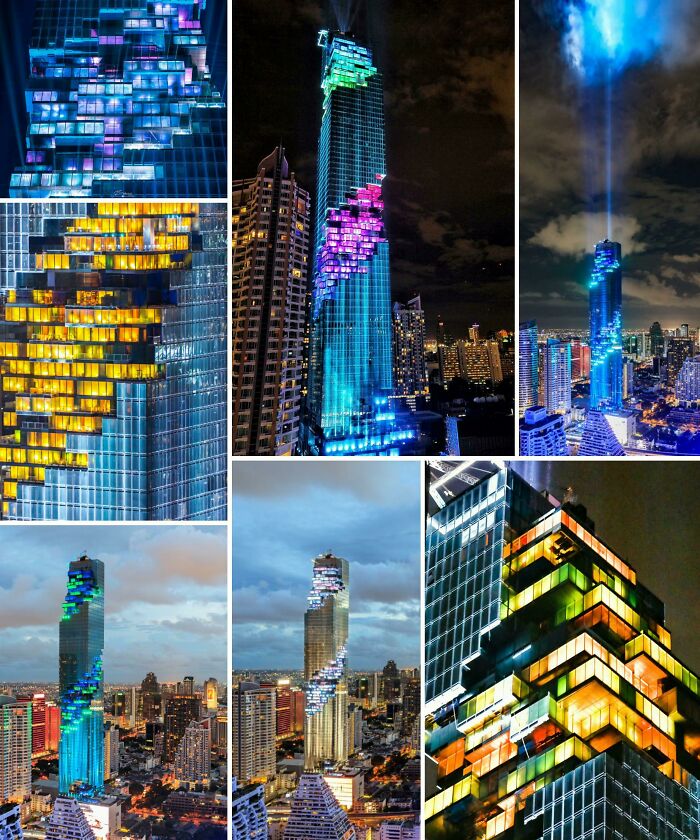 # 32 Living Like a Caverner With Modern Pleasures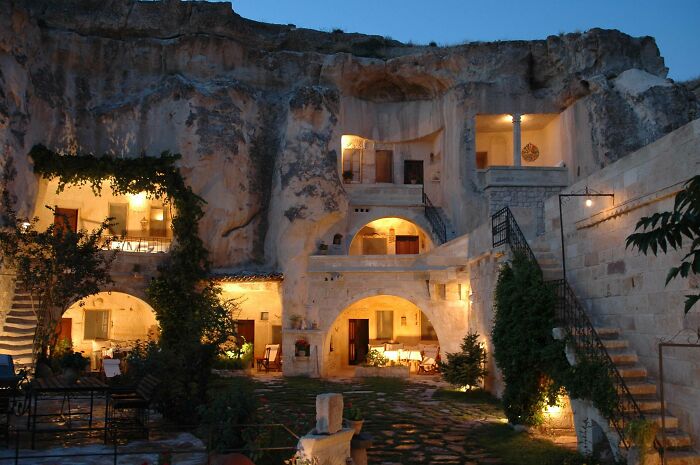 # 33 This Little House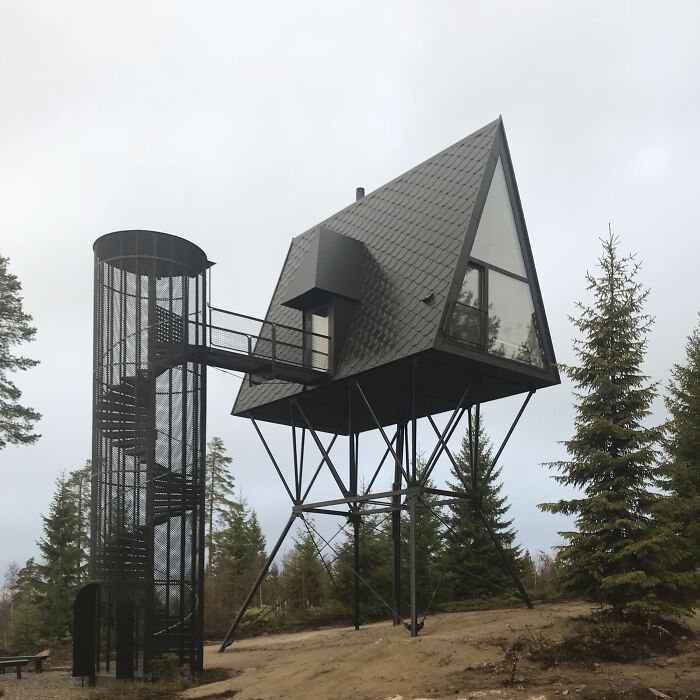 # 34 Chestnut Tower Sun By Fundamental Architects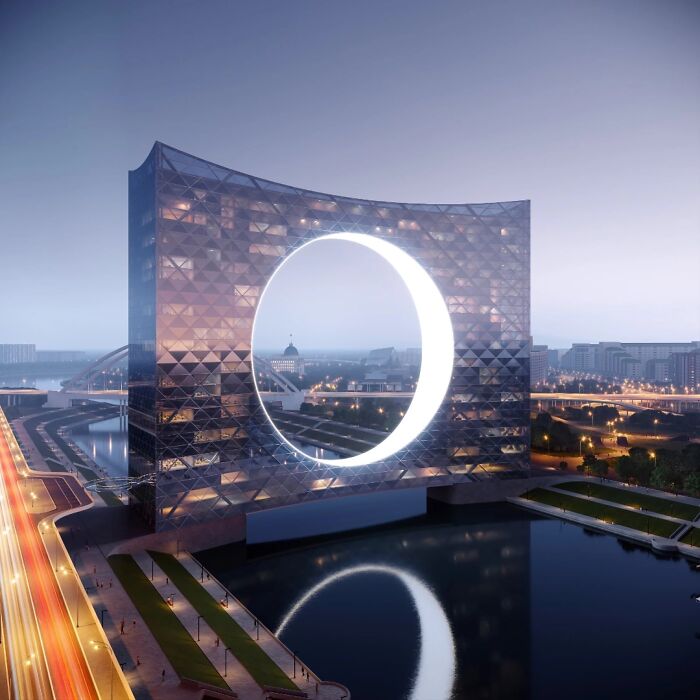 # 35 Bizarre Chicken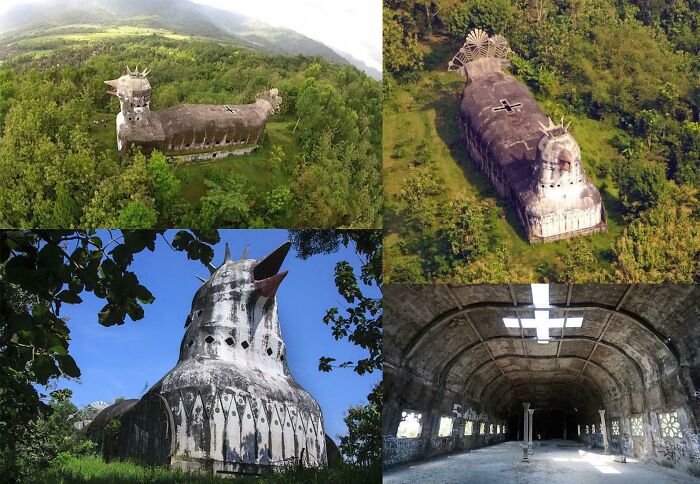 # 36 The Largest Hotel In The World, With A Scanning 10,000 Rooms Currently Under Construction In Saudi Arabia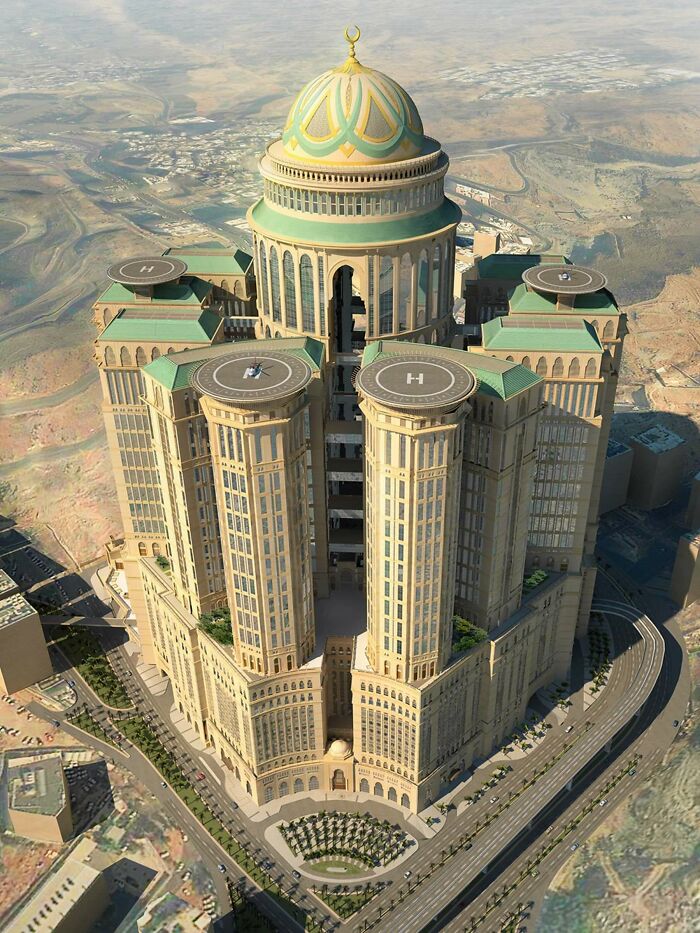 # 37 The New Louis Vuitton Store In Tokyo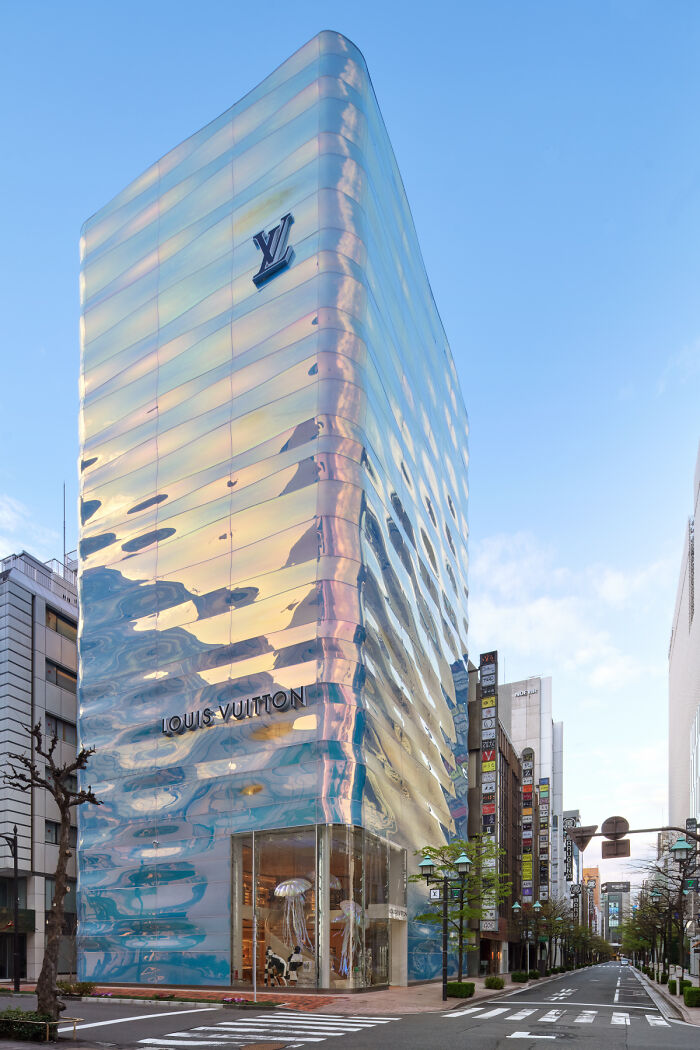 # 38 "Local Man In Altus, Eight Arrested After Shooting From Trebuchet To A Group Of Girl Scouts. His wife was quoted as saying 'I wish I hadn't yielded to him begging that devilish castle tower when we built the house, he's mentally fixed in the Middle Ages since 1981 '"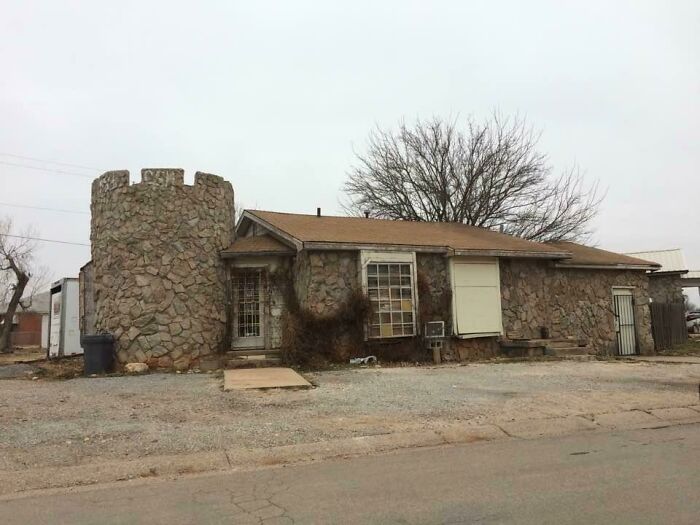 # 39 Plot # 1282, Residential House In Beirut Designed By Bernard Khoury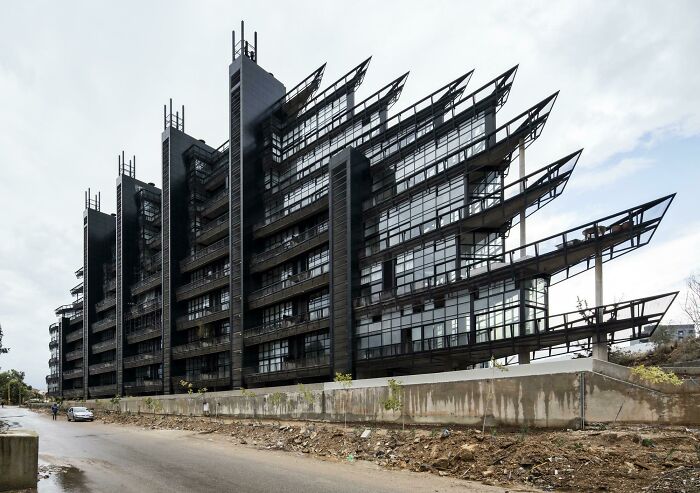 # 40 Inverted Pyramid House In Spain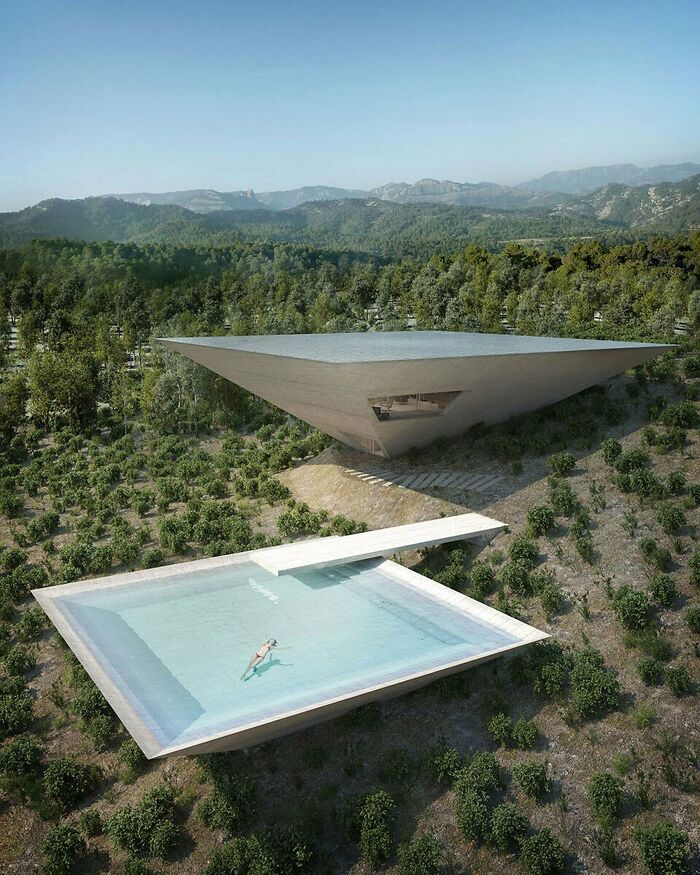 # 41 Shop Front In Kyoto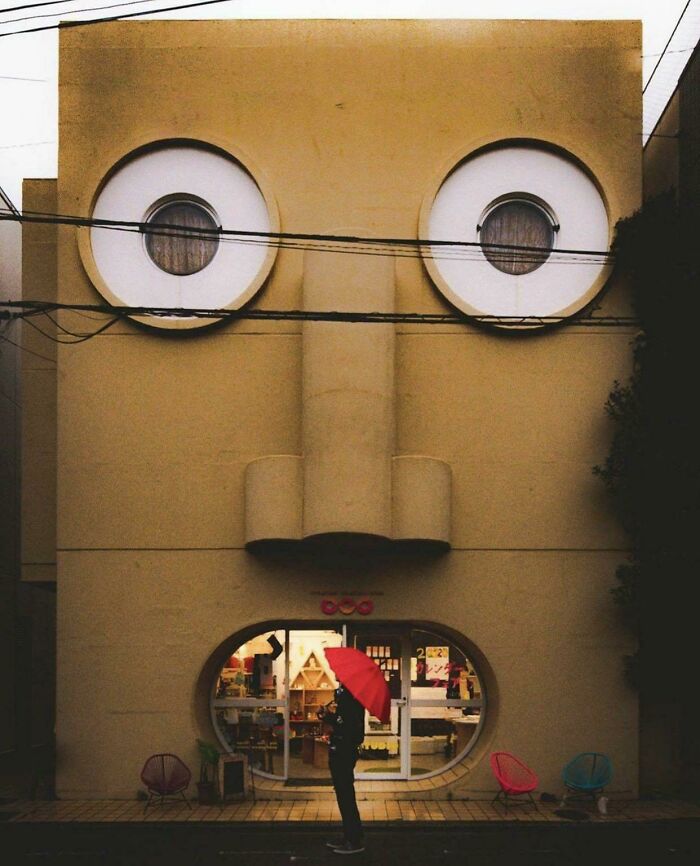 # 42 The Frame In Dubai – Lift Up Along, Walk Across Glass Floor, Lift Down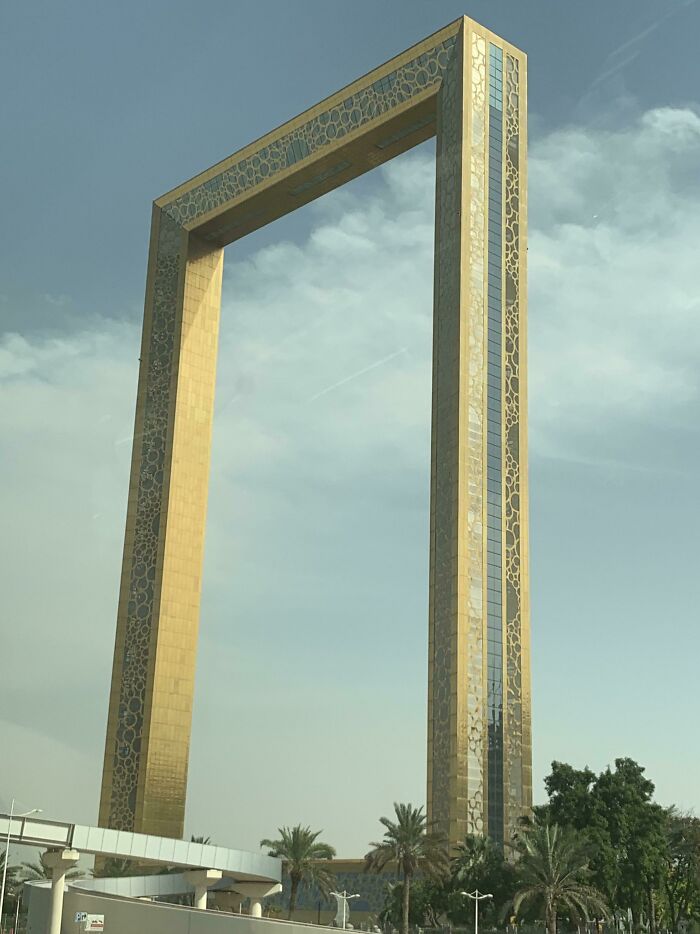 # 43 Shenzhen International Airport Looks like a Giant Airplane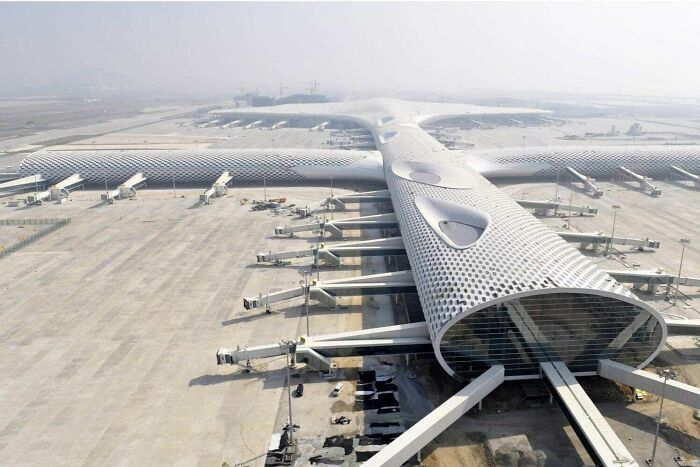 # 44 Spiral House, Ramat Gan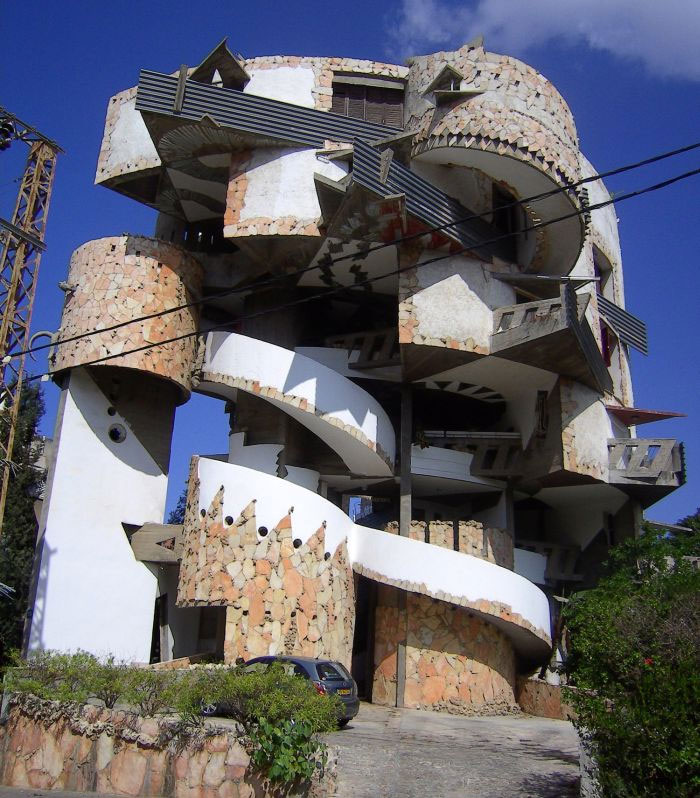 # 45 Spanish Embassy In Brazil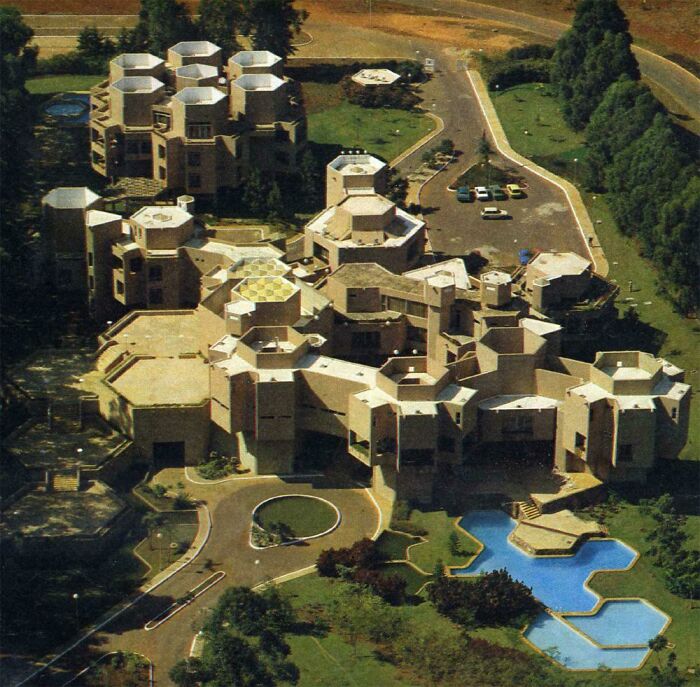 # 46 700 Sq Ft House In My 'Hood Soldus Sold For $ 1 Million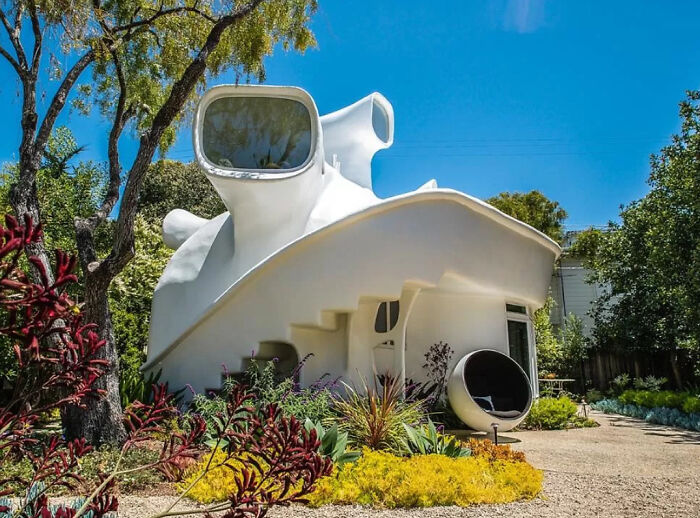 # 47 Modernist Home In Venice, California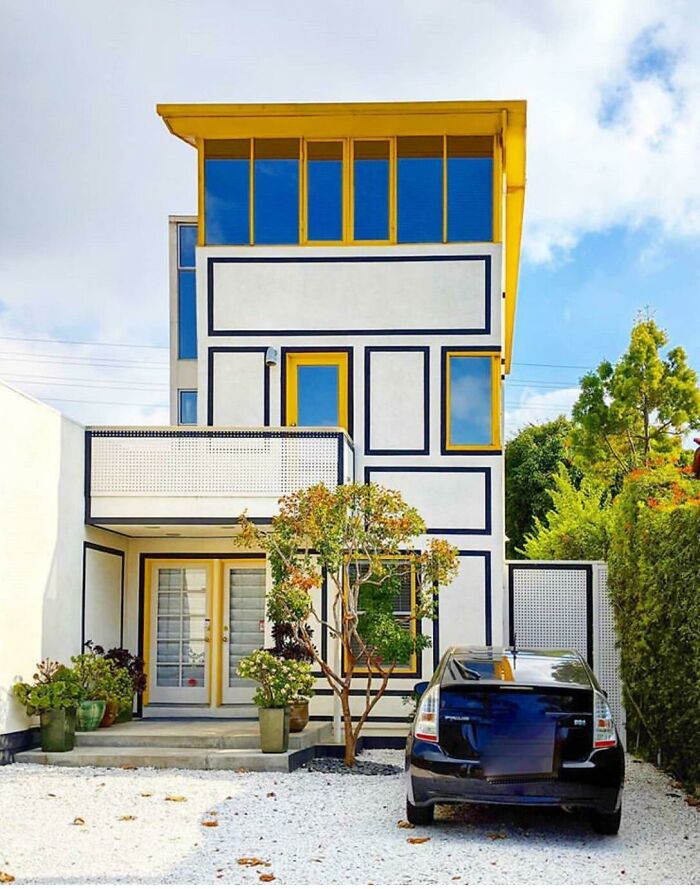 # 48 Saemoonan Church In Seoul, Korea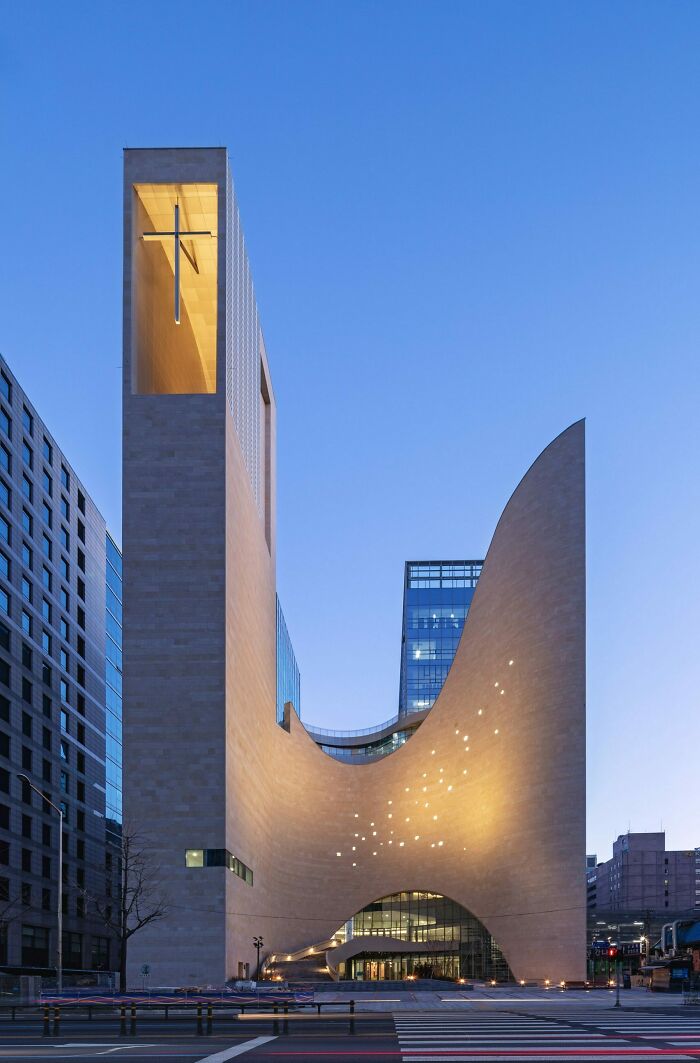 # 49 Seafood Restaurant? An Institute for Marine Biology? Or Headquarters For Crab People Hiding In A Flat View?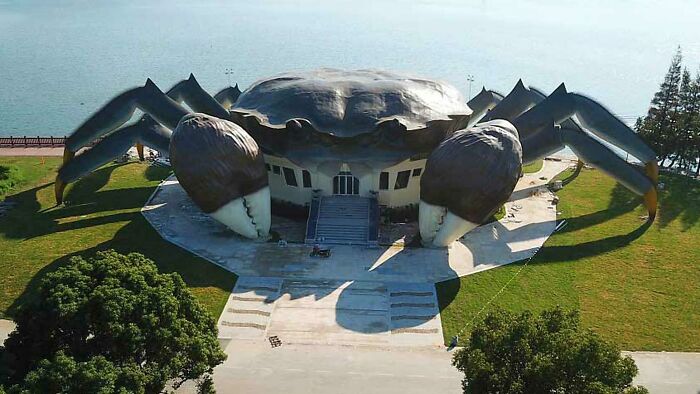 # 50 Hyatt Regency San Francisco De John Portman (1974)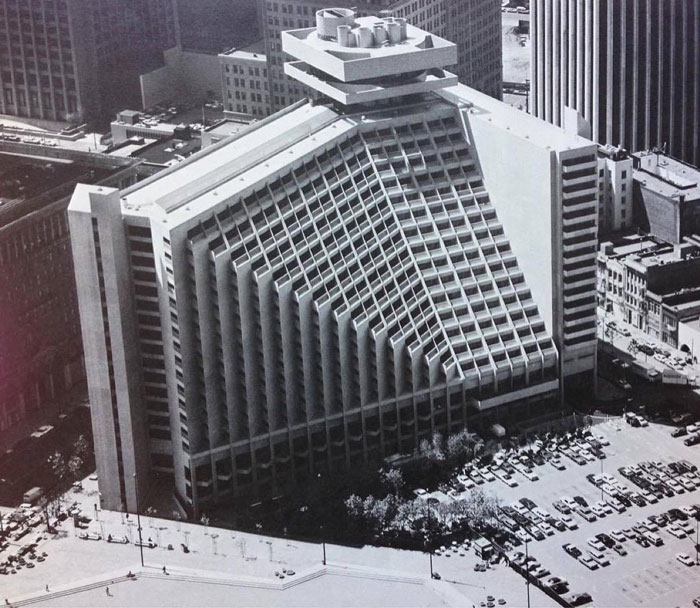 # 51 People Living Near Helicoid Street In Chongqing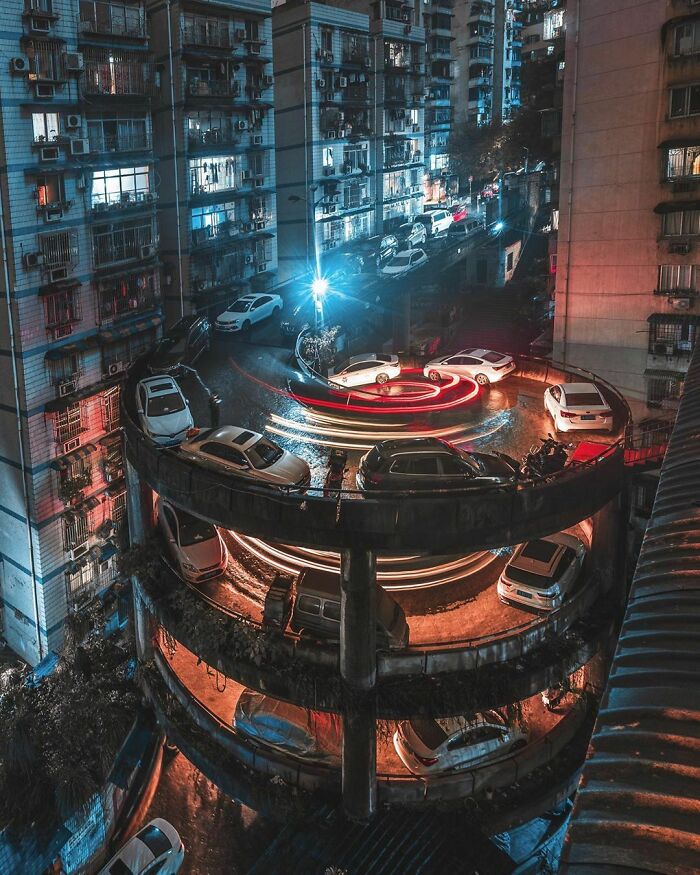 # 52 The Peachoid, A 135 Feet (41 M) High Water Tower In Gaffney, South Carolina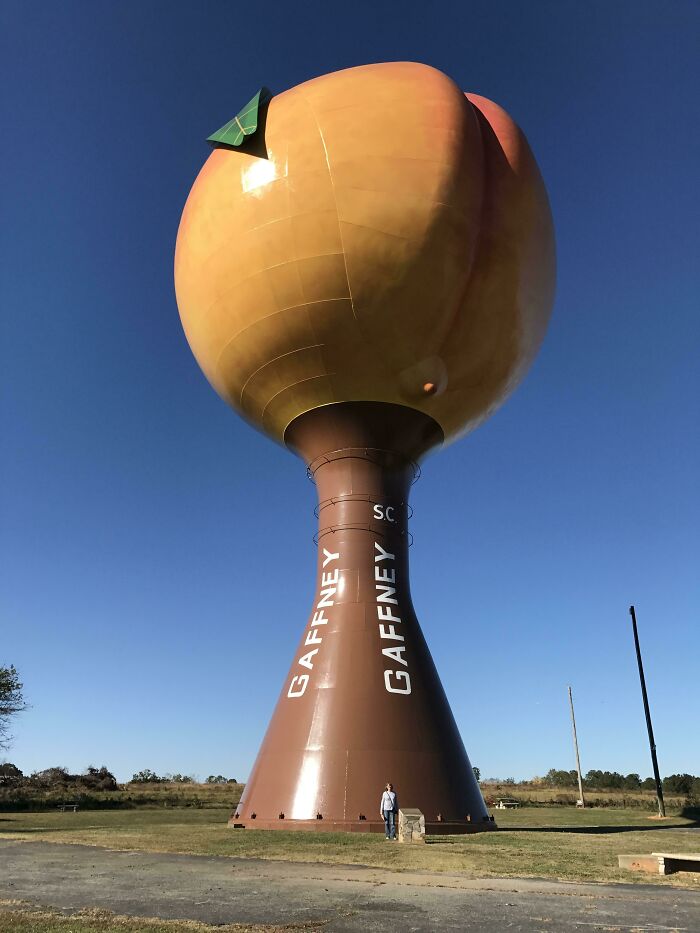 # 53 I Don't Know About You, But I For One Always Wanted To Live In A Black, Characteristic Monolith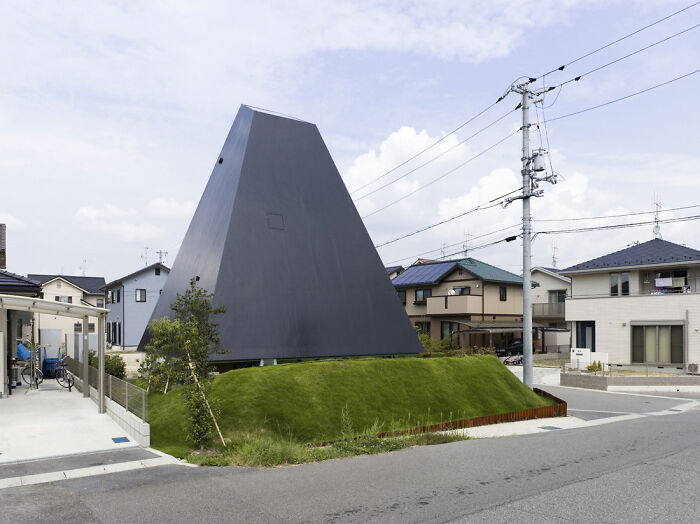 # 54 House in Katayama, Japan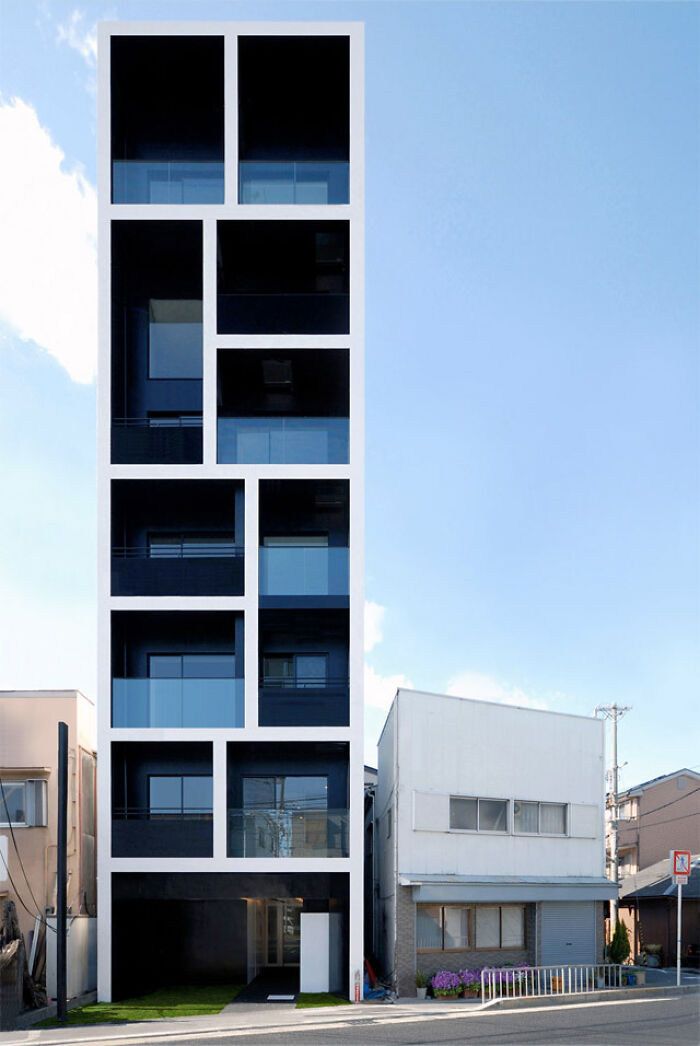 # 55 This House In Sochi, Russia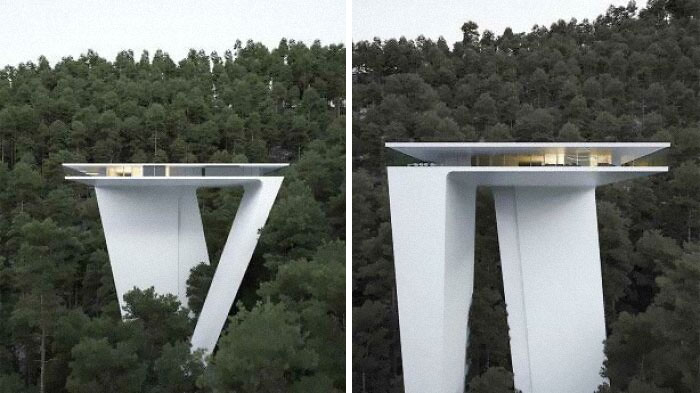 # 56 Residential House In Egypt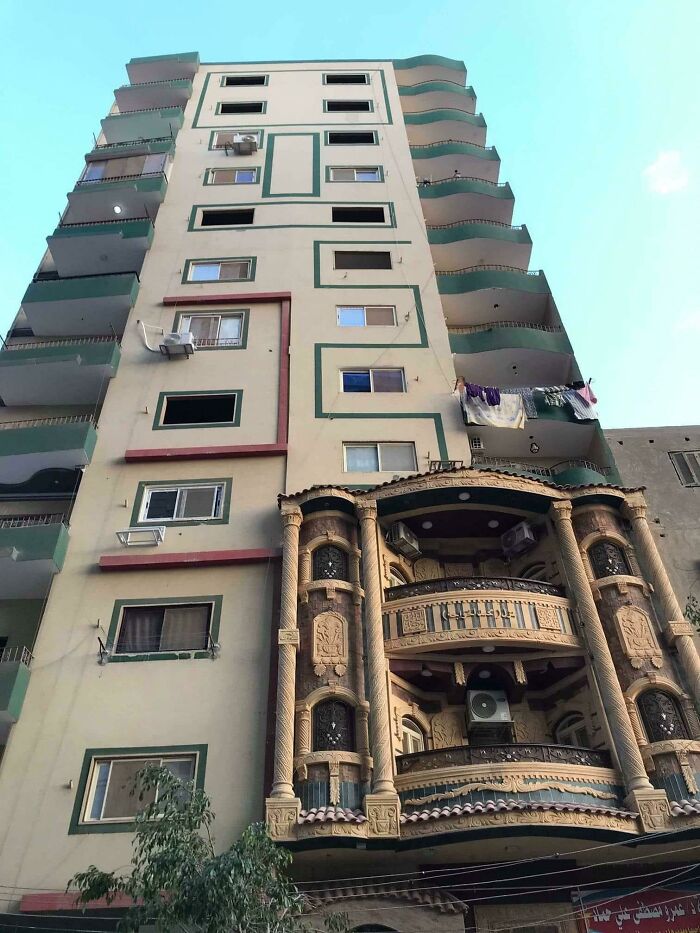 # 57 Cleveland Clinic- Lou Ruvo Center For Brain Health In Las Vegas, Nevada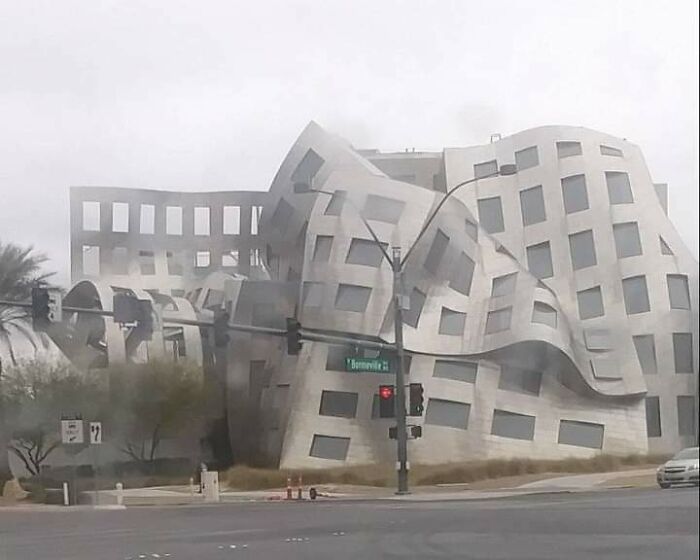 # 58 Rare Vision Of Two Wild Buildings Interacting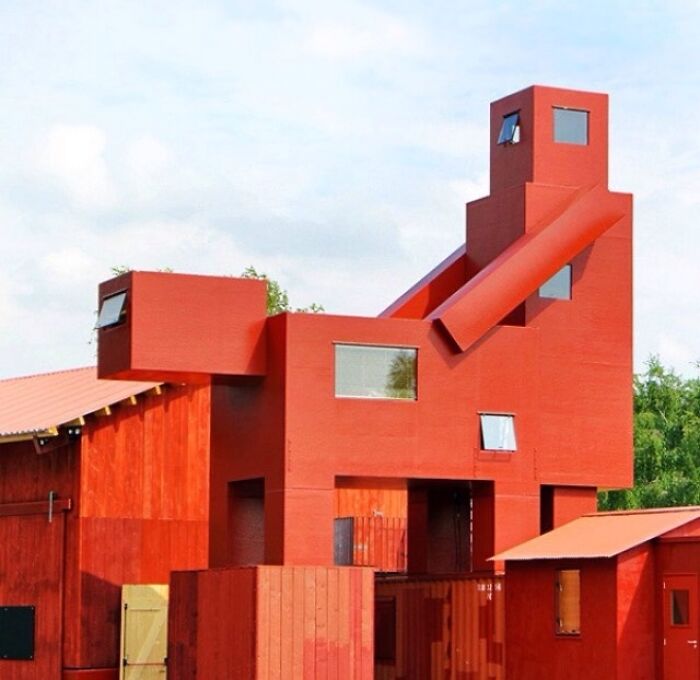 # 59 Is A Huge Open Market In The Netherlands With Housing Inside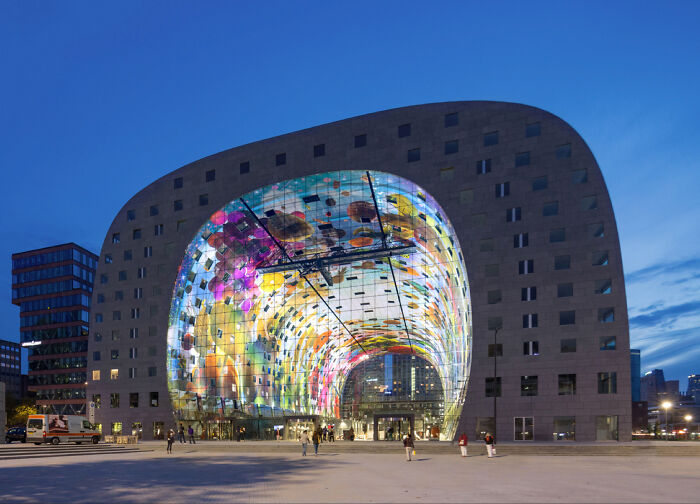 # 60 Often Called "The Great Wall Of Russia" Or "The Lying Skyscraper", This Is One Of The Longest Buildings In The World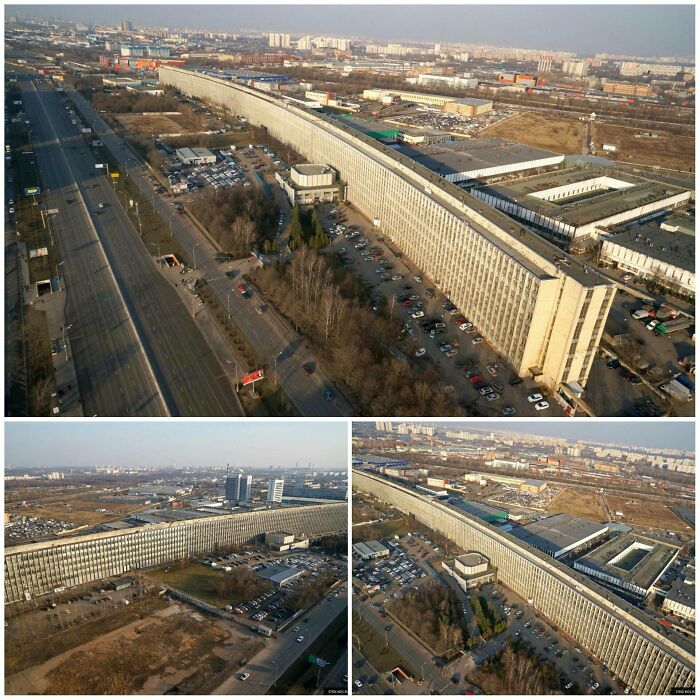 # 61 Side House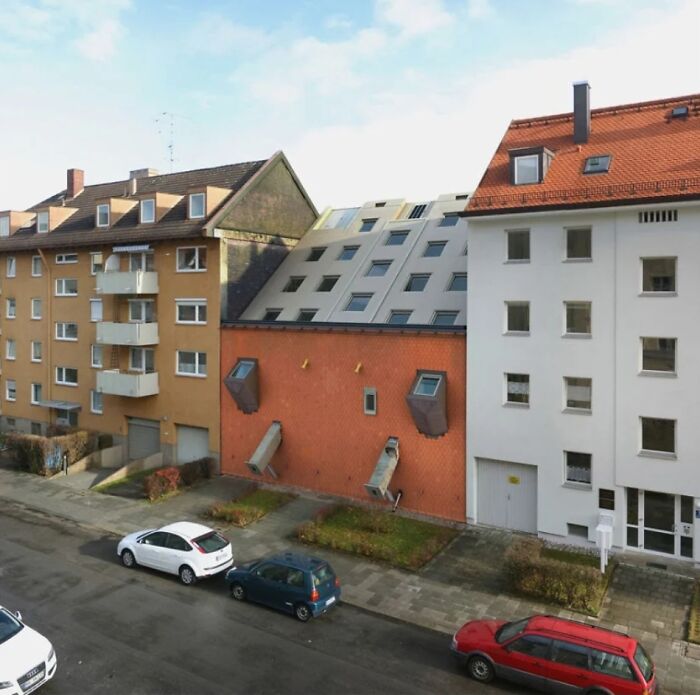 # 62 Basketball / Soccer Patio On The Roof Of Some Houses Next To Old City Walls In Dubrovnik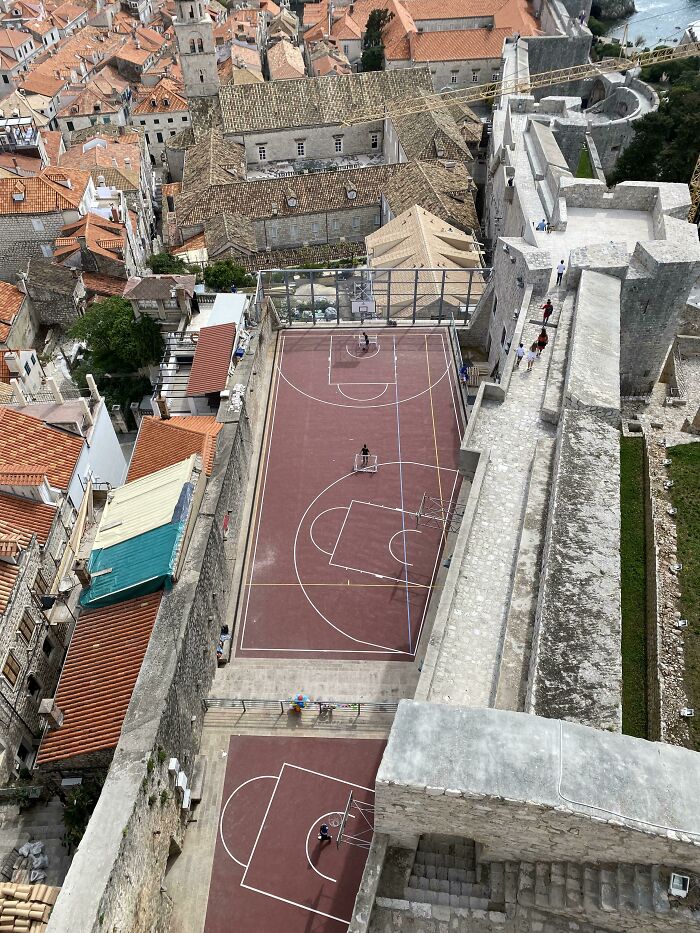 # 63 Grand Castle Apartments, Grand Rapids, Michigan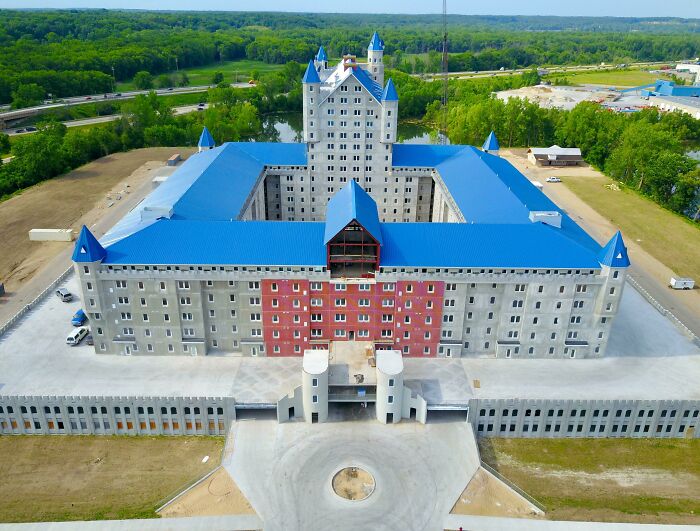 # 64 The Tallest Leisure Building In The World, The North Korean Hotel Ryugyong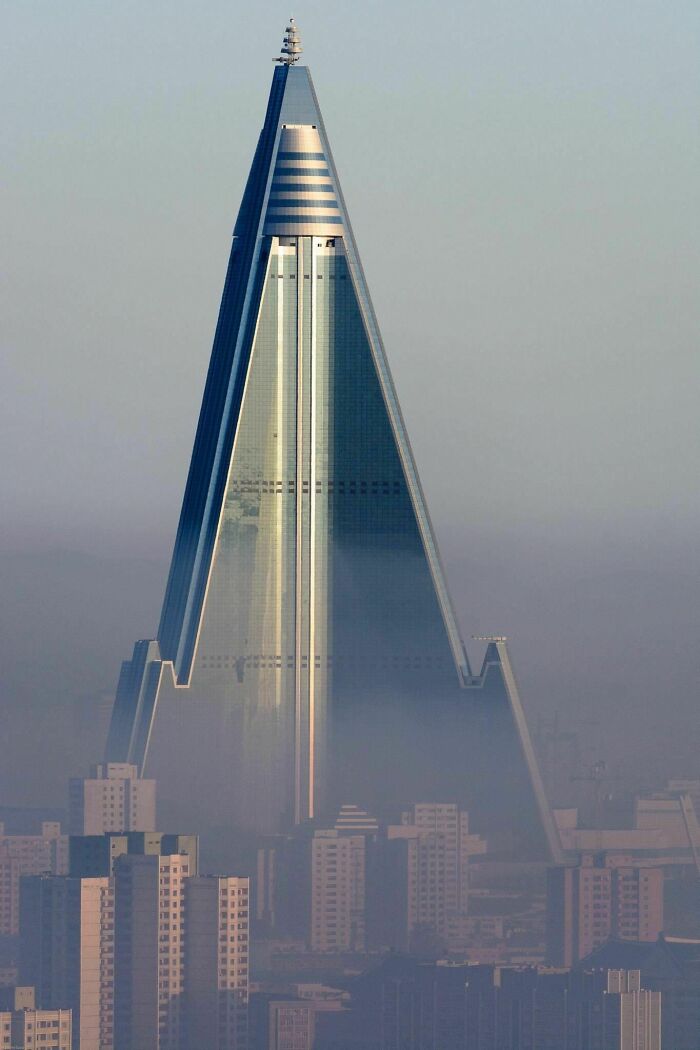 # 65 House From The Beach View, Laguna Beach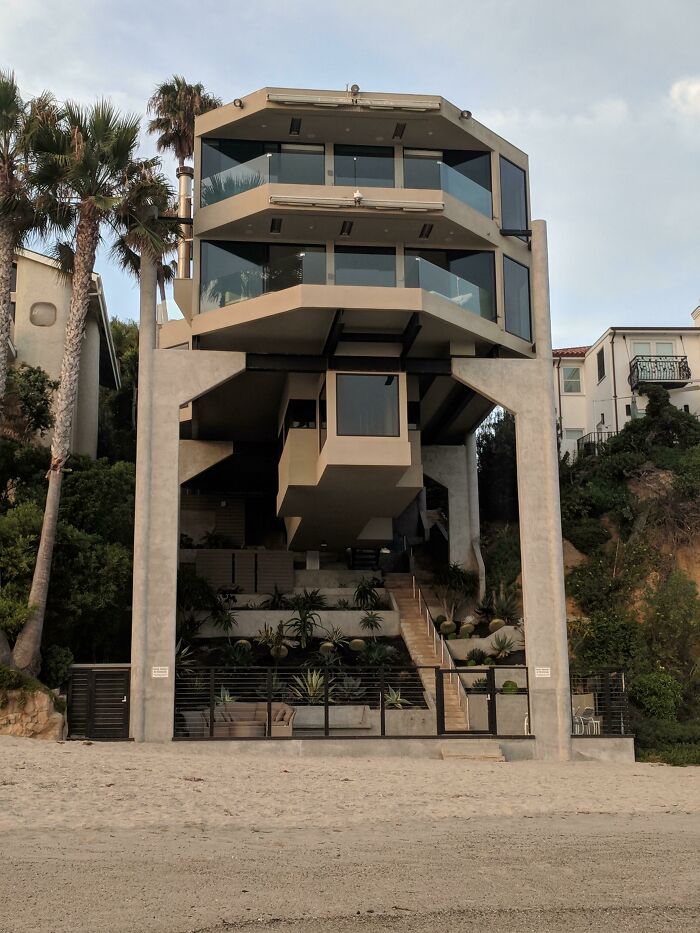 # 66 House On Pole, Japan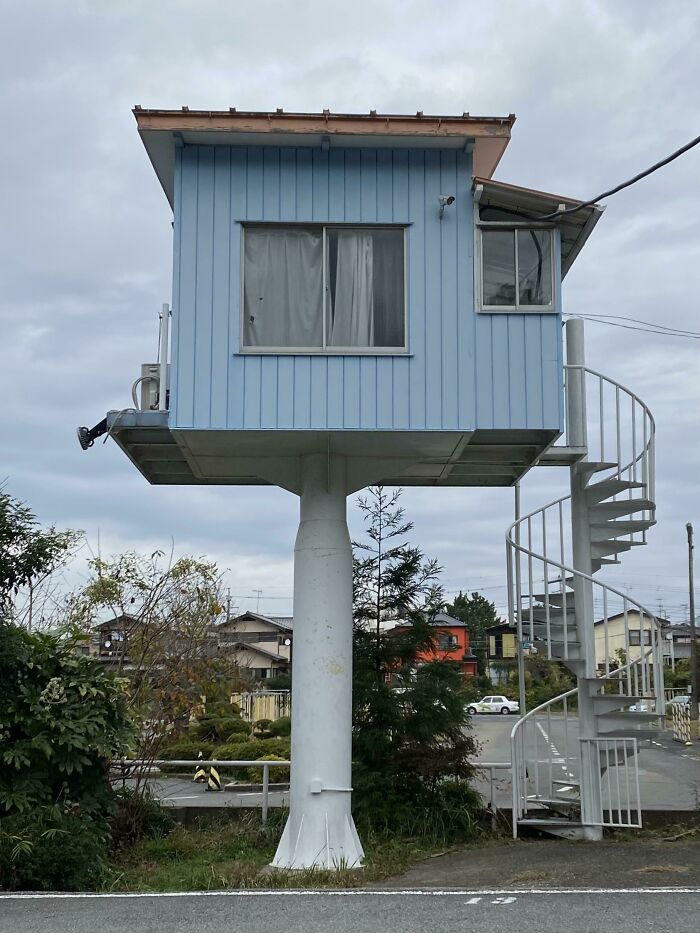 # 67 Postmodern Garbage In Kahramanmaraş, Turkey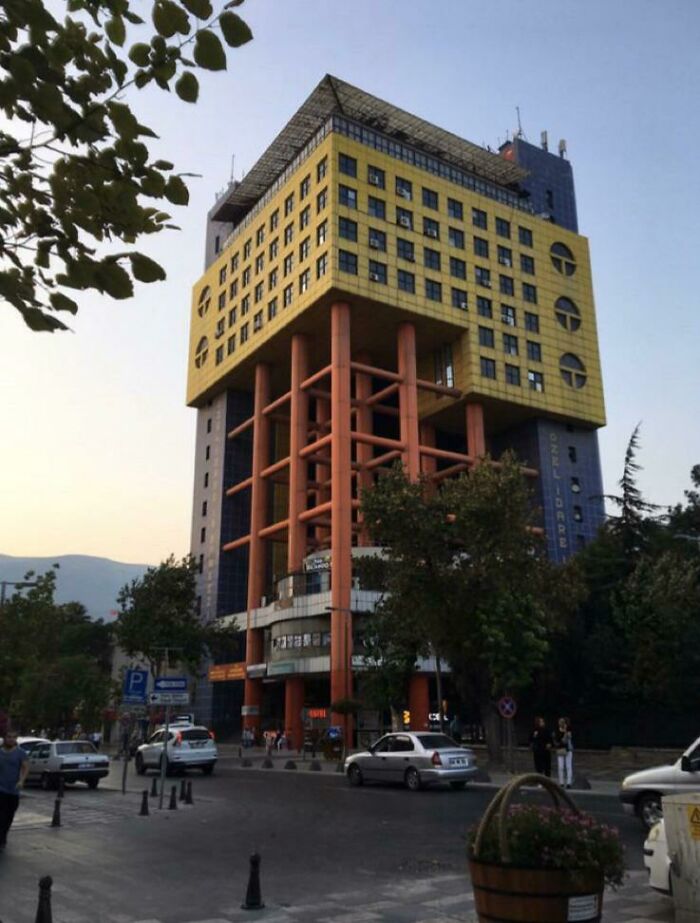 # 68 Ie In Chongqing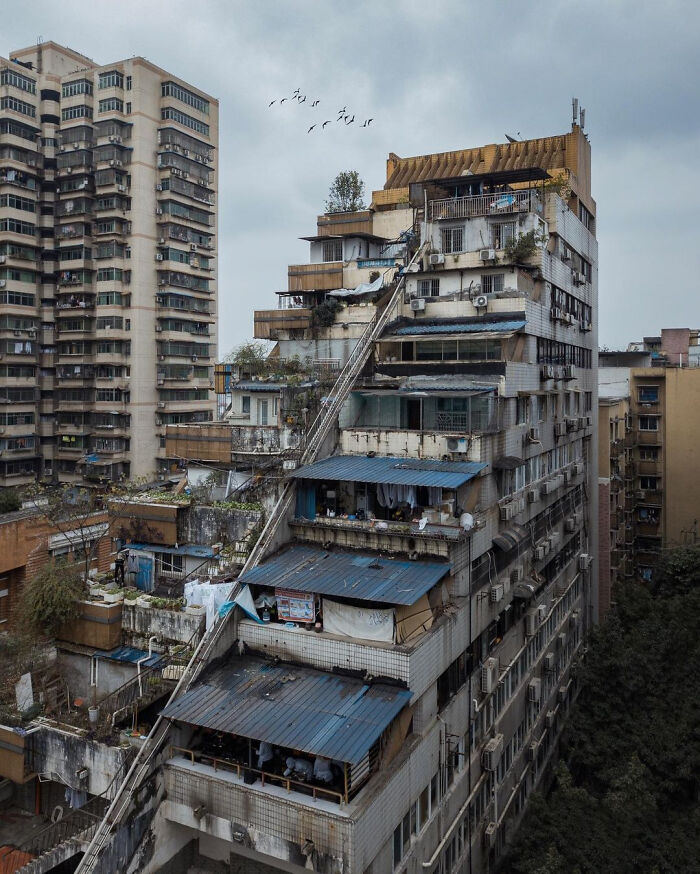 # 69 St.Joseph's Hospital, Tacoma, United States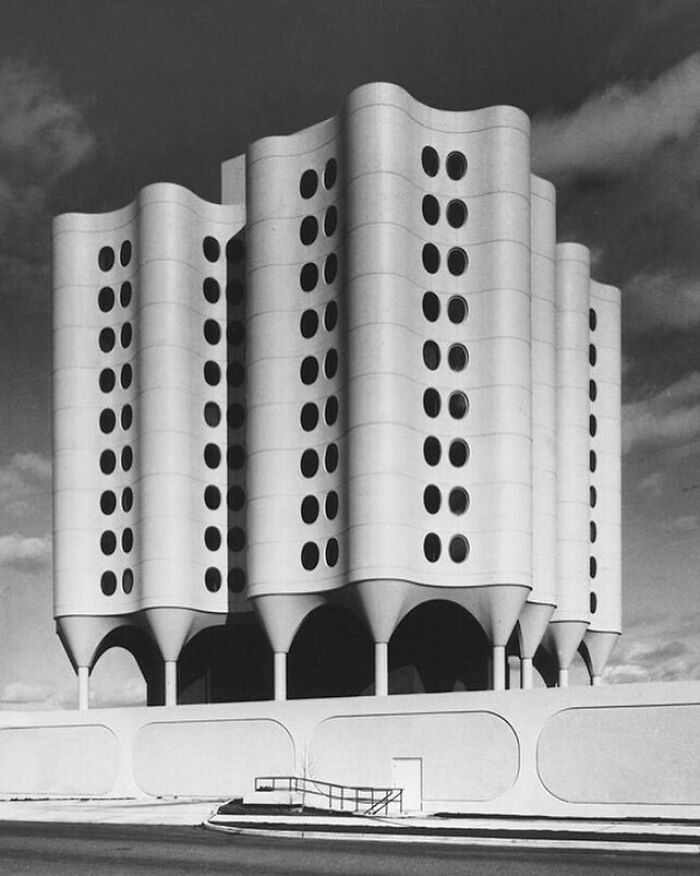 # 70 Unique Window Design On This Building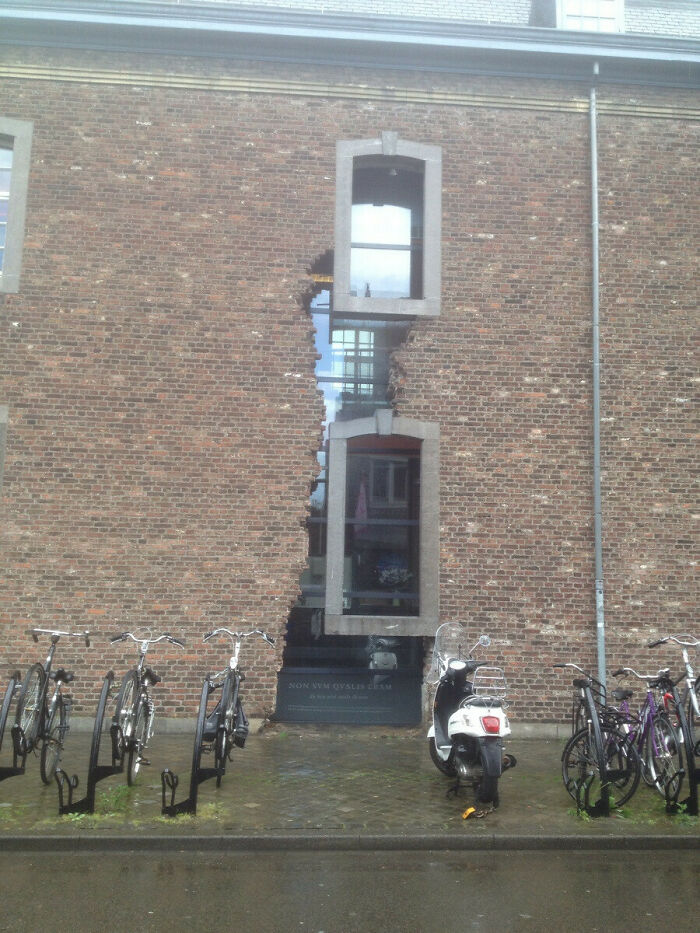 # 71 Basf Tower In Berlin, Germany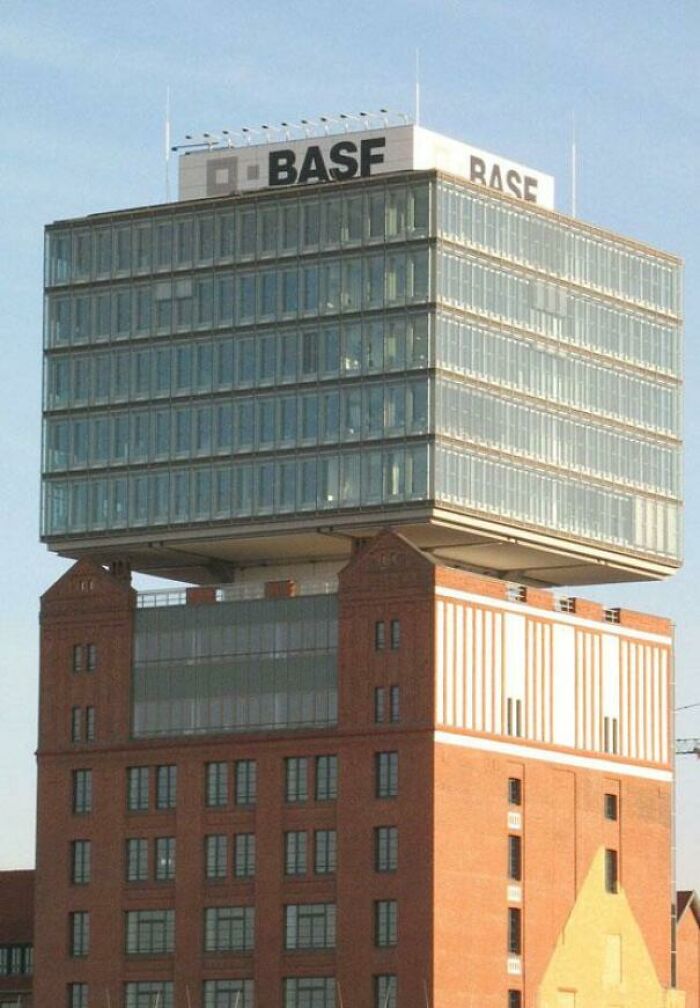 # 72 The Interlace, Singapore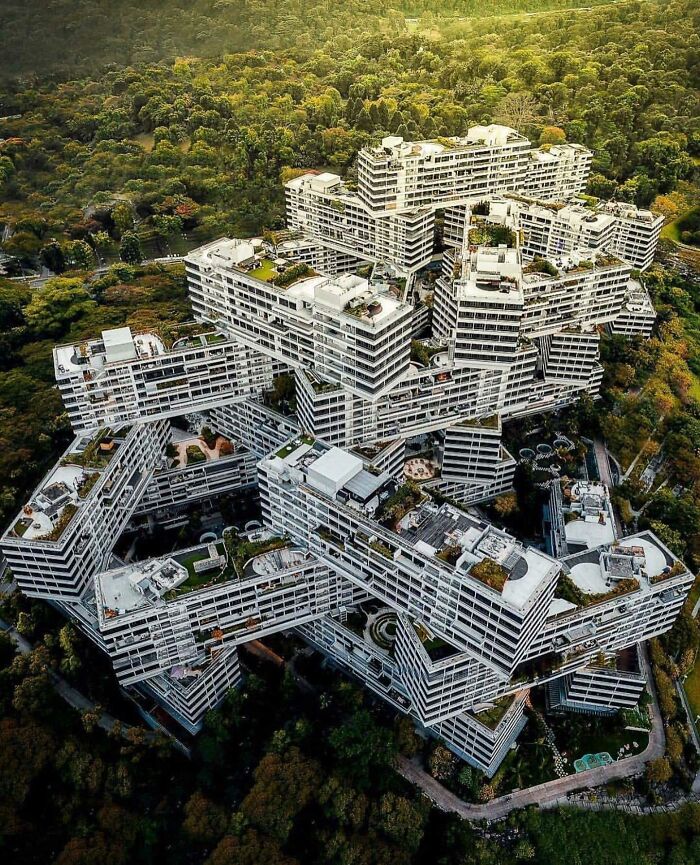 If you ever feel that some architects live in their own fantasy land, you are not the only one. The buildings they create can range from majestic to magical, and they are sure to captivate your buttresses, stoic columns, angelic balconies and formidable facades. However, you may sometimes get the idea that some of these