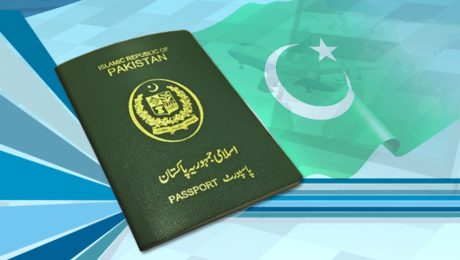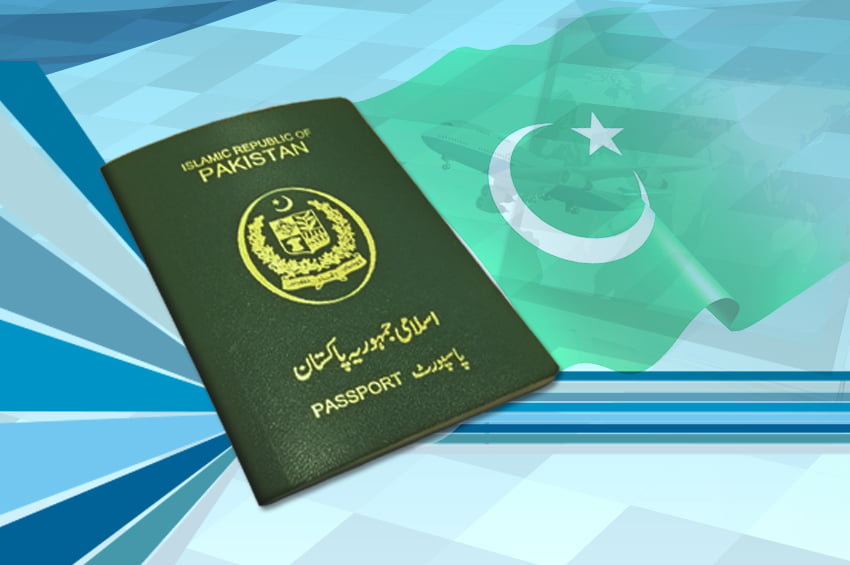 A Complete Guide to Rawalpindi Passport Offices
Guide for passport
Pakistan's government has made passport services more accessible to its people, who now can apply for a new passport or extend an existing one at any passport office in their region. In the very same vein, we've put together this guide that assists our researchers in identifying passport offices in Rawalpindi. We have decreased the legwork for everyone interested in applying for a passport in Rawalpindi, similarly to our past articles on passport offices in Lahore, Islamabad, and Karachi, where we listed the location, timing, guidelines, method, fees, as well as other important information.
Rawalpindi Passport Office Locations
Pakistan's Directorate General Immigration and Passport have offices in both Rawalpindi and Islamabad. Below is the location of the Rawalpindi passport office Named Rawalpindi Regional Passport Office Address: Regional Passport Headquarters, Opposite Railway, Gunjmandi More, Railway Workshops Road, Near Bakery Chowk Rawalpindi
051-9237253 is the contact information for the Rawalpindi passport office.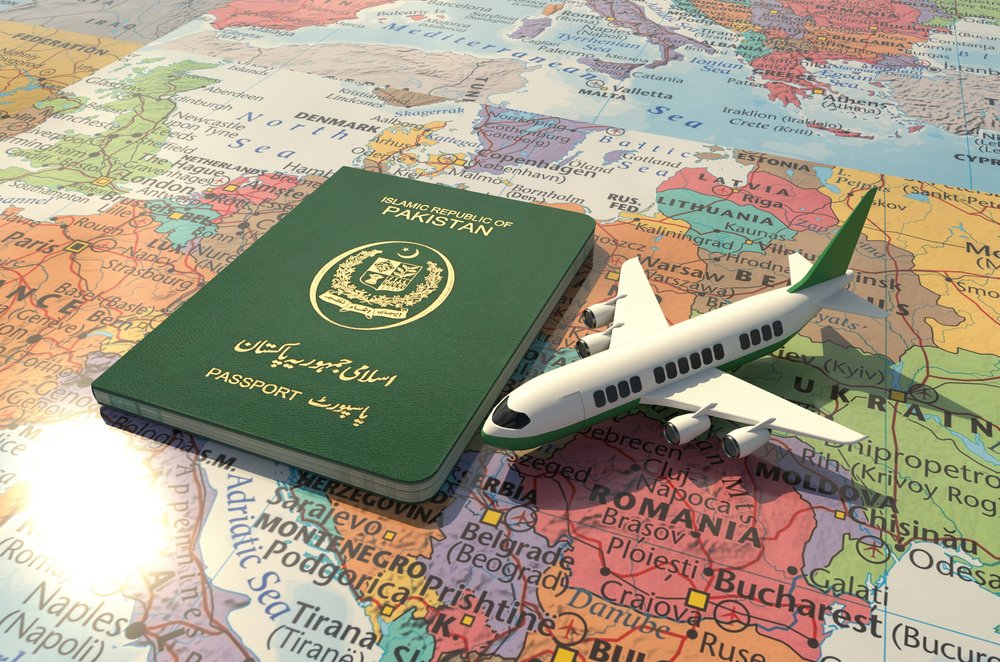 Rawalpindi's Executive Passport Office
If you're searching for executive passport offices in Rawalpindi, just use the following address and phone number and get in touch, Rawalpindi's Executive Passport Office is situated on Murree Road near Rehmanabad.
Passport Office Timings in Rawalpindi
On public holidays and weekends [including Saturdays and Sundays], the passport offices in Rawalpindi are closed, while Friday is a half-day. However, on business days, the offices still are open as usual. You may visit them at the following times if you'd like to apply for a passport.
From 9 to 14:00, Mondays through Thursdays
Friday: 9 a.m. till 12:30 p.m.
These times are liable to change based on orders from the Directorate General of Immigration and Passports. On some days, some offices remain open 24 hours a day. For more info, call the phone numbers listed above [in the location section] to call your nearest passport office.
For a new passport
Every citizen of Pakistan is entitled to a Machine Readable Passport for traveling abroad, subject to completion of all allow the user to select formalities, according to the Directorate General of Immigration and Passport.
Ordinary citizens, on the other hand, are subject to reasonable limitations, with a few exemptions for government individuals and families, as well as military personnel and their families. If you [or even a member of your family] are seeking a passport in Rawalpindi, you must know which office to visit and also what procedures to expect. Let's just get started.
You have to go to the Regional Passport Office in Rawalpindi if you've never applied for a passport before.
Any of Pakistan's Regional Passport Offices may extend your passport. You can obtain your passport at such a Karachi office, irrespective of whether you live in Rawalpindi. You should, however, submit a 17th-grade officer's approval of your complete addresses [permanent and temporary]. Below the authorization stamp, don't forget and included your CNIC and phone numbers.
Members of Congress, army troops, and private and non-employees are all entitled to certain privileges under the legislation. As a reason, they, together with their close family members, such as spouses, children, and parents, can apply for a visa regardless of region.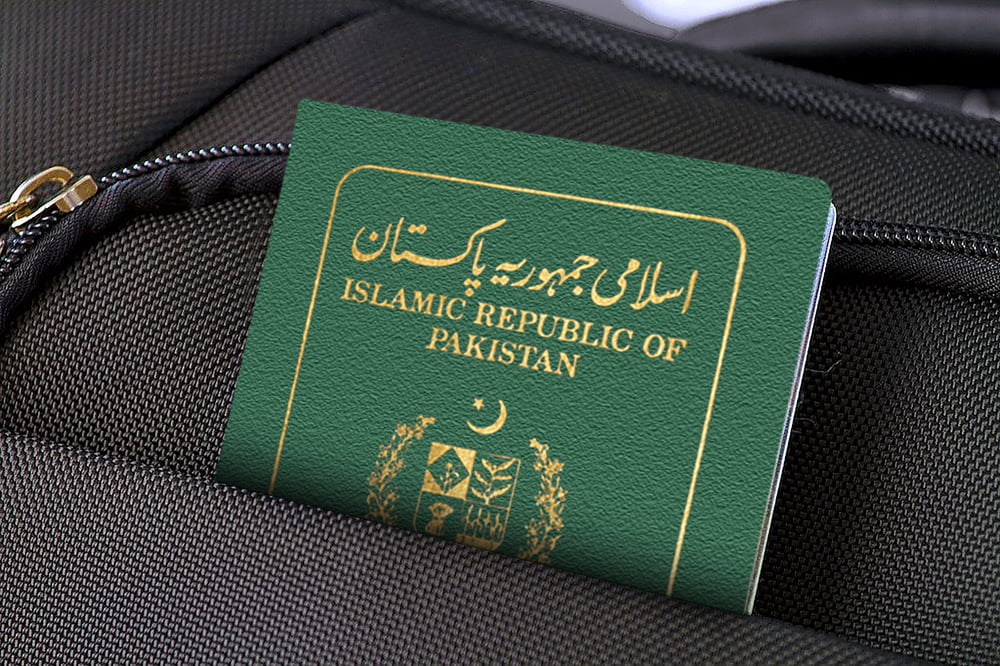 Passport Application Documents And Procedures In Rawalpindi
As per the Passport Act of 1974, Pakistan has three categories of passports: Regular Passport, Diplomatic Passport, and Official Passport. Let's take a closer look at Pakistan's documentation and passport application procedure.
Documents Required for Passport Applications
If you want to apply for a Pakistani passport in Rawalpindi, here are all the documents you'll require.
For Adults
If you are over the age of 18, you must bring the following documentation to the office.
2 CNIC or NICOP photocopies
If you're just a government employee, you'll need to have a No-Objection Certificate (NOC).
The fee deposit has been collected by the bank.
In the case of dual nationality, a foreign passport and a photocopy of that are necessary.
CNIC or NICOP original
For Minors
The following are the documents needed to apply for a passport in Pakistan if you are under the age of 18.
2 NADRA photocopies of birth certificate
2 photocopies of the parents' CNICs and the fee deposit bank receipt
Foreign passport (original and photocopy) [for dual citizens]
NADRA's Computerised Registration Certificate (CRC).
For Passport Renewal
If you want to renew your existing passport, you'll need to have the following documents.
The renewal fee deposit has been received by the bank.
An old passport and a photocopy of it
CNIC in its original form (for adults)
CRC in its original form (for minors)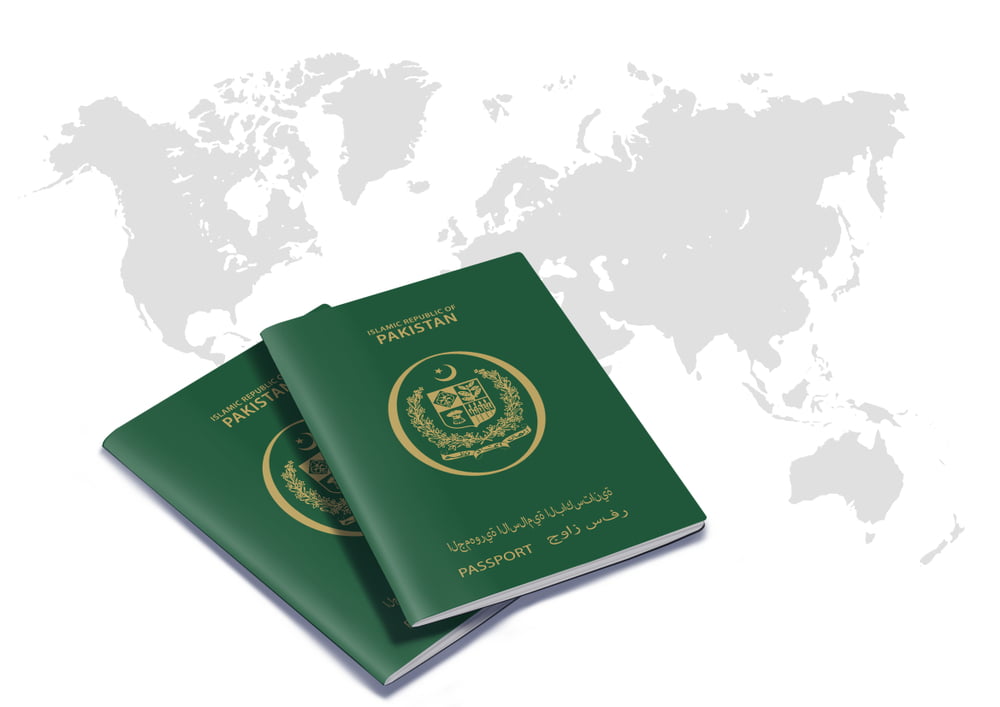 Passport Application In Rawalpindi: A Step-by-step Guide
As previously said, Pakistan has three types of passports: Ordinary Passport, Diplomatic Passport, and Official Passport. Nevertheless, the following is the reference implementation procedure.
Submit the passport fee at the National Bank Counter. Make absolutely sure you get a duplicate of the submitted evidence. Afterward, when, go to the Customer Service Desk and acquire a Pakistani passport application form. Before moving on to the next step, you first must complete the form.
Make sure you have such a pen on you at all times. Also, keep in mind that regional passport offices are separated into units based on localities. As a result, you have to go to the district window that matches your CNIC.
When you've found your district window, the actual passport application process can begin. A photo would be taken and a unique token number would be issued.
Keep your token to you at all times and wait patiently for your turn. Rawalpindi's passport offices everyone has to wait for spaces. Go to the proper counter wherever your token number appears.
Your fingerprints will now be taken at the counter. This will make it much easier for the officer to get your NADRA data.
You will be prompted to enter or double-check your bio-data into the system, which includes your full name, date of birth, residence, occupation, and other information.
It's a great idea to double-check your name, address, and other information submitted into the system. Whether there are any mistakes, have them addressed by the officer to avoid problems while applying for a visa later. Individuals seeking immigration and student visas should double-check spellings on official documents including mark sheets, CNICs, and other official documents.
All details will be cross-checked against existing records in the Exit Control List (ECL) and Black List (BL).
If you pass the above-mentioned step, you would be contacted by the Assistant Director of a Regional Passport Office and for the final interview. After that, the director will give you a receipt with your passport tracking number and delivery schedule.
Collection Process For Passports
When you've completed the passport application process, you'll be able to travel. You'll have to wait for the treatment to be finished, which could take up to 15 days. You will be given a receipt with a passport tracking number and delivery date for the passport during your appointment with the Assistant Director of the Regional Passport Office. You'll just have to pick
up your passport from the same place.
Go to the Passport Collection Counter at the passport office. Make sure you've come on time and then have the receipt you received from the assistant director.
Present your data to the officer at the counter, but instead, take your passport.
If you wouldn't want to deal with the hassle of going to the passport office, you will have your passport delivered right to your home. You should, however, clarify it during the application process, and you'll be charged an extra charge for this extra service.
Meanwhile, check out our recent post on the passport application process in Pakistan, as well as much other important information regarding online passport applications.
In Rawalpindi, Charges And Fee Structure For Different Passport Applications
Charges For A Passport That Is Valid For 5 Years
Category of Passport            Pages in Passport      Charges in PKR
Normal                                       36                              3,000
Urgent                                        36                              5,000
Normal                                       72                               5,500
Urgent                                        72                               9,000
Normal                                       100                             6,000
Urgent                                        100                             12,000
Charges For A Passport That Is Valid For 10 Years
Category of Passport            Pages in Passport      Charges in PKR
Normal                                       36                              5,400
Urgent                                        36                              9,000
Normal                                       72                              9,000
Urgent                                        72                              16,200
Normal                                       100                            10,800
Urgent                                        100                            21,600
So, that's where we talk about the primary issue of our article. This study described the passport application process in Pakistan and also the locations of passport offices in Rawalpindi. All of the material in between has now been mentioned. Alternatively, if you're planning a vacation abroad, check read our travel guides for Egypt, Turkey, and Azerbaijan. Stay tuned to Feeta Blog – Pakistan's best Property portal – for more informative posts. Get our articles sent to your email. Try typing your email address into the box on the right side of your page and press the down arrow. Also, check to visit our latest recent piece, which covers all you need to know about Pakistani passport offices.
Guide for passport Pakistan's government has made passport services more accessible to its people, who now can apply for a new passport or extend an existing one at any passport office in their region. In the very same vein, we've put together this guide that assists our researchers in identifying passport offices in Rawalpindi. We
Published in

#architecture, #interior design, #travel, 1482 castle, 1950s bomb shelter, 1951 house, 2000-year-old chariot, 300 people town, The Motor City Karachi Development Progress, Tim Shea, Tips & Advice, TOBACCO, Top Non Business, under 40sqm, unique buildings, urban exploration, urbex, Valuation of Immovable properties, vesuvius eruption, Video, vilnius, viral, virtual bridge, Weird, weird buildings, weird design, white, whittier, whittier resident, whole town lives in one building, Widening tax net, wood, World Business News, yellow, yulia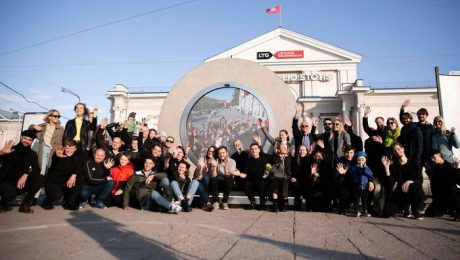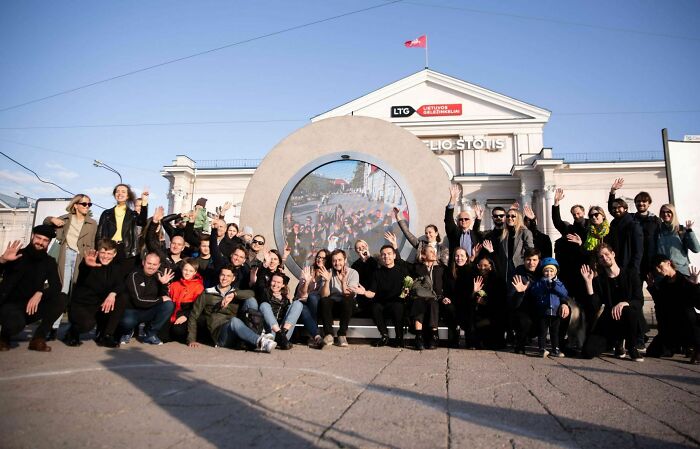 Lithuania And Poland Built A 'Portal' Connecting Two Of Their Cities And People Are Loving It
Society is evolving and we have gone a long way from slavery and women not being able to vote. But we still have room for improvement: stop discriminating against different people, accepting people who think, dress, speak differently than we do.
Separation between people is a problem as old as the world, but it needs modern solutions. The internet is now everywhere in a "portal" open in two European cities, Vilnius and Lublin, which was built just to shorten the distance between us and them. Not only is the meaning behind this project amazing, but it also looks so cool and futuristic.
The city of Vilnius in Lithuania and the city of Lublin in Poland are now linked by a portal in which they can see each other.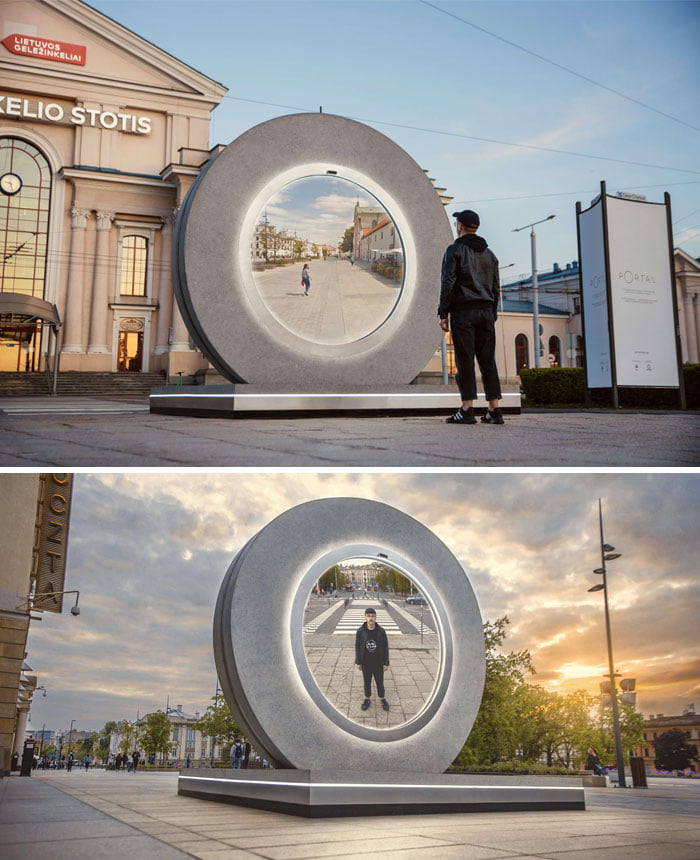 The portal has a circular shape that symbolizes the wheel of time, and in science fiction, it represents space and time that link back to the circle as a portal. This virtual bridge between the capital of Lithuania, Vilnius, and one of the oldest Polish cities, Lublin, is the first of its kind. In Vilnius, the portal can be found next to Vilnius railway station. Meanwhile, in Lublin, he resides on Plac Litewski.
These 2 cities have a historical connection, as the Lublin Union was signed on 1 July 1569 between Poland and Lithuania in that same city. This union created a single state, the Polish-Lithuanian Commonwealth, one of the largest countries in Europe at the time. Bored Panda contacted the PORTAL team and asked if this was planned. Apparently, it was an unexpected coincidence. They contacted various cities abroad that would collaborate for this project and the circumstances lead to that city being Lublin. It is truly symbolic that these two cities are spreading the message behind the project, which must be unified and not separated.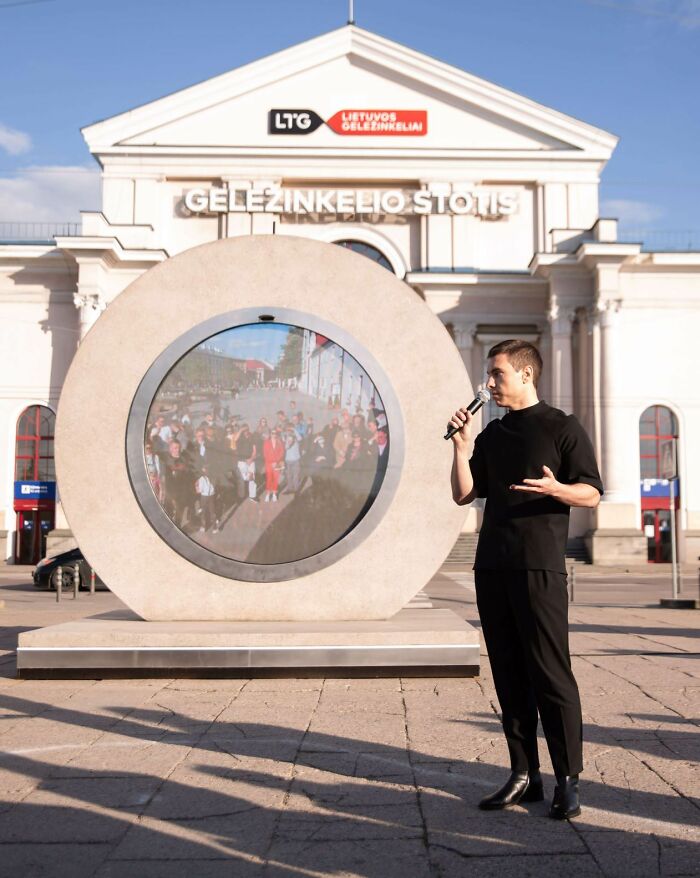 This circle with a screen that looks like a portal to another dimension actually allows you to see people in the other city and wave at them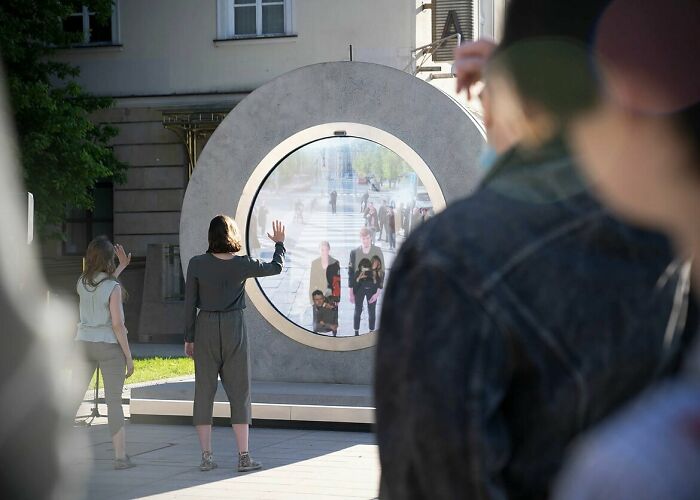 The 'portals' both have screens and cameras to broadcast the other city live. The view you see on the screen is similar to what astronauts see looking at the world below.
It's called a "surveillance effect" and astronauts experience it when they see Earth in space, so little, so delicately in this big world.
Hazzaa Ali Almansoori, the first person from the United Arab Emirates in space, said "It's amazing how space brings everyone together. No matter what country you come from, no matter what your religion or background, it unites everyone … Our goal is one: it is for humanity. "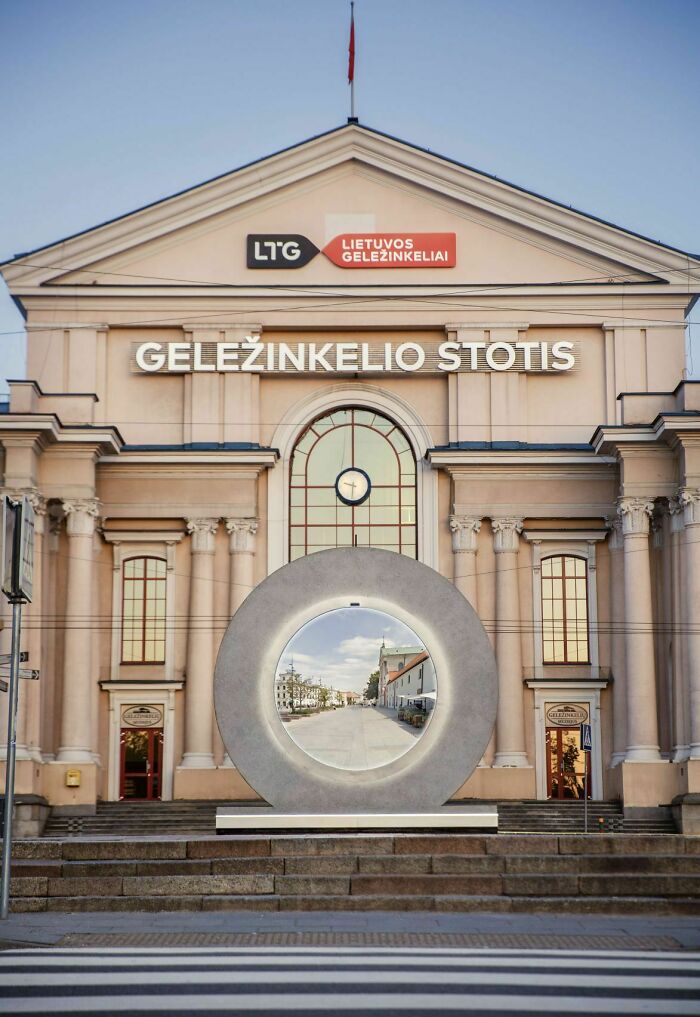 The portal is now silent as it would be technically difficult to have a sound 24/7, however, it is possible and for special events, it will be done.
Despite this, the creators of the project believe that people will find a way to communicate. They've noticed people waving, sending kisses or doing push-ups, so they're still involved.
The team told us that "it seems that with physical measures like the PORTAL the internal psychological barriers disappear and people enthusiastically participate in the activity in front of the portal and are friendly to each other. Most of them do not need encouragement and access the portal with curiosity or maybe they just crave a human relationship during this pandemic. "They think that starting a conversation with complete strangers only on the street would present difficulties and it seems that the portal makes people more relaxed.
The message behind the PORTAL project is to make people forget about the separation between us and them and just see our planet united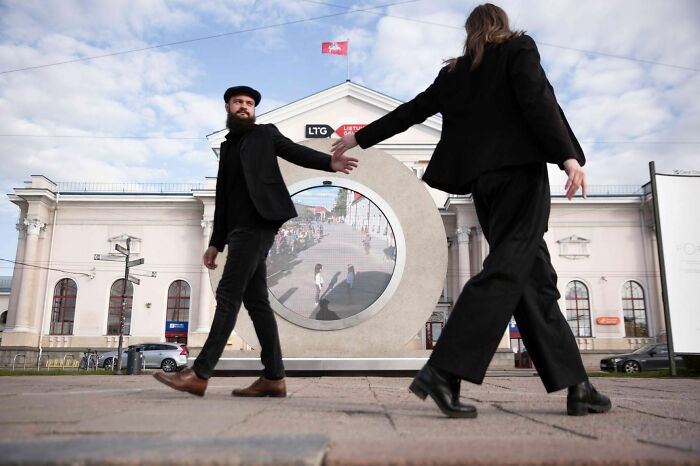 The main goal of the project is to connect people. On the official website, they say "Surrounding ourselves only with those who are close and speak the same language gives us comfort and a sense of stability. It also limits the worldview to our narrow inner circle. Slowly it becomes a perfect space for awakening insecurities to outsiders and a perfect excuse to be careless about the world that belongs to them. Every day there is less room for dialogue, empathy and compassion to feel and be united in our home – a tiny spaceship Earth rapidly decaying because of too many of them and too few of us. It's so easy to believe we're all a wave and forget we're an ocean too. Let's transcend this sense of separation and be pioneers of unity. "
It almost seems like we welcome aliens to Earth, but sometimes we treat humans as if they're not from this planet and don't deserve to be here. The person behind the idea, Benedict Gylys, says many of the potentially deadly challenges humanity faces, such as polarization and climate change, have been caused by a lack of understanding of others and of the world at large. So the PORTER must unite people and it is an invitation to rise above the illusion of division that we ourselves have created.
This cool idea was shared on Reddit and the post received 140k likes in less than 24 hours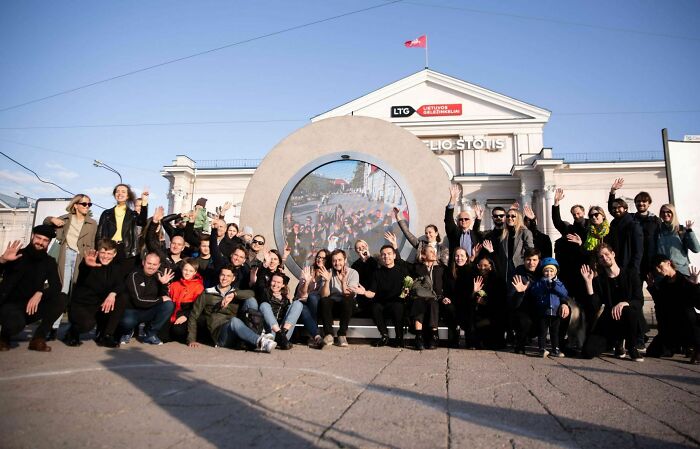 Although it is not a portal that we see in movies or read in books, it is nevertheless the closest to teleportation and it is so cool that you can only communicate with random people on the street who are hundreds of miles away.
It caught the attention of Redditors like the post about it got 140k votes in less than a day. People joked about Stargate and that if you go through it, you will end up in Poland. It seems that people liked this idea, but others shared that something similar happened where they live, but it didn't last long as people started abusing the portal.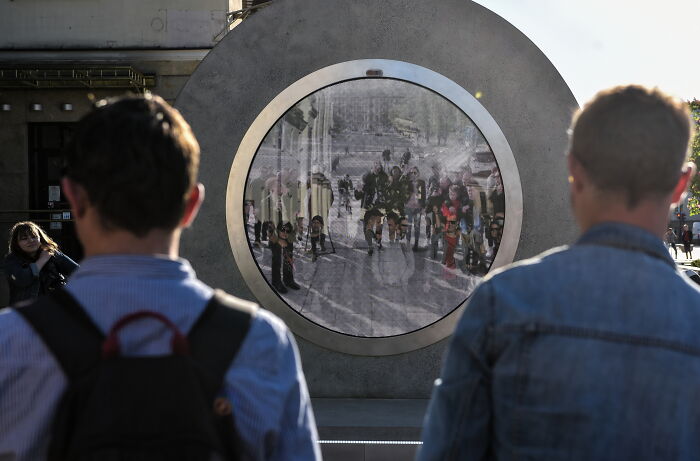 The project had its challenges, "First, it was a challenge to draft a project for the PORTFOLIO, which is minimal and simple, but able to fit all the complex electronics inside and prevent vandalism and negative environmental impact." Then the project had to be carried out and after many tests, it was chosen to use "concrete, stainless steel and tempered glass to build these 11 tons wide two meters by two meters."
It all came true because the people at Vilnius Gediminas Technical University Creative and Innovation Center "LinkMenų manufactures" were crazy enough to believe in the idea and were able to realize it.
The brain behind the project is Benedict Gylys and it took 5 years to realize the idea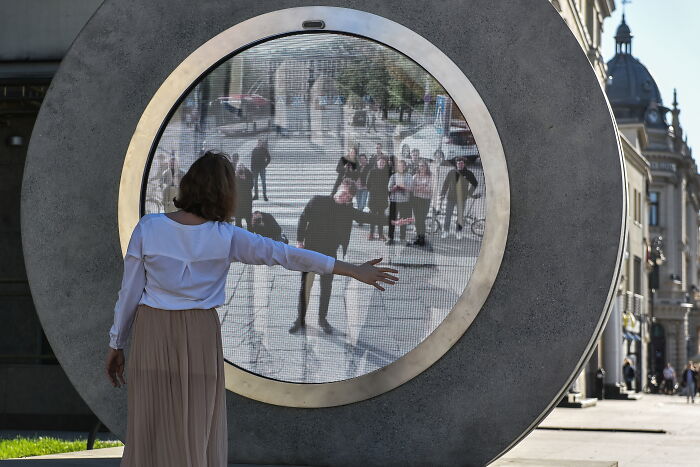 The project was completed during a pandemic, when travel within the borders may have restrictions, so travel to other countries is hardly disputed. The creators of Vilnius Technique have been working on the portal for 5 years and now was the best time to introduce it publicly when everyone is so isolated and eager to taste something new a bit.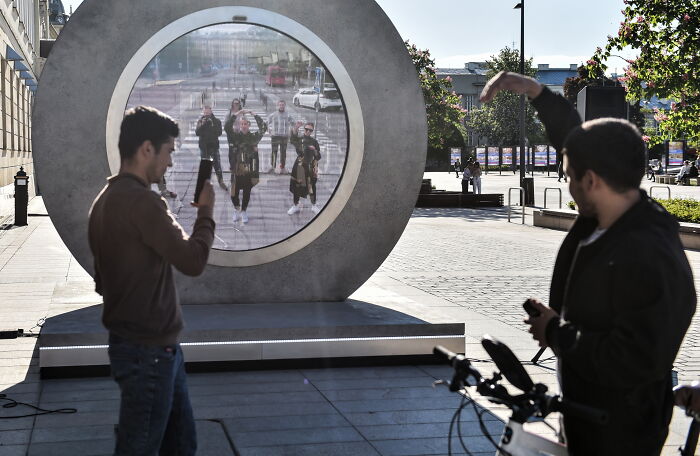 There are plans to open more of these portals in various cities in the world and connect even more people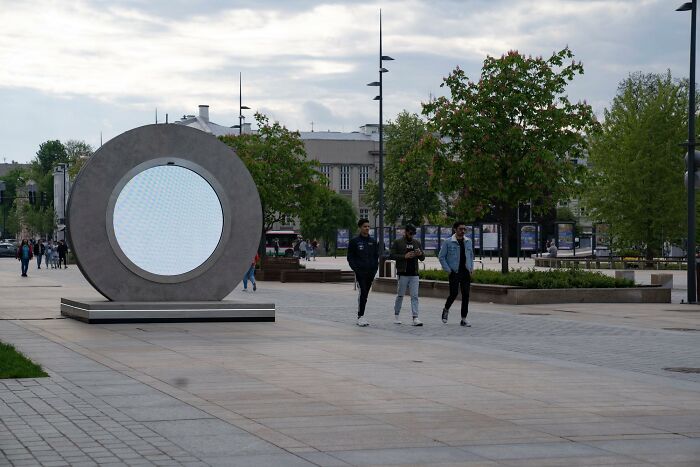 The portal between Vilnius and Lublin was the first in the world, but it will not be the last. The creators of the project hope to connect dozens of cities around the world and two new ones are expected to open soon: one in Reykjavik, Iceland and another in London, United Kingdom.
The team revealed that Reykjavik was chosen because of the very important historical story that links it to Lithuania: Iceland was the first to recognize Lithuania's independence in 1991 and Lithuanians appreciate it and want to continue the partnership between the countries. Also, Reykjavik contrasts perfectly with Vilnius.
London is important to them as they begin a friendship with another international initiative.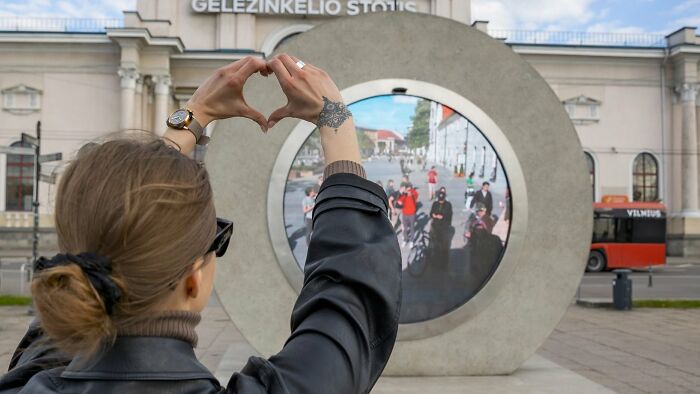 Image credits: Benedict Gylys Foundation
Now Vilnius is linked to Lublin and will last until August. Then it will move to another city. The project creators think that maybe in the future the portals will change cities every 10 minutes more or less because they are open to anyone who would like to join.
Although the cities will have a limited connection time, the project has no time limit, "the project will continue until the destruction of the planet or the end of the problems that cause the separation between people."
What do you think of this idea? Would you like to see such a 'portal' in your city? Let us know your thoughts on this project in the comments.
More than 2k people shared their reactions to this "portal" on Reddit and most of them thought it was a cool idea.
Meanwhile, if you want to read more such exciting lifestyle guides and informative property updates, stay tuned to Feeta Blog — Pakistan's best real estate blog.
Society is evolving and we have gone a long way from slavery and women not being able to vote. But we still have room for improvement: stop discriminating against different people, accepting people who think, dress, speak differently than we do. Separation between people is a problem as old as the world, but it needs
Published in

700-page, Architecture, Art, Benediktas Gylys, Design, Homepage featured, Lithuania, lublin, News, News & Updates, News and Update, People, Poland, portal, portal between cities, project portal, reddit, stargate, Technology, vilnius, virtual bridge