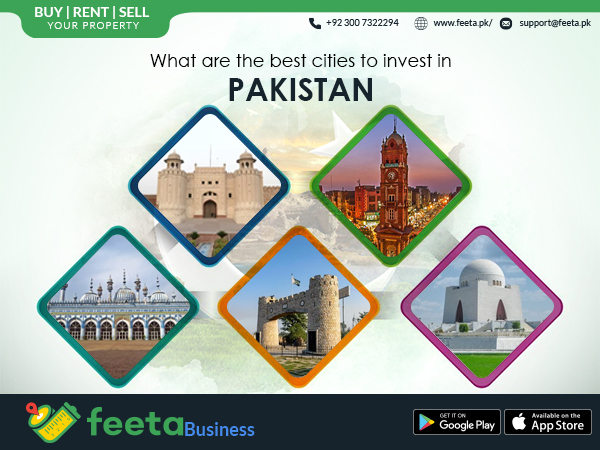 Pakistan has a lot of potential in the real estate sector. It is a developing country and offers a lot of opportunities for investors in Pakistan. If you want to increase your hard-earned money, then you can achieve your goals by investing in the real estate sector.
In this blog, we will take a look at the best cities in Pakistan that have a lot of scope for real estate investment.
Lahore
Lahore is a city known for its lively culture and mouthwatering food. It is the capital of Punjab and the second-largest city in Pakistan. Lahore has the best infrastructure and is best known for its architectural marvels. The public transportation in Lahore is systematic and allows people to commute easily within and outside the city. It is also home to the Orange Line metro.
There are several means of transport in Lahore. It is a metropolitan city and has a lot of scope for investors interested to invest in a profitable project. The city is divided into nine districts and this opens a lot of prospects for new investors. There are a lot of real estate projects underway in Lahore. New residential localities, hospitals, schools, and commercial buildings are always under construction in some parts of Lahore.
Faisalabad
Faisalabad is known for its rich culture and friendly people. It is a populous city and you can see a lot of residential complexes under development to accommodate the rising population. It is relatively smaller as compared to Lahore or Karachi but still offers a lot of good opportunities to investors. The city is home to parks and many outdoor spaces.
Many new projects are under development in Faisalabad. If you are planning to invest in a business, then launching it in this city will be a great choice. This populous city is home to Jinnah Garden which is the oldest park in Pakistan. There are a lot of historical monuments located in the city. If you want to earn more profit from your investment, then investing your money in a project nearby these locations could be fruitful.
Rawalpindi
Rawalpindi is another city that has a strong real estate market. Investing in this city will be a wise choice because the city is expanding and under development. Rawalpindi comprises the GHQ of the Pakistan Army and is the center of logistics and transportation. It is also home to many Havelis and temples. Rawalpindi is the center of tourist attractions as it is home to Rohtas Fort, Azad Kashmir, Taxila, and Gilgit-Baltistan.
Many new real estate projects are underway in Rawalpindi. If you want to get huge returns from your investment, then investing in Rawalpindi is the perfect choice for you. The commercial sector is under development in Rawalpindi. New malls and buildings are in the developing stages. Many housing societies are also under construction in this city.
Peshawar
If you want to explore the Pashtoon culture, then you must start a business in Peshawar city. The capital city of the Pakistani province of Khyber Pakhtunkhwa the city comprises the Pashtun-majority. The state of art infrastructure roads has diverted the traffic away from the city. The Karakoram Highway has provided an access to the Peshawar region and western China.
All these factors make it an ideal place for investments. A lot of projects are underway in Peshawar and this makes it an ideal choice for investment. There are also some popular housing societies in Peshawar that have some good residential plot options. Buying a plot in housing societies like DHA Peshawar, Peshawar Enclave, Hayatabad and more will open a great scope for you to earn big money in the future. The plot prices will keep on increasing in the future so selling your plot in the future could benefit you a lot.
Karachi
Karachi is the largest city in Pakistan. It is ranked as the global city of Pakistan and has an urban culture. It is a cosmopolitan city and is located on the Arabian Sea. The city has two seaports that are considered to be the largest ports in Pakistan. It is home to Pakistan's busiest airport, the Jinnah International Airport.
The estimated economy of the city is $114 billion which makes it the perfect city to invest for investors. Some famous housing societies in Karachi offer plots of different prices. You can consider buying a plot in any of the popular residential communities and make a wise investment. Investing in the commercial sector in Karachi is also a great choice for investors.