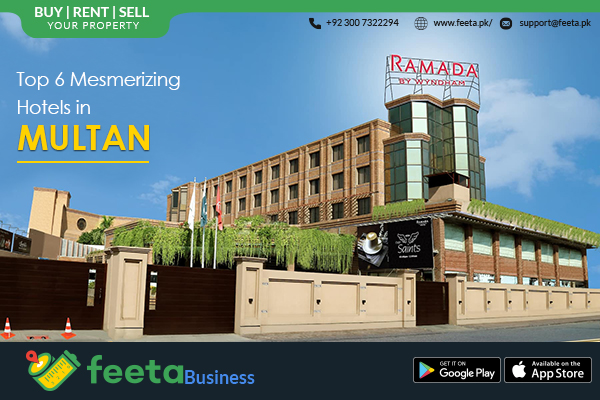 Multan is a vibrant city and boasts a rich culture and heritage. It is one of the best cities in Pakistan where you can witness a lot of historical sites. Moreover, people are hospitable and friendly. For some time now Multan is becoming a prominent business hub for investors. Many people are trying to purchase a property in Multan and build a beautiful home. Are you planning to visit Multan anytime soon? You will want to book a premium-quality hotel. This city offers top-class hotels where everyone will like to stay. Let's look at the top six hotels in Multan.
1. Ramada by Wyndham Multan
Ramada by Wyndham is one of the most prestigious hotels in Multan. It is located near the famous Shrine of Bahauddin Zakariya. For some time now this hotel has become a preferred choice among many customers. The best thing is that you can get all the necessities for the guests. They have the option to get free shuttle airport services at convenient rates.
Ramada has an outdoor pool that is perfect for people who like to swim and relax outdoors. You can enjoy a peaceful day and night with your family or friends. The best thing is that you can enjoy a continental breakfast that is full of many dishes and beverages. Are you fond of shopping? Why not spend some time wandering around the top malls like Chen One Tower Mall and Hussain Agahi Mall?
2. Grand Hotel, Multan
Grand Hotel is another prominent hotel in Multan. It is a three-star hotel but gives a lot of facilities to guests. When you enter this hotel it is spacious while the rooms are bright. Each room is equipped with a private balcony and a shared kitchen is available. You will be delighted to know that the restaurant serves a large variety of dishes. The free Wi-Fi facility is available for all guests and visitors alike. Guests can have a currency exchange option and convert their money. There is a good 24-hour front desk available and you don't need to worry about anything.
Each room is equipped with a flat-screen TV where you can watch a lot of satellite channels. You will be delighted to have a private bathroom that has basic facilities like a hairdryer and shower. Many services that are available at your request are not free of charge.
3. Hotel Avalon Suites
Hotel Avalon Suites is located in Gulgasht Colony. It is one of the best options for a long or short stay. The prime location Gulgasht community features plenty of luxurious rooms. Each room has a private balcony where you can relax no matter what time of the day. Guests can enjoy 24-hour front desk service while a shared kitchen is available too. The currency exchange for guests is a convenience for them. Each room has a lavish bed, air conditioner, and a flat TV screen. Your shower will have free toiletries, a hairdryer, and robes.
4. Avari Xpress Hotel Multan
Avari Xpress Hotel is located in Gillani Colony, Multan. The hotel offers a fitness center while you can enjoy delicious food in the restaurant. There is on-site dining that allows you to choose a menu of your choice. Among many other facilities, you will get a free shuttle service. With the 24-hour front desk service, you have a solution to every problem. There is free Wi-Fi available on the property and the guests can enjoy mesmerizing views of the garden. Each room has a wide seating area, bathroom, and free toiletries. You can watch free satellite channels and relax on the large double bed.
5. Hotel DE Shalimar
Hotel DE Shalimar is located in Multan. This hotel has 22 spacious and luxurious rooms. They are decorated beautifully and give modern vibes. The minimalistic design of each room will take your breath away. Even though the hotel is not very huge it features two different floors. There are a few dining and conference halls where you can have a business meeting with your colleagues. The free Wi-Fi facility will help you stay connected to the internet. Fortunately, the hotel offers a spacious parking area where you can park your car. Moreover, you get free valet services and enjoy a stress-free stay at Hotel DE Shalimar.
6. Hotel Sindbad
Hotel Sindbad is one of the oldest and most prominent hotels in Multan. It was built in the '70s and still going strong. The architecture of this hotel is a combination of traditional and modern elements. Each room is luxurious and offers the best facilities to the guests. There are plenty of accommodation options available for the guests. Whether you choose a suite with a separate living room or an individual room will be your choice. You will be delighted to see the large bathtub and other complimentary toiletries. Each room has a lavish king-size bed that is soft. It is easy to have a comfortable sleep and feel at home.