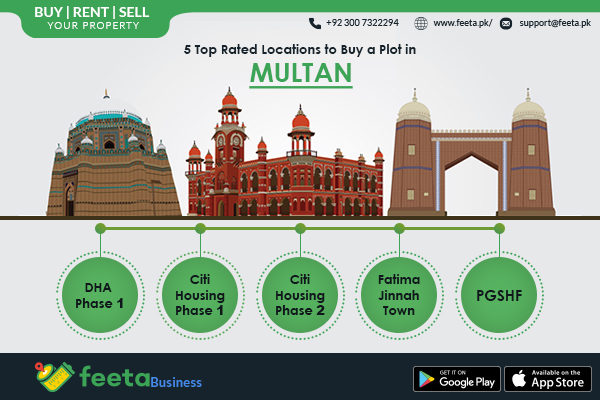 Multan is the sixth largest city in Pakistan. The city is home to a lot of progressive industries and mills. It is densely populated and offers all the facilities that a person needs. The city has hundreds of schools, colleges, and commercial buildings. This makes it an ideal choice for investments.
Feeta.pk will list down the top 5 locations that are suitable to buy a plot in Multan.
DHA Phase 1
DHA Multan is the perfect place to make investments. Investors from all over Pakistan are keen on investing in DHA Multan as it is one of the most highly populated areas. It has an area spanning over 9000 acres. You can invest in a wide range of exciting projects including five-star hotels, golf clubs, etc.
DHA Multan is catering to the needs of all the people living there and looking to invest in the area. There is a high-quality health care facility and educational institutions to satisfy the needs of the residents. The construction of a five-star hotel with the name of Royal Swiss Hotel is also under construction. Investing in the Rumanza Golf Course is also a great choice for all investors looking to invest.
Plot prices in DHA phase 1 is as follows:
5 Marla residential plot-Rs 19 lacs to Rs 25 lacs.
10 Marla residential plot- Rs 40 lacs to Rs 50 lacs.
1 Kanal residential plot- Rs 50 lacs to Rs 1.30 crores.
Citi Housing Phase 1
Citi Housing Phase 1 is a great location to buy a property in Multan. The state-of-the-art and modern technology make it one of the best places for investments. The construction of Citi Housing is complete but the residential plots of different sizes are available for buying and selling. The housing society is near the K-Mart Store located in the Askari Colony. Educational institutes like Quaid E Azam Public High School and The Educators are also close to the locality. You can also get access to public transport while living here without any hassle.
Plot prices in Citi Housing Phase 1 is as follows:
5-Marla plot-Rs 28 lacs to Rs 30 lacs.
10-Marla plot-Rs 47 lacs to Rs 53 lacs.
1 Kanal plot-Rs 95 lacs to Rs 1 crore.
Citi Housing Phase 2
Citi Housing Phase 2 offers a wide range of amenities and offers the resident aa life of luxury. You can enjoy a comfortable life while living in this gated community. If you want to enjoy your time outdoors, then you can go for a stroll in the nearby parks. The residents can get access to food, water, and all types of other amenities while living in Citi Housing Phase 2. Top-rated banks like Habib Bank and Bank Alfalah are also near the locality.
Prices of plots Citi Housing Phase 2
5 Marla residential plots-Rs 25.5 lacs to Rs 30 lacs.
10 Marla residential plots-Rs 45.5 lacs to Rs 50 lacs.
1 Kanal residential plot-Rs 85.5 lacs to Rs 90 lacs.
Fatima Jinnah Town
Fatima Jinnah Town is located at the southern end of Vehari Road. It is a well-planned society and has been developed by Multan Development Authority (MDA). The locality is one of the safest and most secure investments that you can make in Multan. It is best suited for all people with a low and middle-class incomes. The properties are available at a low price in this community. It is close to several markets and educational institutes. You can also get easy access to the metro bus.
The prices of plots in Fatima Jinnah Town are as follows: 
5 Marla -Rs 22 lacs to Rs 32 lacs.
10 marla -Rs 35 lacs to Rs 55 lacs. 
1 Kanal -Rs 70 lacs to Rs 1.2 crores.
PGSHF
Punjab Government Servants Housing Foundation (PGSHF) spans an area of 233 Kanals. The locality consists of 10 commercial buildings. This community is planned extensively and offers all the basic amenities to the residents. It connects to the most populated neighborhoods in Multan. The neighboring communities include China Town, WAPDA Town Phase 3, Farrukh Town, Farid Town, etc. You can travel to the entire city through the Northern Bypass and Khanewal Road.
It is close to major hospitals in Multan. Big hospitals like Bakhtawar Amin Memorial Hospital Multan, and Mukhtar A Sheikh Memorial Welfare Hospital and all located nearby. Some top-rated educational institutes like The City School Multan Campus and Govt Primary School AL Hussain are also near this locality. Some famous parks Ahmad Asad Park and Heaveli Villa Park are also located near PGSHF. You can also pray conveniently in nearby mosques like Ibrahim Masjid.
Property prices in PGSHF are as follows:
5-Marla plot-Rs 16 lacs to Rs 21 lacs.
10 Marla plot-Rs 30 lacs to Rs 38 lacs.
1 Kanal plot-Rs 58 lacs to Rs 68 lacs.