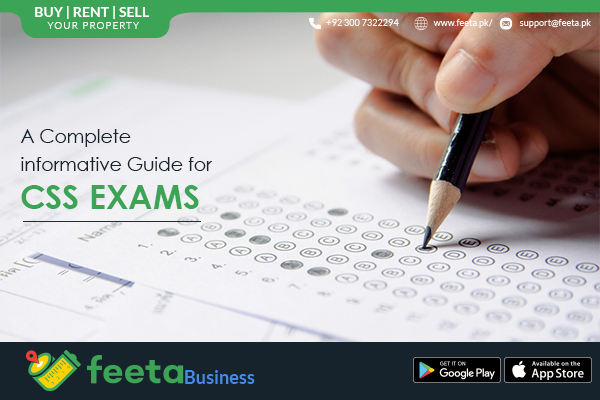 The Central superior service exam that is commonly known as CSS Exam is conducted every year in Pakistan. These exams are held in February and recruit a large number of candidates. Plenty of positions are vacant for the civil service exams. Whether you apply for the BS-17 or something else, each department has something to offer. CSS exam is conducted by the Federal Public Service Commission in February every year. A candidate is given three chances to complete the exam. If you fail one attempt, it is best to prepare well for the next attempt. Here is a complete guide to CSS exams.
How many departments are available for the CSS Exam?
There are plenty of departments that are available for the CSS exam. The list is huge that includes custom and foreign services. A candidate has the option to apply either for the commerce and trade services or the income tax department. If you want to get into the police it will be best to apply for police service. CSS exams are held for those candidates who wish to take Government jobs in the future. However, you have to follow the basic rules and regulations that are set before having this exam.
What are the eligibility criteria for participating in the CSS exam?
All the citizens of Pakistan are allowed to appear for a CSS exam. Make sure you are in the age group of 21-30 years. However, sometimes a relaxation of two years is given to candidates. That is, even if you are 32 years of age, you can still appear in the exam. However, this exception is given to those candidates who have previously served in any Government sector.
All the candidates who wish to take part in the CSS EXAMS must have a bachelor's degree. Moreover, it should be at least the second division, or else you will not be allowed to have your exam. If you have completed a master's degree, it will be necessary to have a high division.
After the exams are complete, the selection process is even more difficult. You have to complete a medical and written test along with a psychological test. Next up is the interview where you have to score high once again.
What are the subjects for CSS?
Candidates who wish to take a CSS exam must pass with 40% marks. You need to have good grades in all the subjects that include English, General Science, current affairs, and Islamic studies. Your CSS exam will be held in any of the major cities in Pakistan. If we talk about the application process it is quite easy. The announcement for the exam is held in September.
When you wish to take your CSS exam it is best to prepare yourself. You have to pay a certain amount of fee that is paid through bank transfers. Candidates will have to fill out a form that asks for their personal information. You can download this form directly from the official website of FPSC.
What are the essential parts of the CSS exam?
The CSS examination is held in four different parts. If you are willing to take part in this exam it is necessary to learn a variety of topics. There isn't any specific syllabus and you can get unexpected questions. The four essential parts of CSS exams consist of:
Written exam
Medical exam
Psychology test
Viva (that is 300 marks)
Interview
The interviews are usually held in Karachi, Lahore, Islamabad, Quetta, and Peshawar. Anyone eligible for taking this exam can do it easily.
How to apply for CSS Exams?
The date of the CSS exams is announced in September. If you want to apply for CSS exams. These are the following factors you need to keep in mind:
Candidates have to pay a fee for participating in the exam
You can easily deposit the fee at the nearest Bank
Your receipt will be all about FPSC
The candidate will have to fill up a form by downloading it directly from FPSC's official website
It is easy to pick the optional subjects that are under the provision of Appendix 1
The candidates must comply with the right CSS rules fixed by the authorities
Examination Center is usually fixed and you need to select it carefully on the form