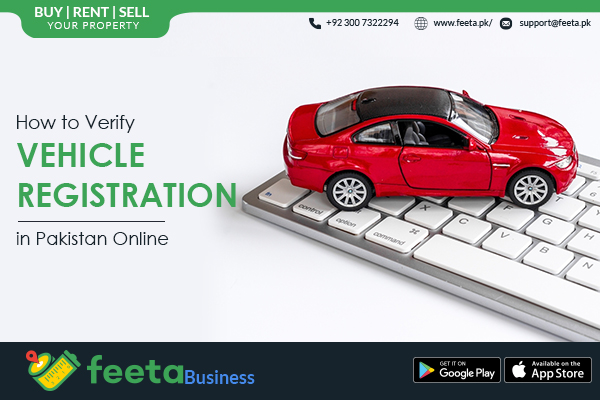 The Excise and Taxation Administration launched online car registration to make it much easier for customers to register their vehicles from the comfort of their own homes. The issue of how to check a car's registrations online has been fixed. Because of contemporary technology, we were able to better our lives, save time, and eliminate a need to stand in line outside the excise office. Many hurdles were reduced as a function of excise department accomplishments, and we can now check used automobile information on the internet. We can easily gather information about used vehicles using the online automobile registration procedure.
You can now tell whether the used automobile you're just about to buy is completely new or has been resold several times. The car registration may be completed entirely online, greatly speeding up and simplifying. Vehicle registration in Pakistan used to be a lengthy process, and we had to wait in long lines just at the excise department to enroll our cars.
As a way, online vehicle verification is now available in Sindh, Punjab, & KPK, Pakistan's four provinces. You've reached the right place if you just want to purchase a car or get one transferred to your name and the double ownership. In this piece, we'll go over how to check a vehicle's registration online in Pakistan.
An Online Car Registration Process in Pakistan
Users can now easily confirm all types of cars, such as cars, motorbikes, 3, vans, wagons, trucks, buses, as well as industrial and commercial vehicles, using their smartphone and tablet displays, thanks to advanced online platforms set up by the Excise and Taxes Depts in Sindh, Punjab, and Khyber. So, let's take a step-by-step look at how to verify car ownership in Pakistan online. First and foremost, based upon the jurisdiction, you must visit the website you have chosen.
Online verification website for vehicle
www.excise.gos.pk/vehicle/vehicle_search
Note: This above-mentioned portal is utilized for online car verification in Karachi or other large Sindh cities.
Online vehicle verification website in Punjab
www.mtmis.excise-punjab.gov.pk/
Note: The above website may also be used to check autos online in Lahore or other major Punjab cities.
A website for online car verification available in Pakistan
www.kpexcise.gov.pk/mvrecords/
Note: The same website will be used to check Peshawar or other major cities in KPK or online vehicle registration.
When you click one of the links below for online auto verification, you'll be sent to a form-type website with a blank section that you must fill out in order to validate your own vehicle in Pakistan.
The decimal numbers from the car's registration number were included in this section, titled Vehicle Identification or Registration Number.
Fill out this form and then click "Search" to receive the results you desire.
The following information may have immediate results:
Information about the owner
Information about how to register
Vehicle Specifications
Number of Chassis
Engine Identification Number
Year of Enrollment
Name of the Organization
Model of Vehicle
Payment Information for Taxes
capability of the engine
Vehicle data is verified and modified
The data underlying the findings might have come from the province's Excise and Taxation Department. If you believe the information you've been given is wrong, has mistakes, or needs to be updated, you can notify the proper authorities using the contact information provided at the bottom of this blog.
Sindh's excise and taxes department contact info
Contact number: 021-99231410
Address: Tughlaq House Sindh Secretariat Karachi Pakistan.
Website:  www.excise.gos.pk
Email Address:  info@excise.gos.pk
Punjab's excise and taxes department contact info
Contact number: 0800-08786 (TOLL FREE)
Address: 2nd Floor, Transport House11-Egerton Road, Lahore
Website: 
http://www.excise-punjab.gov.pk
Email Address:  secyent@punjab.gov.pk
 KPK's excise and taxes department contact info
Contact number: 091-9212260
Address: Shami Road, Bashirabad, Peshawar, Khyber Pakhtunkhwa
Website:  
http://www.kpexcise.gov.pk/
This was the step-by-step approach for checking the status of a vehicle's registration in Pakistan over the internet. Please email us here at blog@feeta.pk if you have any more questions or issues about the above-mentioned method or any other element. We will respond to your emails as quickly as possible in order to resolve your issues.
Similarly, if you've just bought a car and want to register it, check out our guide on registering a car in Pakistan, which will answer all of your questions about the paperwork and procedures. If you live in Karachi or Rawalpindi, then also may check the blogs regarding automobile transfers. If you're thinking about buying a car, you should check out Pakistan's current auto loan rates.