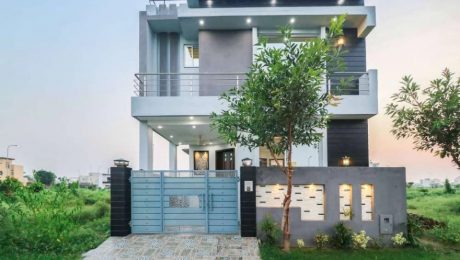 Best 5 Marla Corner House Ideas in Pakistan
In Pakistan, 5 Marla houses are a very popular and affordable choice when it comes to choosing the area for a home. This is because it is less costly than other home sizes, and not too small compared to 3 Marla houses in many cities across the country. Because of its high demand and convenience, 5 Marla houses are always the first to be bought out from entire housing schemes and societies.
5 Marla house is 125 sq. M. yards and can accommodate a family of 4 to 5 people depending on the design and architecture of the house. In this specific house size, the most popular demand is for corner houses, given that they typically come with extra land, and because of no house or building on one side, they offer better ventilation and views. If you are looking for design ideas for your Dream 5 Marla Corner House, this article by Feeta.pk has a collective list of corner houses that you can incorporate into your house design.
Considerable Factors for Choosing 5 Marla Corner House Ideas in Pakistan
Budget-Friendly Planning:
When choosing front elevation and architecture for your house, remember to keep the range of your budget in mind. Certain materials, wood, and paint can cause a hike in your finances. Typically, 5 Marla Corner houses are cheaper compared to 5 Marla houses located centrally between other houses. So if you're smart with choosing your design, you can build your dream house within your budget.
Front Elevation and Architecture of House:
Since 5 Marla Corner houses have more space for creativity in terms of interior and exterior design, you can be unique and creative according to your liking in this. The placement of windows, the balcony, and the architecture of the house should be for what you want and like. Elements like corner windows, glass boundaries for balconies, and a small lawn can add a very soothing effect to your home's overall feel and look. While deciding on your designs, it is necessary to keep in view that both the interior and exterior of the house complement each other.
A Family Discussion is Due:
Well, choosing designs for your home is a family matter which you need to decide and plan together. This includes the number of bedrooms, their liking, and the design they want.
Design for 5 Marla Corner House – Option 1
5 Marla Corner houses are usually designed keeping in mind the front and side elevation that comes in plain sight. For such compact houses, it is important to spare space for a small balcony and window to keep the ventilation good. This house specifically has both, along with a careful modern design that does not include a lot of cuts, yet still comes out as a contemporary design. The detailing with different textures and color combinations in brown and gray elevate the look of the house, along with a small garage space to park your car in.
Design for 5 Marla Corner House – Option 2
This 5 marla corner house design is a double story home that touches two roads being the corner plot. The use of dark and light gray with white and wood brings out the contemporary design and architecture of the houses, along with giving them a larger look than their size. The overall style of this house is vertical given the windows and cuts and comes with a balcony that doubles as the roof of your garage. This is a common practice for 5 Marla house designs.
Design for 5 Marla Corner House – Option 3
A stylish and simplistic edge to your 5 Marla corner house gives it a rich and luxurious look, along with an openness that comes with subtle colors. Using white in small spaces is an excellent choice to enhance the exterior as well as the interior design of any house. Besides this, the overall elevation of the house is very clean cut with a minimal design that makes up a contemporary home.
Design for 5 Marla Corner House – Option 4
Modern architecture has transformed the shape of 5 Marla corner houses with sleek designs and minimal decor that gives a simple front elevation a unique edge. The use of wooden panels and vertical lines gives the house a very symmetrical and neat finish and also makes up for the design of a house. Here we can see that the balcony has a glass boundary finish, along with a rustic wooden look that combines white, brownish gray and wood brown.
Design for 5 Marla Corner House – Option 5
This 5 Marla corner house has a unique and modern front elevation that is enhanced with the use of lighting around the house. Paneling and using different textures in the house is the new way to go, contrary to the old fashioned use of paint and gold brass around the houses. The simpler you are willing to keep a design of the front elevation, the more house will look elegant, especially for corner houses that are visible from 2 sides.
Design for 5 Marla Corner House – Option 6
Use of LED lights, brown wood panels, and white paint, a beautiful combination for your corner 5 Marla house. This beautiful house is a great option if you're looking for a sleek yet stylish front elevation design, that comes around with the use of light gray tiles. This design is not too costly as well, as it has very neat cuts and windows that give the house a spacious look. We can also not the placement of garage, where the gate complements the house altogether.
You can choose from these modern and sleek options that will elevate the look of your 5 Marla corner house. If you're looking for more design ideas and house plans for your 5 Marla dream house, follow our blog at Feeta.pk.
---
In Pakistan, 5 Marla houses are a very popular and affordable choice when it comes to choosing the area for a home. This is because it is less costly than other home sizes, and not too small compared to 3 Marla houses in many cities across the country. Because of its high demand and convenience,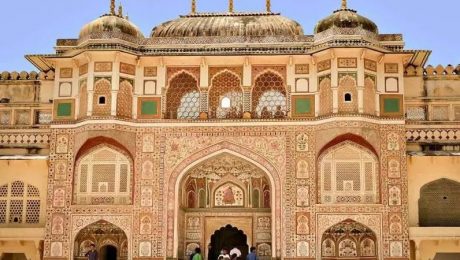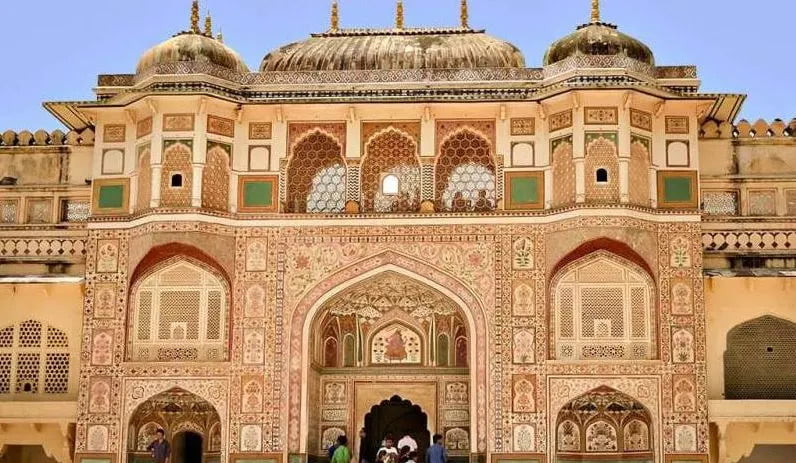 Sheesh Mahal | Why is it a wonder?
Sheesh Mahal – The palace of the mirrors or Crystal Palace, located at Shah Burj block in the Lahore Fort's northern-western corner, is a testimonial of extravagant art and magnificence. It was built between 1631 and 1632 during the time of Mughal Emperor Shah Jahan. The structure exhibits Shah Jahani choice and style in every aspect. Sikh Maharaja Ranjit Singh subsequently made the additional extensions. It has been a UNESCO World Heritage Site since 1981 as part of the larger Lahore Fort Complex. It is known as the "jewel in the Fort's crown" since it is one of the 21 monuments built by successive Mughal kings inside Lahore Fort. Feeta.pk highlights the characteristics of Sheesh Mahal and explains how it is still a wonder today.
Lahore's walled city is filled with stories of love, passion, romance, and exquisiteness. Architectural structures stand there as a testimony of magnificence and splendor. You'll come across many stories of passion, desire, intricacy, and grandeur while wandering around the fort. The atmosphere surrounding you will be fascinated by such stories. Those who search out the secrets of the Lahore Fort will find them. Apart from being a stronghold, it was the Mughal dynasty's preferred residence that prompted them to build luxurious rooms for the great palace.
The elegant white marble pavilion is decorated with intricate mirror work, exquisite hard stone, and unique embellishments. The royal family and close associates had exclusive access to the hall. As you climb up the massive elephant stairs after entering Lahore fort, you will reach the renowned and spectacular Sheesh mahal. If you stand at one corner of Sheesh Mahal, which is currently located in Greater Iqbal Park, you can see the Badshahi Mosque, Maharaja Ranjeet Singh's Samadhi, and the Minar-e-Pakistan. It's a breathtaking panorama that shows the progression of history.
During the Sikh Empire, Ranjit Singh's favorite spot was Shah Burj. Over the top of Sheesh Mahal, he established a harem. The significant use of white marble and hierarchical elements of the construction represents the Shah Jahani architecture.
The courtyard is accessed by the façade, which is made up of five arcaded marble rooted by paired columns. The pavilion is shaped like a semi-octagon and comprises apartments with plated pinnacles, finely adorned hard stone, and convex glass mosaics with hundreds of little mirrors. In geometric and tendril designs, stucco tracery and carved marble screens are further decorative highlights. Precious stones are embedded in the engraved dividers and bases. The central hall's roof stands two stories high. The hall was initially covered with fresco murals, later replaced with multicolored glass mosaic.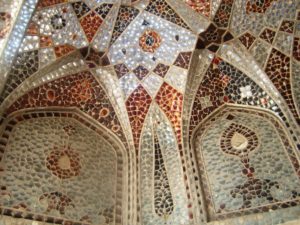 Sheesh, Mahal was designated as a protected monument under the Antiquities Act by Pakistan's Department of Archeology in 1975. It was registered as a UNESCO World Heritage Site in 1981 as part of the Lahore Fort Complex broader. Additional structures on top of Sheesh Mahal during Punjab's later Sikh and British administration contributed to the dead load, making the edifice prone to collapse. And it wasn't until 2006 that the ceiling's faults were fully rectified, and the structure was restored.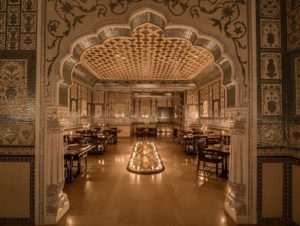 Sheesh Mahal has been preserved entirely as a memorial to Mumtaz's passion and love for Shah Jahan. The love story that led to the creation of this edifice is as remarkable as the structure itself. According to folklore, Mumtaz Mahal, Shah Jahan's adored wife, wished to float in the stars as she saw in her dreams, and to make her desire come true, Shah Jahan had it built for her in Lahore. Unfortunately, she died before she could enter the palace, leaving the king saddened. Later, Shah Jahan had his soldiers build the Taj Mahal in India as a tribute to her.
Sheesh Mahal is undoubtedly a wonder even today. Any visitor entering the palace can not help but get mesmerized and awe-struck by the magnificence and beauty of the palace. The palace still tells stories and exhibits exquisiteness and love in every detail. The walls take you through history and provide an unforgettable experience. The palace reminds us of the great architects who created this magnificent edifice.
It is extremely important that we value our cultural heritage and preserve our extraordinary unique architectural marvels.
Watch this space for more information on that. Stay tuned to Feeta Blog for the latest updates about Pakistan Real Estate.
---
Sheesh Mahal – The palace of the mirrors or Crystal Palace, located at Shah Burj block in the Lahore Fort's northern-western corner, is a testimonial of extravagant art and magnificence. It was built between 1631 and 1632 during the time of Mughal Emperor Shah Jahan. The structure exhibits Shah Jahani choice and style in every