The construction industry in Pakistan is quite vast. Although Pakistan's economy is downhill, the construction industry still contributes significantly to the GDP. As per the estimations, the sector contributes 40-60% in gross fixed capital formation. Since the start of the China-Pakistan Economic Corridor (CPEC), this industry has given a boost that was so ever necessary. There are now more investments and projects in the main cities but small cities like Gujranwala, Faisalabad, etc. Not to mention how Gwadar is in the process of being transformed into a completely new city now.
Construction at big scales such as these requires heavy-duty equipment. Only heavy-duty equipment along with their small counterparts can build whole new cities and societies. Here, below are mentioned some of the most influential heavy equipment currently used in the construction area of Pakistan. It is exciting and equally important to know what goes in there to make your country beautiful (or disastrous?)
Boom Lift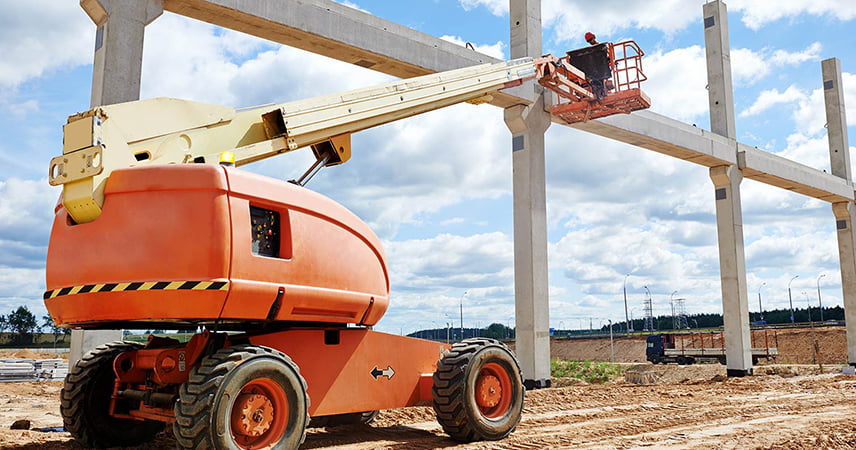 It is found in both small and big constructions. This helps the workers reach places where they can't reach on their own. The machine has a platform where one to two people can easily fit. That platform is lifted from the ground to reach a height. To make this machine portable, it has wheels or a continuous band or treads. The platform can be raised by a hydraulic system installed in it. A boom lift has two further types of lift, a Telescopic boom lift and an Articulated boom lift. The telescopic boom lift is needed when more horizontal reach is to be attained. While articulated boom lift is more complex and extends plus bends more than telescopic boom lift. Articulate can reach parts and heights which telescopic cannot.
Forklift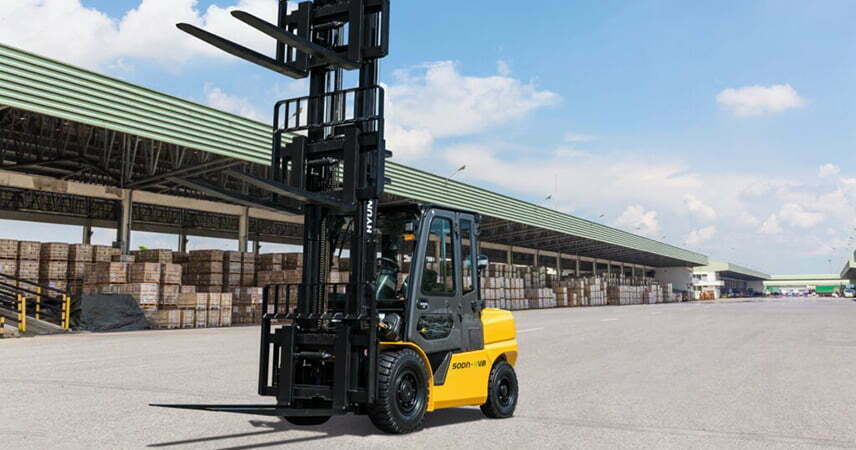 Here is another member of the lifter family. A forklift is seen on construction sites, and wherever small or medium range lifting is required. It is a pretty common sight in warehouses and other storages. This is because it is very easy to use and is relatively smooth than other lifts. The forklift can move both ways, vertically and horizontally. An operator can operate it through a dashboard and steering wheel. On construction sites, it is used for loading and unloading heavy items like cement and grit sacs. Forklifts also have certain types that are specified for different uses. For example, some can reach incredibly high heights, while others are limited to a small height.
Telehandlers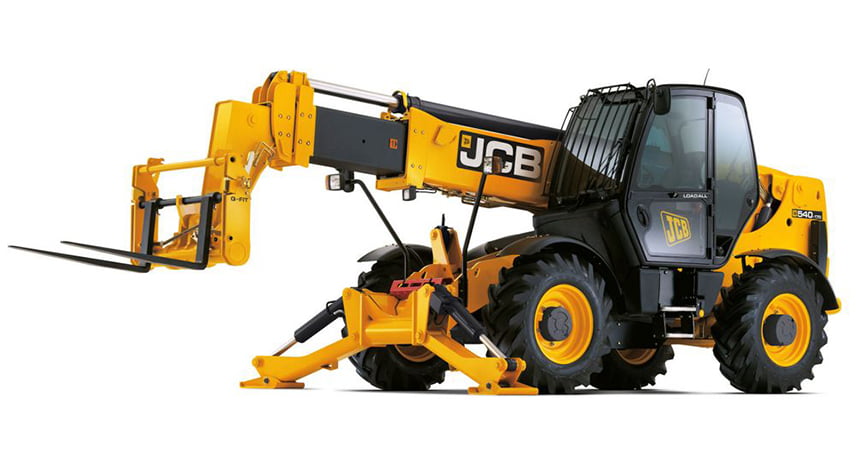 This is quite similar yet different from a forklift. The machine has the exact function of a forklift, but you will find it only on massive construction sites. The telehandlers can reach a very high height, which is not the feature of a forklift. Telehandlers has an arm which can extend to reach different height. The most different feature of a forklift is, it has big tires. These big tires can easily take the machine to off-road locations too. Operating a telehandler is not tricky. It has steering and dashboard through which one can drive as well as operate the arm.
Bulldozer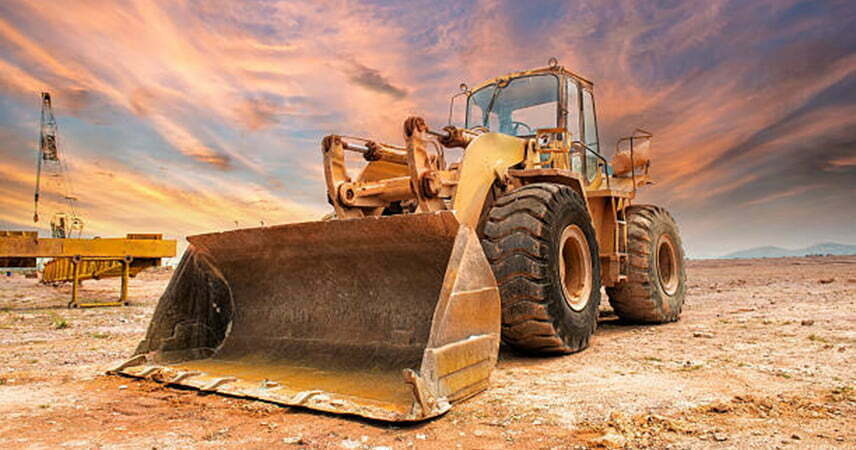 Bulldozers are a must NEED for any construction site. It is not possible to carry out a big scale construction or even small-scale destruction without a bulldozer. They have several uses depending upon where and how they are used. It has a metal plate at the front on its arm. This metal plate is curved to carry out the work. The plate is quite strong and durable. This is why it can be easily used to push, condense, or even carry the soil or any loose substance but considerable quantity substance on site. It is also used to break walls or significant reliable parts on the site. Bulldozer is also used to separate compact materials.
Skid Steer Loader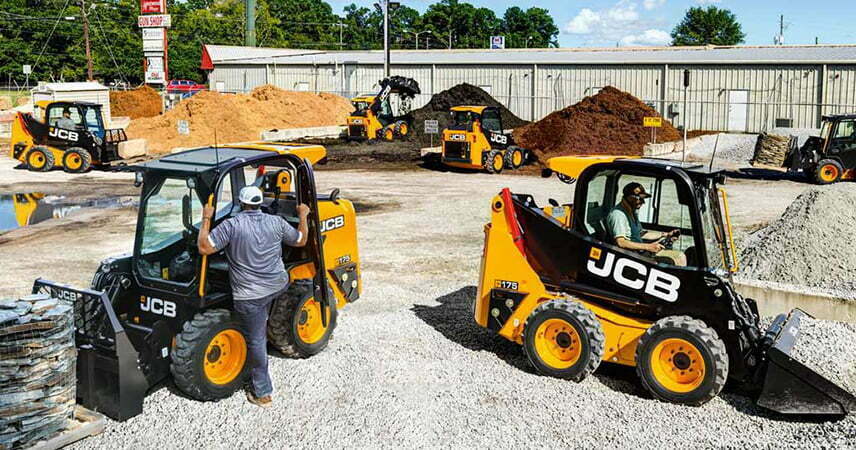 It is a small vehicle but is used to do big tasks. The machine is engine-powered and has a cabin in between from where the operator operates the machine. At the front, there is an arm available on which multiple tools can be attached. It can be said that skid steer loader is multipurpose heavy construction equipment. It's small so that it can fit places where bigger machinery is impossible to reach. Despite being small, the tires are prominent for off-road use. The plus point of this machine is differential steering. There is no difficult task for a skid steer loader to get onto unusual sites and be stable.
Excavator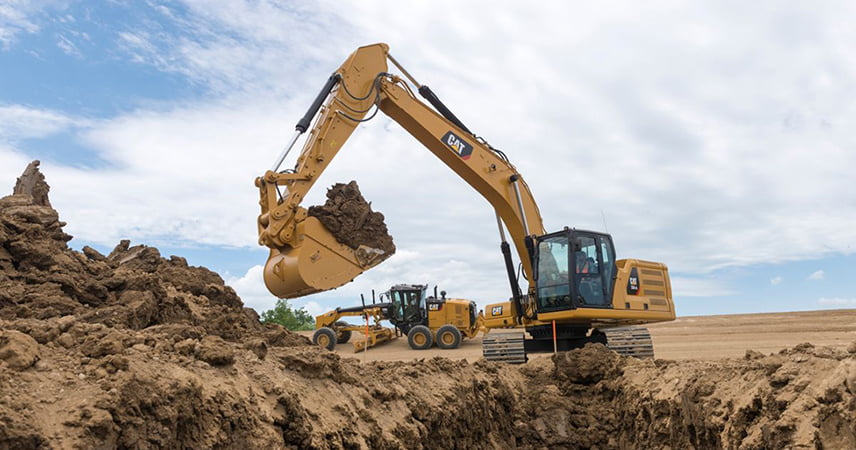 Excavator is one of the giant machineries that you might have seen on construction sites. These are found mainly at the start of any construction. The machine has two purposes, to crush and to dig. These are the two foremost tasks to begin any construction. It has a big broom at the front. The broom is controlled through a hydraulic system. At the end of the broom, the arm has a metal shovel. The shovel has sharp prongs at the end for efficient digging. An operator at the cabin controls the arm and shovel. The cabin is over the continuous metal treads. The cabin can also rotate for the operator to have a better view and, most importantly, the arm to reach all sides.
Articulated Hauler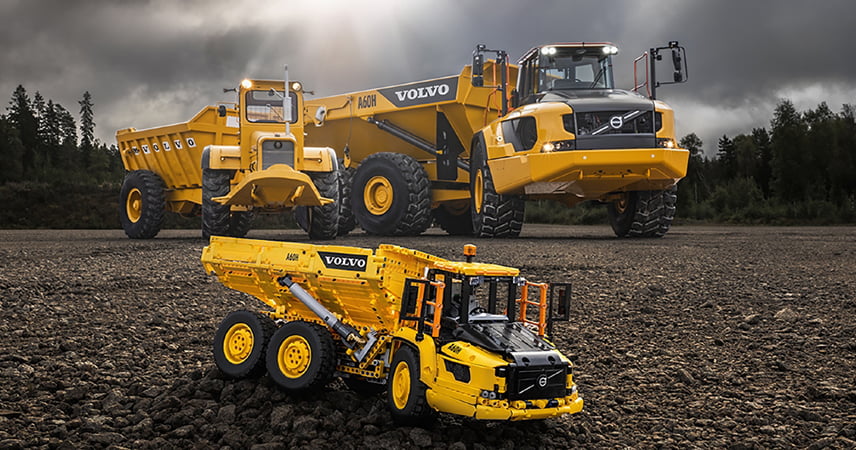 Now can any construction work be carried out without loading and off-loading of loose materials like sand? Of course not. This is where the articulated hauler comes in. It is very much like a normal truck and operated as such. The only thing different here is the pivot joint. Because of this joint, the truck can carry hefty loads even on sharp turns. It makes it suitable for most of the construction sites. The back of the truck has a material pail. In this pail, any material, usually the loose one, is transported. They work as a four-wheeler drive so that reaching different areas is easy and not complicated.
Carry Deck Crane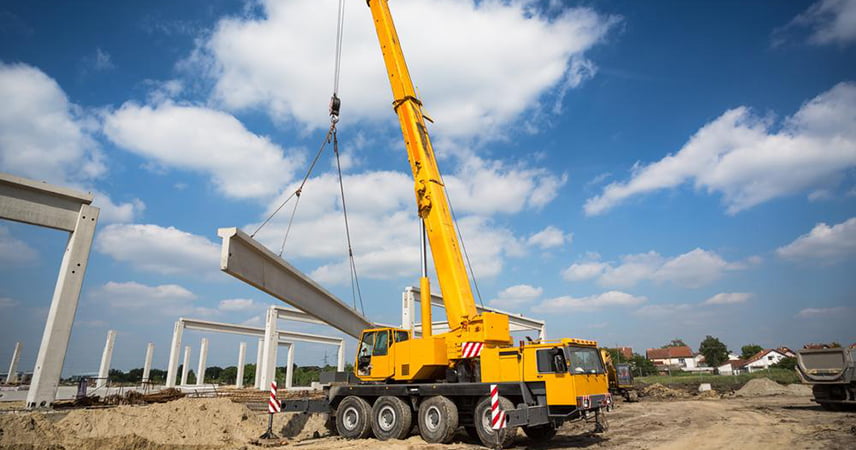 This, as the name suggests, is a crane. But it isn't the giant-sized crane. Carry deck is a small mobile crane. This makes the crane easy to transport and fits spaces usually not reachable. It can be used in both small and large-scale construction works. On the platform over wheels, there's a cabin for the operator. There's another platform over which the crane is attached. This platform can move 360-degrees. The crane is a four-wheeler. It can reach the right height but not like those big cranes. Usually, it is also used to lift heavy materials, even on a site where there's no construction.
Concrete Mixture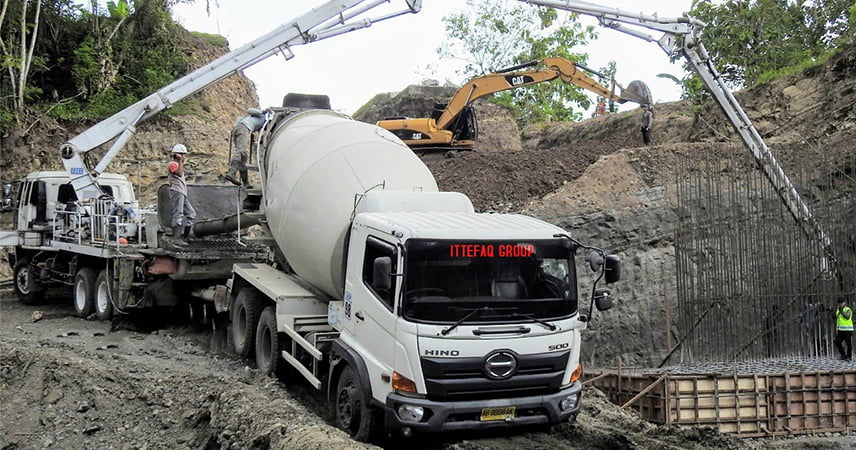 Like bulldozers, you must have scene concrete mixture trucks on construction sites too. They can even be seen in traffics where the there round ball is rotating with the cement inside. For small constructions, concrete is mixed with a small portable machine, but it is not feasible when something big to build from scratch. For this, either the concrete mixture trucks are used or towers depending upon the requirement of construction. A truck is considered to be very easy to use. Dry materials and water are added to the drum on the truck, and the material is mixed during transportation to the construction site. There is a spiral blade inside the drum which rotates and mixes the material.
Tower Cranes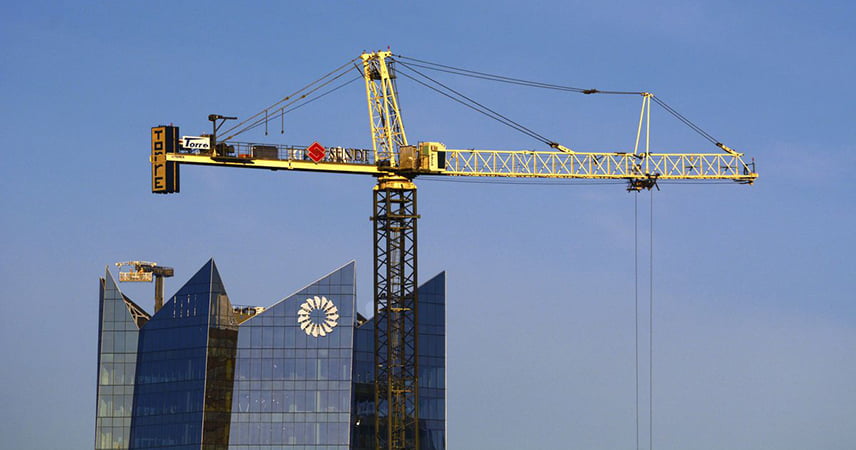 This is the crane that is used for significant construction sites. It can usually be found in building constructions. Since constructions like building construction can take months or years, the tower crane is just placed in one construction site. Tower cranes can reach extreme heights. The height of the tower crane can and should extend the building or construction being done. Other than that, the tower crane is also a standard tool in marines. There it is used for the unloading and loading of boating goods. It has a tall vertical structure with a horizontal boom. The boom can rotate a full 360 degrees.
Pile Driving Equipment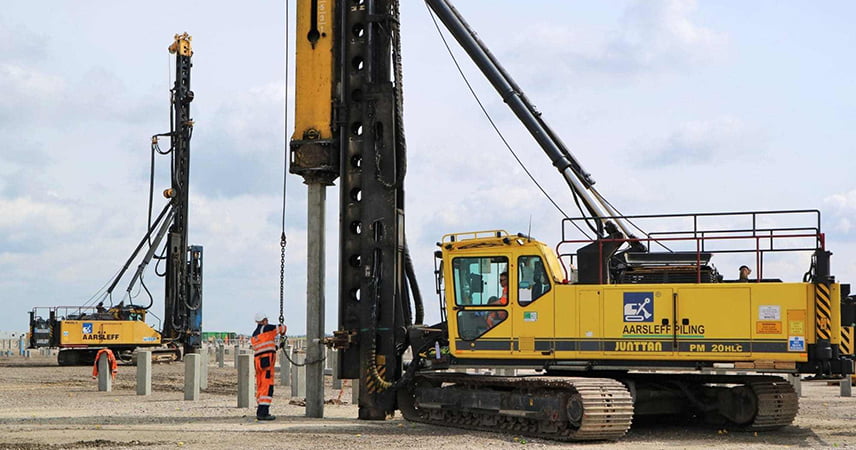 This is a device or tool used in construction to provide strength and support or strength to buildings. The machine drives piles into the soil to add stability. It has a vertical drive with a weight between the drive to slide. The pile is placed where needed, and weight is made to reach the height point as per the machine. Weight is lifted with the help of different systems such as diesel, hydraulic, or steam. Once the weight reaches its height, it is dropped on the pile, settling in the ground.
Scissor Lift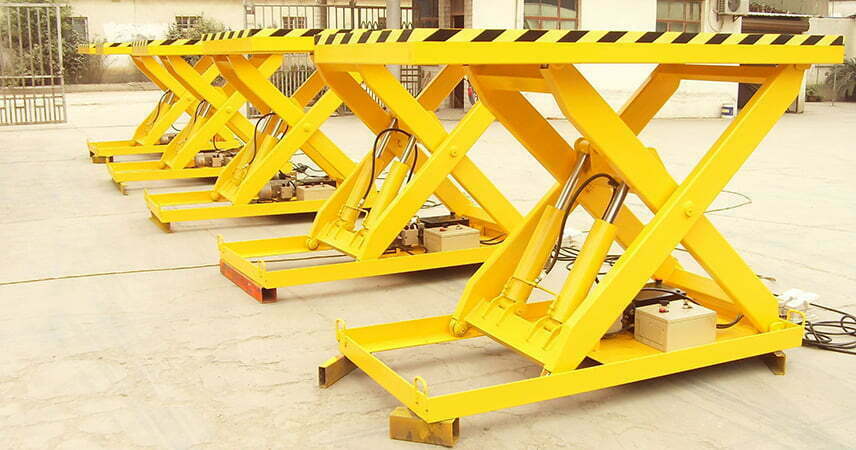 The last heavy equipment is a part of the lift family. This is comparatively a small lift used for the workers and equipment both. It extends in a vertical direction. The scissor lift is used in a place of a ladder. It can complete the work more efficiently, safely, and timely than a ladder.
Conclusion 
The mentioned heavy equipment is one can find on any construction site in Pakistan. Not all of these need to be seen together, but there sure will be some of them. To complete a construction here in Pakistan without any one of these is almost impossible. This heavy equipment is the reason we have building taller than we could imagine once.