Defense Housing Authority ready to start its ambitious housing venture "DHA QuettaAs part of the "Ushushal Baluchistan" initiative. The authority has launched reservations on residential and commercial plots, as well as farm houses on a 4-year easy fee.
DHA Quetta is planned to be a modern housing plan offering smart urban features to prospective residents. It is located about 7 km from Quetta International Airport and about 16 km from Jinnah Road HBL Chowk at N 25.
Follow the google maps site of DHA Quetta:
The rural area spans more than thousands of acres in various museums including Kateer, Samali, Gadazai Malazai, Karak, Tarkha Gordat Singh, Mehtarzai, Chashma Baleli, Chashma Achozai, Ms. Ghurghai, Ms. Khula, Hanna, and Tor Ragha, including uninhabited areas of the valley around Shaban Road up to Shamozai Dam.
This is the first official launch of DHA Quetta Smart City Phase 1, and bookings have recently opened for many residential and commercial options.
Application Procedure and Guidelines
Candidates are invited by Pakistanis across the country and abroad, so now you can take advantage of this exclusive investment opportunity to get a residential or business plot in the first "Smart City" Housing Project in Quetta. Affordable apartments of 1000-sqft and 1200-sqft will be launched separately later.
Housing is available in the following sizes:
5 Marla
8 Marla
10 Marla
16 Marla
1 Channel
2 Channels
Commercial plots are available in the following sizes:
Country Houses are available in the following sizes:
You will need to download a registration form online from DHA Quetta website because a unique number is added to the form each time you download it. Therefore, you need to download two or more forms if you want to request two or more plots.
Please note that you cannot make copies of one form, so simply download as many forms as you need. It is important that you read all the instructions on the download page of the form, as well as the conditions given on the form.
After you have downloaded the form, just take a printout and enter the required details. Challan forms are also attached within the form, so you will be able to submit your voting fee along with the form. Each plot size in each category has its own specific voting fee, which you will need to deposit to request a reservation.
The following documents are required from each candidate category to be submitted with the application:
General public: Photocopy of CNIC
Abroad Pakistan: Photocopies of NICOP, OPF Card or Passport
Senior Citizen (Over 60 years old): Photocopy of CNIC
Govt. Employees: Certified Copies of Service Certificate, Book and CNIC
Retrd. Armed Forces: Certified Copies of Download Book / Retirement Order and CNIC
Disabled: Certified Copies of Medical Disability Certificate & CNIC
Next of Kin of Civil / Military Shuhada: Certified Copies of Death Certificate, Medical File, FIR and CNIC
Once your form is ready, simply go to any TCS Courier Center, or to any branch of Bank Alfalah, Allied Bank, Askari Bank, Habib Bank and United Bank through Pakistan to deposit your voting fee and submit your form.
If you live abroad, you can pay your voting fee online by online bank transfer or credit/debit cards. You must attach a copy of the transaction reference number/transaction ID with the form before you submit the form to DHA Quetta Head Office.
Here are the prices and payment plans of each type and size of plot and farmhouse in DHA Quetta: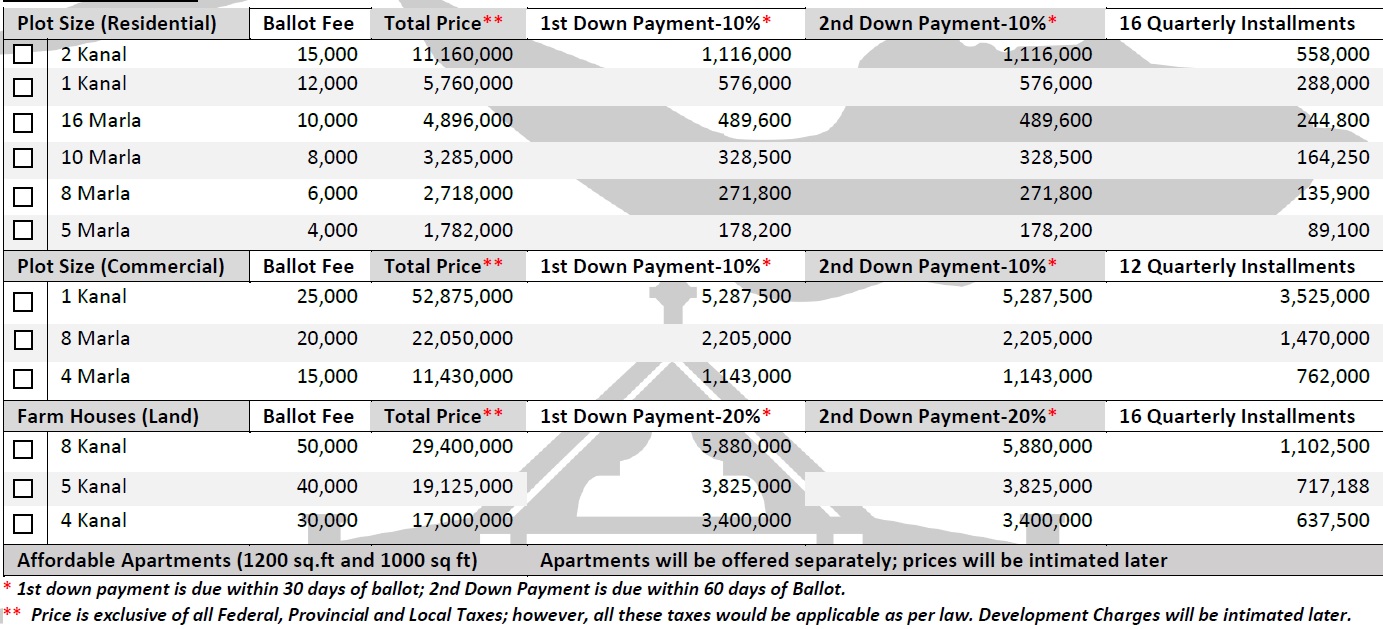 Please note that given prices are exclusively development costs that will be applied later.
As you can see on the payment plan above, the payment plan lasts for more than 4 years. Once you succeed in the ballot, you must pay a 10% advance payment after 30 days of voting and a 10% advance payment after 60 days of voting. After that, your 16-month fee schedule will begin.
Please note that it is mandatory for a candidate to be an active taxpayer (other than overseas Pakistanis) if he wants to apply for a business plot, farmhouse or apartment size 1 channel or larger. So, non-registrants can apply only in residences less than 1 channel.
Watch DHA Quetta TV below: