Taj Residencia

Islamabad , Pakistan
About the Project
Reference No.

ID-30232

Title

Taj Residencia

Locality

Islamabad , Pakistan

Price

Starting from

Rs

40 Lac

to

Rs

1 Cr

Types

Apartments & Flats,Commercial Space (Shops/Offices/Halls)

Developer

Fair Deal Marketing Pvt. Ltd
The Centaurus without a doubt, is one of the best examples of luxury living ever designed & built in the city of Islamabad.
Following on from our highly acclaimed luxury living project; The Centaurus, the Sardar Group of Companies is proud to bring you Taj Residencia; A luxurious contemporary society, designed to exceed your expectations and will make all your dreams come true.

Promoting a work life balance, Taj Residencia is a combination of fresh air, wide open spaces, lush greenery, new world class features, local amenities and lots and lots of family appeal. We don't do boring, we do stunning, luxurious and exquisite. Live the life you have dreamed at Taj Residencia.

About Taj Residencia 
After a success story of Centaurus Project at Islamabad, Sardar Group of Companies is all set to launch its first Master Planned Urban Society Project with the name of "Taj Residencia" A name which represents Royalty and offers a residential class above the rest."

A project which offers the original Islamabad lifestyle, located within Islamabad and surrounded by lush and natural gardens. We have always remained consumer focused and have delivered the best to our stakeholders. "Taj Residencia" is another milestone in our continual journey for building excellence.

After having delivered "The Centaurus" we have now eyed a perfect corner in Islamabad to furnish the most modern, secure and picturesque housing society i.e. "Taj Residencia". After having redefined the shopping and excursion trends of Islamabad through "The Centaurus" (the most modernized & visited shopping hub of The Capital), our experts are now ready to take your ideal living standard one step ahead through "Taj Residencia". Live in the middle of it all.

"Taj Residencia" is at the heart of contemporary living, architecture, culture, fashion, dining, parks and beautiful sunsets, offering the best of Islamabad, all in one place. This project is dedicated to enhance the opportunities of parallel growth based on attractive returns for investors, users and to the company itself.
Our people specialize in fit out, technology, construction and development and are used to delivering places that help people and businesses thrive. This vicinity is designed to be a unique blend of modern infrastructure and naturally enriched, calm landscape of Islamabad. "Taj " being a brainchild of vastly experienced team of urban developers has a planning edge over its contemporary neighborhoods.

The Taj Villas
The unmistakable level of quality and style applied to our projects has earned us an enviable reputation as a leader in luxury living. All of our projects feature superior quality materials and highly-specified interiors including carefully sourced modern fixtures and fittings, with high end finishes. In terms of our construction and interior finishing skills, we set the bar very high indeed. Our attention to detail, underscored by a pride in creating the very best, has earned us a reputation for being among the finest developers of luxury living.

The Location
Our site is set on a palatial green just 20 minutes' drive from The Centaurus, 5 minutes' drive form Quaid-e-Azam International Hospital, 10 minutes from New Islamabad International Airport. That's close enough for convenience and far enough to escape from city living!
Taj Residencia is located parallel to CDA sector I-14 and I-15 Islamabad. It has three entrances, one is from I-14 link road. Second entrance is facing CDA sector I-16 and third entrance is Lakhu road which is towards Thalian Interchange motorway M2.

Unique Features

The Centaurus Mall 2
After the Centaurus Mall, Centaurus Mall 2 will prove to be another marvel of architectural brilliance that houses world-class retail and entertainment avenues. Roller coaster at the roof of The Centaurus Mall 2 is a baller. This is one of the important unique features for the society.

Modern Hospital
An international standard hospital offering medical and emergency facilities round the clock. A well-equipped facility with the best medical staff will ensure that in case of any medical emergency or need you will not have to worry about going too far.

Educational Institutes
When we say that Taj offers a complete life, we mean it. The master plan includes modern well-equipped educational institutes for boys and girls.

Theme Park
Master designed theme park where you can immerse yourself into worlds of escapism and fun. Our aesthetically brilliant and fun-filled parks are Pinnacles of entertainment design especially where families and friends can spend quality time.

Safari Park and Botanical Gardens
Escape the everyday bustle and spend time relaxing in nature at the botanical garden and safari park that offer a refreshing chance to see natural beauty and explore flora and fauna.

Residencial Towers
Modern, luxurious and comfortable apartment living at its best. Our residential towers house the most brilliantly designed and apartments that offer exclusivity teamed up with aesthetics, efficiency and modern luxury.

Grand Mosque
A true representation of architectural brilliance and Islamic heritage is what defines our Grand Jamia Mosque located at the main square. Head the call of faith and revive it in one of the most beautiful mosque in the city.

Royal Club
A place where the residents can frequent to improve health and fitness, enjoy with friends and family, treat their taste buds to scrumptious feasts or to experience a royal evening.

Mini Golf Course
A luxurious mini golf course awaits your arrival at Taj residencia. A team of professionals and staff that'd be responsible for taking care of everything for you. Come along with your family and free yourself from worries here at Mini golf club.

Commercial Hub & Shoping Centers
Located at the main square, the commercial center will offer anything and everything to make your life more comfortable. A truly remarkable, international standard modern commercial center is one of the gems that our Taj has to offer that will host all that you except and require and fulfill your every need in terms of basic necessities to high-end purchasing.

Sports Complex
Bring out the athlete in you and visit the sports complex that houses a range of different athletic and social activities.

Oval Park
International standard eye park is a project interestingly designed in the shape of the human eye. The park will have everything that any amusement park will have to provide you with the quality time with your family.

Salient Features

Gated community
Experience the comfort, security and facilities of world class gated community.This is the salient features for our customers.

Security and surveillance
State-of-the-art surveillance systems and cameras. Well trained and well equipped security personnel for patrolling and emergency response.

Power backup
Zero load shedding and no power outages as 24-hour backup generators are installed to ensure uninterrupted power supply.

Optimum supply
As per modern civic standards all electrical cabling is underground to ensure better maintenance and optimum supply.

Waste collection system
A proper mechanism of solid waste collection to be put in place for hassle-free and convenient disposal of waste for residents.

Fiber optic
Uninterrupted triple play services are assured through provision of underground fiber optic cable at every doorstep.

Mosques, commercial areas and parks
The master plan of Taj Residencia includes a mosque, commercial area and parks at every block. This has been done to efficiently facilitate our residents.

Elementary schools
An elementary school has been provided for every two blocks. A school in close proximity will ensure comfort and peace of mind for parents.This is the most important salient features for any society.
 
Features / Amenities
Broadband Internet Access
Property Types
RESIDENTIAL PLOTS (PLOTS)

RESIDENTIAL PLOTS (PLOTS)
Payment Plan
Floor Plan
Developer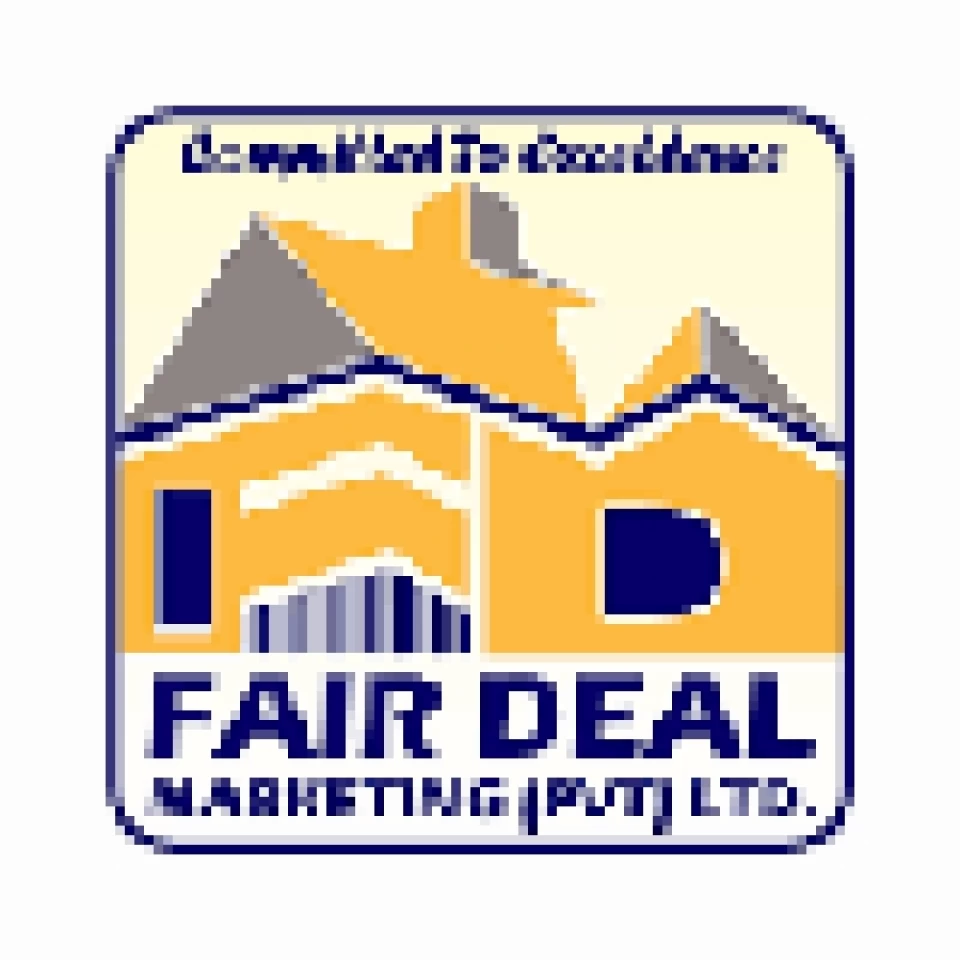 Contact Person : Fair Deal Marketing Pvt. Ltd
Address : Mezzanin Floor, Razia Sharif Plaza, Fazal-e-Haq Road Blue Area islamabad Islamabad, Pakistan
Fair Deals (Pvt.) Ltd. is a property management company incorporated in Islamabad with the mandate to facilitate
clients in the purchase, sale, and rent of residential and commercial properties, as well as offering real estate
marketing and consulting services in Pakistan and Dubai. The company has offices located in Blue Area and Golra
Moor. Fair Deals (Pvt.) Ltd. aims to raise the norms for the standards of quality and reliability of real estate services,
so as to surpass the expectations of their valued customers. The Company's mission statement is to build long
term relationships with clients, providing exceptional customer services by pursuing business through innovation
and advanced technology.