Kitchens as utilitarian spaces kept hidden away are no more the norm in today's modern homes. Contemporary kitchens are designed to be more aesthetic and functional. Cabinet designs in the kitchen, their placement, dimension, and quantity are crucial factors to consider while designing a kitchen. Indian kitchens require a lot of storage which is why cabinetry is even more important. In India, many people consider Vaastu principles while designing their kitchen. If you are about to get the kitchen in your new home designed, we have a few handy tips that could help you get the right mix of kitchen cabinets.
Find Balance
 A perfectly balanced kitchen features cabinetry and shelves that are designed to keep the usage of the kitchen in mind. Upper cabinets are usually used for storing smaller and lighter items. This could include dinner sets, glassware, spices etc. Lower cabinets are used to store heavier items like large pots, pans, and more.
Keep it to a Minimum
Having fewer cabinets on the upper level can streamline the look of the kitchen, making the space seem open, airy and uncluttered. Keeping the upper cabinets at a minimum also frees up space to display wall art or photographs, thus giving a unique personal touch. Open shelves like the one below also let you showcase your favourite dishes. 
Go With The Drawers
Opting for drawers rather than cabinets on the lower storage can mean more accessibility. Because you can pull out drawers, you can view all of the items, especially those at the very back, without having to bend over like you would with cabinets.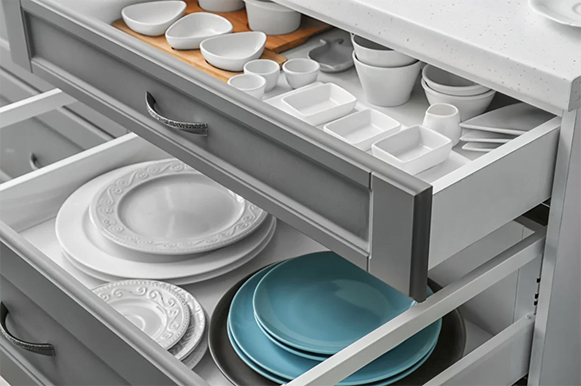 Balance the Upper and Lower Cabinets
If you have a smaller kitchen, it might not be wise to have fewer upper cabinets because storage can be an issue (even though you may like how it looks). If this is an issue you face, you could still balance the upper and lower cabinets by getting them in the right shades. Ensure that you choose a light finish for the upper cabinets and a dark/dull finish for the lower cabinets, creating a contrast between the two levels. You could also opt for glass on the upper cabinets which help in giving a lighter, airier look to the kitchen that's similar to floating shelves.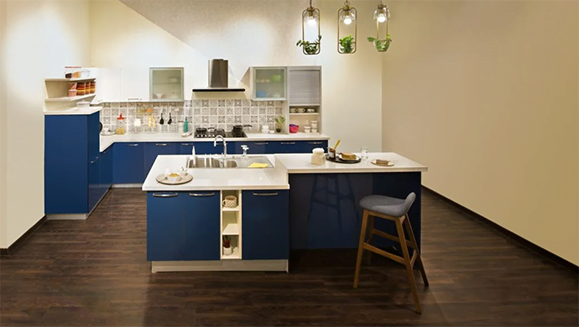 Plain vs Frosted Glass Kitchen Cabinet Doors
As mentioned, you could go for glass doors on upper cabinets for an elegant, light look that creates a sense of openness without having everything out in the open. You could choose between plain and frosted glass doors (or a combination of both). You can store crockery and display colourful items in these cabinets. Using frosted glass will give the kitchen a light feel while also not putting everything on show. If you don't think everything on these cabinets is great to look at, and you are simply looking for additional storage, frosted glass is a great alternative. Installing lights inside these will illuminate the upper section of the kitchen and make the kitchen look brighter.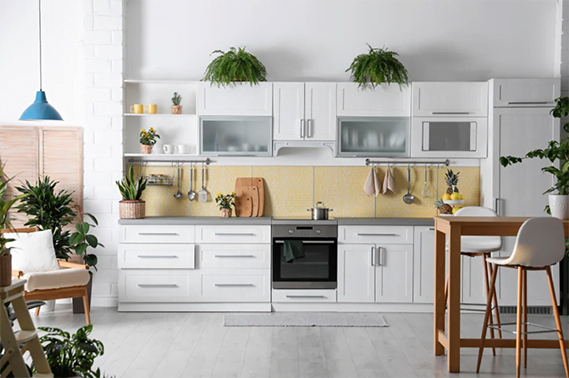 Mirrored Glass Door
Mirrored glass doors for upper cabinets are another emerging alternative. Mirrors are often used in different rooms of homes to make small spaces look larger. It can be used for the same purpose in the kitchen. They lend a sense of sophistication to modern kitchens as well. 
Go for Open Shelves
Open shelving is a great option for upper cabinets especially if you have a collection of great looking cookware, dishware etc. that you want to display. Doing so will add a hint of your unique personality to the kitchen design. This can be balanced out by keeping the rest of the kitchen minimalist and understated. Customized, flexible open shelving can be created to achieve a unique look even in lower cabinetry.